Besides costumes and mountains of candy, some stores also stock their shelves with some interesting spirits for Halloween.  In our area, Total Wine has the best selection of seasonal ales.  With so many to choose from, I decided to give Shmaltz Brewing Company's Coney Island Craft Lager Freakotober a taste test only because I liked its freaky look and name and its concept.  A portion of the proceeds of this ale is donated to the restoration and preservation of Coney Island, which made me feel better just knowing that my alcoholism was supporting a good cause.
As stated on the label, the ale has a red hue.  I think the label and the color was the only think I liked about the beer.  It was far too bitter for my taste buds.  Iron Chef Allan liked the flavor, but decided against drinking it because of the food coloring.  Like a good little freak sport, I finished off the beer.
Last Saturday, we attended our annual adult Halloween party.  For my dish to share, I made Mummy Pizzas, which I found at Family Fun.  The recipe suggest using English muffins, but since my kids don't like English muffin pizzas, I used mini loaves of bread.  (Mini bagels would be a nice alternative too or even Iron Chef Allan's superb pizza crust cut into tiny pizzas with a small circular cookie cutter.) I cut the loaves into ½ inch slices and toasted them in the oven before I added my simple sauce, thinly sliced mozzarella cheese and two slices of olives for the eyes.
Mmmmmmmm….Mummies good.


Mummy Pizzas (adapted from Disney's Family Fun)
Ingredients
English muffins (or mini bagels or bread loaves sliced into ½ inch slices)
Sliced black olives
Mozzarella cheese (or pull-apart string cheese if kids help assemble pizzas)
Directions
Heat the oven to 350º F. Split and toast English muffins on a cookie sheet for 3-5 minutes.
For each mummy, spread a tablespoon of pizza sauce onto half of an English muffin.  Set two olive slices in place for eyes .
Slice mozzarella into thin, long strips of cheese and lay across the muffin for the mummy's wrappings.
Bake for about 10 minutes or until the cheese is melted and the muffin is toasty.
**********
Before you link up and leave, I would like to announce that today marks Friday Food Fight's One Year Anniversary!  Can you believe that?!  That's 52 yummy dishes shared here at Run DMT and 156 shared between Karen, Kirsten and me.  Not counting all the wonderful foods our visitors have flung at us this past year!  WOW!
To celebrate a year of flinging foods and to thank you for supporting Friday Food Fight, we've put together a giveaway.  One lucky reader will win a copy of the Joy of Cooking (Iron Chef Allan's and my favorite  cookbook).
Everyone that adds a link to our Friday Food Fight linky collection blog hop will automatically be entered.  Add more links and you'll earn more entries.
One winner will be chosen at random and that winner will be announced next Friday, November 4.  Only U.S. residents are eligible to win.  Our Friday Food Fight Cookbook Contest ends Thursday, November 3 at midnight eastern time. 
For more entries:
Add a comment below about the Freaktoberfest beer, my Mummy Pizzas or the cookbook, 

Joy of Cooking

.
Blog about our Friday Food Fight Cookbook Contest and link back to Run DMT.  Remember to add our Friday Food Fight button to your post, please.
Follow denisermt, ificouldescape and cheekymonkey8 on Twitter.  Becoming a follower is an additional entry for each, so be sure to add a new comment for each new add.
Earn an additional entry each time you tweet:  #FridayFoodFight is throwing the book at you!  Link up a foodie photo for a chance to win Joy of Cooking. Ends 11/3 http://wp.me/pigkS-3cY
Like Run DMT, Gone Bananas and If I Could Escape on Facebook.  Each "like" is an additional entry, so be sure to add a new comment for each "like".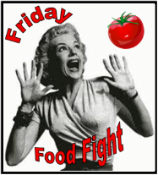 Now link up to win and to see what If I Could Escape and Gone Bananas are flinging for this week's Friday Food Fight.
*Also submitted at*