You may be tired of reading about my husband's mad culinary skills, but it's seriously no exaggeration.  His hand-tossed homemade pizza is another fine example of his handiwork.

Over the years, he's perfected his crust from a recipe he found online seven years ago.  (I only know the date because the time-stamp printed on the bottom of the print-out.)  He follows this recipe exactly and prepares the dough in his Zojirushi bread machine that he's had for over 12 years.
 The pizza sauce is simply our simple onion sauce, which is perfect for pasta and pizza.
 Top it with some shredded mozzarella and whatever else toppings you love…
….and you've got a New York state of mind pizza.  Forget about it!
New York Style Pizza Crust (from Robbie's Recipe Collection)
Makes 2 pizzas or 4 calzones
Prep. Time: 2:00
Serves: 16
Ingredients
1 ½ cups 110˚ F water
2 ½ tsp granulated sugar
2 ½ tsp salt
1 Tbsp olive oil
4 ½ cups all-purpose flour
½ tsp active dry yeast
½ cup cornmeal
Sauce, as needed
Shredded mozzarella cheese, as needed
Toppings of your choice, as needed
Directions
In a large bowl, dissolve sugar and salt in water.  Add oil and flour to bowl and stir with heavy spoon for 1 minute.  Turn dough out onto a lightly floured surface and press into a circle.  Sprinkle yeast evenly over dough and knead for 12 minutes.  Divide dough into 2 equal-sized portions for pizza.  Place dough balls in a bowl, cover with plastic wrap and allow to rise for 1 1/2 hours in a warm location.
*If using a bread machine, combine ingredients machine and set machine to dough setting. Then, in two hours, begin the following steps.*
Preheat a pizza stone in a 500˚ F oven for 1 hour.
Place a dough ball on a lightly floured surface and sprinkle a light coating of flour on top.  Working from the edges to the center, press dough into a 12″ circle.  Coat a large board with cornmeal and place the dough onto the cornmeal.  Spread sauce over crust and top with cheese and desired toppings.  Gently shake the cutting board, assuring it isn't sticking to the board.  Slide the pizza from the cutting board directly onto the stone in the oven.
Bake in a 500 degree oven for 20-25 minutes, until crust is golden.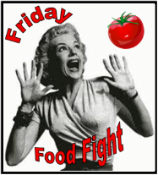 Now link up and see what If I Could Escape and Gone Bananas are serving for this week's Friday Food Fight.
*Also submitted at*