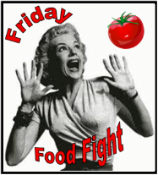 Gung Hay Fat Choy!
It's Chinese New Year!  The year of the Dragon!
We started our Chinese New Year festivities with a potluck play date at the park with our friends.  Everyone brought a Chinese entrée to share and everything so delicious.  We had dumplings, doughnuts, a variety of noodles, fried rice, orange chicken and of course fortune cookies.
Emmalynn insisted on wearing her Mulan costume for the occasion.
The kids decorated dragon masks and made lanterns, which Allana loved almost as much as the dumplings.
For the potluck portion of the program, I brought Sesame Noodles to share.  This dish is so simple and tasty served either warm or cold as a side dish or a main entrée.
The Rachel Ray recipe I use calls for angel hair pasta but I prefer spaghetti for this dish, so I sent hubby to the store to buy the ingredients for me.  He returned with spaghetti rigata.  Um…ok! At least it wasn't linguini!  Actually, hubby's mistake worked perfectly because spaghetti rigata noodles are square and resemble lo mein noodles.  (This is where Iron Chef Allan would chime in to tell me that was his intention all along.)
Sesame Noodles
(Adapted from Classic Rachel Ray 30-Minute Meals)
Ingredients
1 pound capellini (angle hair) or spaghetti rigatta
¼ cup low-sodium soy sauce
2 Tbsp tahini
2 Tbsp toasted sesame seed oil
¼ tsp cayenne pepper
2 cloves garlic, minced
1 inch gingerroot, peeled and grated or ½ tsp ground ginger
3 scallions, chopped
1 large carrot, grated
Toasted sesame seeds for garnish (optional)
Crushed red pepper flakes for garnish (optional)
Directions
Bring a large stock pot of salted water to a rolling boil and then add pasta.  Cook pasta according to package directions until al dente.
Meanwhile, in a large bowl combine soy sauce, tahini, sesame oil, cayenne, garlic and ginger.  Whisk until smooth.
Drain pasta and immediately chill in a large bowl of ice water to blanch pasta and prevent further cooking.
Drain and dump chilled pasta into bowl with sauce and combine until noodles are evenly coated.  Add veggies and toss to combine.
Serve in soup bowls garnished with some extra sliced greens of scallions, sesame seeds and a little crushed red pepper.
Thanks for joining our weekly Friday Food Fight.  Link up and see what everyone else is flinging this week.  
*Also shared at*