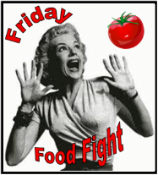 You will seriously love this breakfast casserole recipe and you will want to bookmark it or pin it for sure.  Go ahead.  I'll wait.
Because this breakfast is so tasty and such a crowd-pleaser, I've made it twice just this month for family and friends.  Seriously, it's that good.  And the best part, it's low fat.  You're pinning it now, aren't you?  I knew I would have you at "low-fat".
I'm not sure how I stumbled upon Eat Yourself Skinny, but I was happy to find her low-fat recipes, especially her healthier version to a brunch classic.  However, I had to modify her recipe because I can't eat breakfast sausage that contains MSG due to my sensitivity to it.  So, I substituted the reduced-fat pork sausage for an even lower fat option: Al Fresco Country Style Chicken Breakfast Sausage.
I also used a half loaf of Publix White Mountain bread because I thought the thick, dense bread would make a wonderful base for the casserole.  Both substitutions were spot-on and like I said, a real crowd pleaser.
All you need is a mimosa to wash it down.
Low-Fat Egg and Sausage Breakfast Casserole
(Adpated from Eat Yourself Skinny)
Ingredients
1 package Al Fresco Country Style Chicken Breakfast Sausage
1 medium onion, diced
2 eggs
4 egg whites
2 cups fat-free milk
1 ½ tsp spicy brown mustard
½ tsp Kosher salt
¼  tsp ground black pepper
½ loaf of dense, crusty bread cut into 1 inch cubes
2 cups (8 oz) reduced-fat sharp cheddar cheese, shredded
Directions
Preheat oven to 350° degrees.  Prepare a 13 x 9 inch baking pan with cooking spray.
In large skillet, stir and sauté onions until translucent.
As onions cook, slice sausage links into quarters.  Slice each link into quarters lengthwise and then slice each quarter strip into small bite size morsels.  Add to onions.  Stir and warm through.
In a large bowl, beat the eggs, egg whites, milk, mustard, salt and pepper.  Stir in the bread cubes, cheese and sausage mixture.  Pour into baking dish.
Bake at uncovered for about 45 to 60 minutes or until a knife inserted near the center comes out clean.  Watch closely for the last ten minutes to avoid overcooking or burning the casserole.
Let stand for 5 minutes before cutting.  Serve with Tabasco or fresh salsa.
Makes 12 servings.
Thanks for joining our weekly Friday Food Fight! Can't wait to see what everyone is flinging this week!
*Also submitted at*