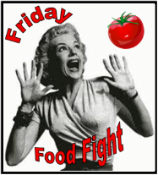 As I mentioned before, I love using leftover chicken from my mojo roast chicken to make chicken salad.  But this time, I had a craving something different other than the usual chicken salad I make.  I was craving a curried version.
Believe it or not, I did not search Pinterest for a recipe. *gasp* Crazy notion, I know.  Instead, I looked in this old school object called a cookbook.  Remember those?  To make the curried chicken salad I craved, I searched through the pages of the Joy of Cooking because in a time before Pinterest, it was like a bible in this house.
So I dusted off our very old, very worn, still beloved cookbook to find a Curried Chicken Salad and of course, it contained one.
First, I had to make the curry mayonnaise.  Who knew there were so many steps to make this?! Since I only needed a small amount for my chicken salad, I halved the ingredients to prevent from having to store the leftovers but halving the ingredients didn't prevent my house from smelling like an Indian restaurant.  Also, since I was too lazy too hungry, I omitted the steps for the blender mayonnaise.
When I combined all the chicken salad ingredients, it seemed a bit dry to me, so I added an extra bit of plain canola mayo, which also balanced out the strong curry seasoning.  Even though I didn't make my own mayonnaise from scratch, the chicken salad still satisfied my curry craving.  Even Iron Chef Allan was impressed.
I chose to eat my curried chicken salad on whole grain bread, but it would also make a wonderful wrap or a tasty topping on a mixed greens salad.
Curry Mayonnaise
(adapted from Joy of Cooking)
Ingredients
1 Tbsp curry powder
1 Tbsp vegetable oil
¼ cup canola mayonnaise
1 tsp lime juice
1 tsp honey
Directions
Whisk the curry powder and oil together in a small skillet on a low heat for 30 to 60 seconds until fragrant.  Remove from heat and let cool.  Then, in a small bowl, whisk curried oil with the mayo, lime juice and honey.
Curried Chicken Salad
(adapted from Joy of Cooking)
Ingredients
1 cooked chicken breast, chopped
2 Tbsp sliced almonds
2 Tbsp golden raisins
2 Tbsp red onion, minced
1 celery stalk, chopped
½ apple, cored, peeled and coarsely chopped
Curry mayonnaise
2 Tbsp canola mayonnaise (optional)
Salt and pepper to taste
Directions
Combine chicken, nuts, fruit and vegetables in a bowl.  Mix in curry mayo, canola mayo, salt and peppers.  Serve on toasted whole grain bread topped with arugula.
Thanks for joining our weekly Friday Food Fight! Can't wait to see what everyone is flinging this week!
*Also submitted at*