For me, the best part of a roasted chicken is the leftover breast meat…
…because I make chicken salad with it.  And I love me some chicken salad!
Now, I make my chicken salad with canola oil based mayonnaise, which makes it somewhat less fattening.  Then, I plop it on some toasted whole grain bread and top it leafy lettuce.  YUM!
As for my recipe, honestly I eyeball it so I'm not really sure about the quantities listed below, but you get the idea.  Plus, it also depends on what ingredients I have on hand.  Sometimes I'll add dried cranberries and chopped apples.  Anything goes! It's all good.
Chicken Salad
Ingredients
½ cup chopped chicken breast
4 Tbsp mayonnaise
2 Tbsp minced celery (about 2 stalks)
2 Tbsp minced red onion
¼ cup sliced raw almonds
¼ cup of red seedless grapes cut into halves
Directions
Add all the ingredients in a small bowl.  Mix until well combined.  Add salt and pepper, if needed.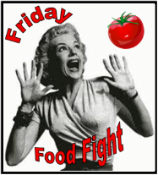 Now link up and see what If I Could Escape and Gone Bananas are serving for this week's Friday Food Fight.
*Also submitted at*