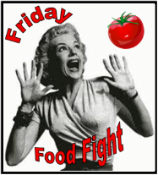 In the past, potatoes always got a bad rap for the amount of complex carbs they brought to the table.  Now with all the emphasis on clean eating these days, it seems people are making room for potatoes on their plates again.
Honestly, I never turned away from my complex friend, the potato.  I loved potato when others shunned it.  I knew they would come around and see the beauty in potato again.  I knew the world would embrace potato's starchiness in every shape and color again.  It was only a matter of time.
And now with this unfried steak fries recipe, when can love fries again too. 
Parmesan Steak "Fries"
(Adapted from So Easy by Ellie Krieger)
 Ingredients
2 large russet potatoes (about 1 ½ lbs)
1 Tbsp canola oil
¼ cup grated Parmesan cheese
Coarse sea salt to taste
Directions
Preheat oven to 450 degrees F.  Line a baking sheet with parchment paper or spray with non-stick cooking spray.
Cut each of the potatoes in half lengthwise.  Rest each half on its flat side and cut each half lengthwise, straight down into 4 even slices.  You will have 16 slices altogether.  Cut the rounded edge off of the outermost slices so each slice can lie completely flat on either side.
Add to potato wedges to a bowl and immerse in water.  Soak for at least an hour to remove some of the starch.  This will help make the baked fries become more crispy.***(See note below.)
Drain potatoes well and shake off excess water. Pat dry with paper towels.  Then, place potatoes in a medium sized bowl and toss with canola oil.
Place the potatoes on the prepared baking sheet and bake for 20 minutes.  Sprinkle the potatoes with cheese and continue to bake for another 15-20 minutes or until they are crisp and golden brown.  (There is no need to turn them.)
Season with salt and serve immediately. Makes 4 servings.
***This step can be omitted but by doing so, the finished fries will not be as crisp or firm.
Thanks for joining our weekly Friday Food Fight! Can't wait to see what everyone is flinging this week!
*Also submitted at*