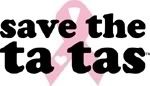 Yesterday, I underwent a second mammogram performed once again by Linda.  As I discovered last year, mammograms are nothing to fear.  Forget the horror stories of tortured ta-tas and boobs being squished.  It doesn't hurt and for only few moments of being manhandled, you are preventing breast cancer.
Being over the age of…eh…hem…*cough*… forty, I'm the prime pink ribbon candidate.  Last year, I received my baseline mammogram (a series of four x-rays or four squishings) in order for my doctor to view the structure and composition of my breasts.  That baseline will be compared to yesterday's mammogram and each of my future mammograms.
Linda informed me this year that even if you have no history of breast cancer in your family, you're not out of the woods, though you're risk is less than a woman with a family history.
According to the American Cancer Society,
"Breast cancer risk is higher among women whose close blood relatives have this disease.

Having one first-degree relative (mother, sister, or daughter) with breast cancer approximately doubles a woman's risk. Having 2 first-degree relatives increases her risk about 3-fold.

The exact risk is not known, but women with a family history of breast cancer in a father or brother also have an increased risk of breast cancer.

Altogether, less than 15% of women with breast cancer have a family member with this disease. This means that most (over 85%) women who get breast cancer do not have a family history of this disease."
Some other risk factors include: (source komen.org)
being a woman
getting older — the older you get, the greater your
risk of breast cancer
having an inherited mutation in the BRCA1 or
BRCA2 breast cancer genes
a personal history of breast or ovarian cancer
a family history of breast cancer
having high breast density on a mammogram
having a previous biopsy showing hyperplasia
lobular carcinoma in situ (LCIS)
being exposed to large amounts of radiation at a young age
never having children
having your first child after age 35
high levels of blood androgrens or estrogens
postmenopausal hormone use (current or recent use) of estrogen or estrogen plus progestin
being overweight after menopause or gaining weight as an adult
high bone density
having more than one drink of alcohol per day
starting menopause after age 55
being younger than 12 at the time of your first period
current or recent use of birth control pills
The bottom line is if you are a woman, you are at risk. Period.
So promise me you will go get squished.  Together, we are the cure.