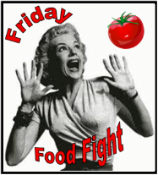 When I planned this week's menu, I was craving this soup. Maybe with all the icky, sick germs in my house, my body needed the immune-building homemade penicillin that chicken soup always seems to provide.
I first found this ridiculous easy recipe in Rachel Ray Every Day, but over the years, I've tweaked it a bit by finding a way to reduce the fat without losing all the creaminess.  I also use less gnocchi than the original recipe.
It's been a while since I last made it, but one taste and I remembered how much I love it and it's always a hit with the family too.
With the nasty cold weather expected this weekend, bundle up and stay warm and then get this soup started for dinner tonight.  With this soup, you can prepare it ahead of time and then throw the gnocchi in just before you serve it.  The leftovers reheat and freeze nicely too, so you'll have it for another cold, winter day.
Leeky, Creamy Chicken and Dumpling Soup
(Adapted from Rachel Ray)
Ingredients
2 tablespoons extra virgin olive oil
3 leeks, white and tender green parts split lengthwise and thinly sliced crosswise
5 celery stalks, thinly sliced
1 bay leaf
4 cups low sodium chicken broth
1 cup heavy whipping cream
1 cup non-fat milk
Salt and pepper to taste
1 pound chicken tenders, cut into small chunks
1 package gnocchi
1/3 cup chopped flat leaf parsley
3 Tbsp dry sherry
¼ tsp cayenne pepper
Directions
In a Dutch oven or soup pot, heat olive oil over medium heat.  Add the leeks, celery and bay leaf and cook until the vegetables are softened, about 5 minutes.
Add the chicken broth and bring to a boil. Stir in the cream and milk, lower the heat and simmer until the soup bubbles at the edges.
Add cayenne pepper, salt and pepper to taste.  Add the chicken and gnocchi and cook for 5 minutes.  Stir in the parsley and sherry.  Serve hot.
Makes  4-6 servings.
Thanks for joining our weekly Friday Food Fight! Can't wait to see what everyone is flinging this week!
While here, don't forget to toss some cookies at The Ultimate Virtual Christmas Cookie Swap!
*Also submitted at*