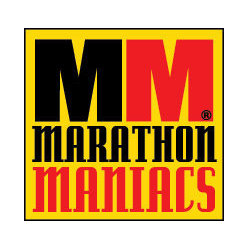 My second marathon for 2013 is in the books! By running Disney Marathon and Clearwater Marathon within a week of each other, I qualified for Marathon Maniacs, an exclusive on-line community full of crazy marathon addicts.  Just check out the criteria and you'll see what I mean.  Of course, I would love to be one of the crazy marathoners traveling across the country to run one marathon a month.  I guess I fit right in at the asylum.
Even though I only had a week of recovery between the two marathons and I realize I put a lot of stress on body, however, I feel really GREAT!  It's crazy.  I feel better this week than I did after the Disney Marathon.  I guess my legs were all lubed up and ready to run.  The 26.2 miles at Disney were my warm up.  Yeah, that's it. 
I feel the usual sore quads, some soreness in my shins and the occasional twinge in my Achilles but that's all the normal every day running stuff I always feel after a really great run.  Ironically, my plantar fasciitis hasn't bothered me in the least!
So, this week is another rest week while I recover.  Tomorrow, I'm supposed to assist with my girls' running club, but my youngest daughter has the flu so we're all just sitting ducks until it hits us too.  If I healthy enough to make it to running club, I'll do a very easy 2 miles with the kids.  However, there will be no speedwork for me this week while I recover, but I may try to run a little by the end of the week if I'm not bedridden with the flu.  Knock on wood.  Expect some sprints from me next Tuesday.
After taking another week off this week for marathon recovery, I will be ready to start focusing on the other races also known as my 13 in 2013 Challenge.  I thought you would enjoy seeing what that entails by sneaking a peek at my race calendar for the remainder of the year.
Run DMT 2013 Race Schedule
January
Walt Disney Marathon 1/13
Clearwater Marathon 1/20
February
Best Damn Race 2/2
Dirty Girl 2/9
Gasparilla Distance Classic Half Marathon 2/24
March
Chasco Challenge Rally to Remember Half Marathon 3/9
April
Iron Girl 4/14
May
Sombrero Run 5/3
5 Miles for Moffit 5/11
June
July
Indpendence Day 5k 7/4
August
Chaotic Cotteeman 8/10
September
October
Frankenfooter Living Dead Challenge 10/16 & 10/27
November
Space Coast Half Marathon 12/1
December
Pretty Muddy 12/7
Speaking of future races and the Pretty Muddy, my friends at Pretty Muddy are offering a onetime $20 discount. The code is GIRLTIME.  Hurry!  It expires 1/31/13.  So come join me and my Mud Bloggin' friends at the Pretty Muddy this November!
The NYC marathon will also happen in November, however, with the whole NYC marathon resolution due to Hurricane Sandy canceling last year's event, I'm not sure if I will apply this year.  I want to apply to guarantee my spot for 2014, but I'm not sure if I could ever run a marathon by self again after having my friends with me.
I also haven't decided if I will run a Christmas race again in December.  The holidays are so hectic and it just adds to the stress.  If I change my mind, I can always register last minute.
So, there's seventeen races listed above and I'm sure others will come up that I will want to do or even virtual runs that I'll want to do, like on Thanksgiving Day.
So what does your race calendar look like?  What are racing you plans?  Do you try to run at least one race a month?  Will you aim for 13 in 2013 like me?
*Also linking up at*