Goya sent me an assortment of goods and their recently released cookbook: Healthy, Tasty, Affordable Latin Cooking to try.
Goya's cookbook, Healthy, Tasty, Affordable Latin Cooking, features 30 healthy recipes from Latin America and Spain as well as a healthy Latin twists to American favorites.  The MyPlate/MiPlato bilingual approach focuses on the First Lady's Let's Move initiative to help promote healthy eating in the Hispanic community.  All the Healthy, Tasty, Affordable Latin Cooking recipes are simple to follow and offer nutritional information.
I typically buy organic canned goods and rice and tend to stay away from packaged spices.  However, I was surprised to learn about the assortment of organic Goya foods available, which were spotlighted in the cookbook after the recipes.
Although many of these items are not available at my supermarket just yet, the organic Goya products can be found online at the Goya e-store.  Thankfully, Goya sent me their Quinoa to try, which I shared last week.
All the recipes featured in Goya's Healthy Tasty Affordable Latin Cooking can be found at Goya.com and to make their healthy, tasty meals even more affordable, Goya coupons are available online too.
I tried a few recipes, but I'll share the most recent recipe that was kid-approved (and Iron Chef Allan) approved.  Although Goya's Chicken Veracruz recipe calls for GOYA® Adobo Light All-Purpose Seasoning with Pepper, I prefer to make my own mixture of "adobo" by adding garlic powder, oregano and turmeric.  I also added a fresh jalapeño rather than a canned pickled one.  This Goya's Healthy Tasty Affordable Latin Cooking – Chicken Veracruz recipe can be found here, but I'm sharing my adaptation.  This dish can also can be prepared with turkey or fish.
Chicken Veracuz
Recipe type:
Chicken, Entree
Prep time:
Cook time:
Total time:
A tender, tangy Mexican-style chicken
Ingredients
2 tbsp. GOYA® Extra Virgin Olive Oil
1 lb boneless, skinless chicken breast
1 medium yellow onion, finely chopped
2 garlic cloves, minced
½ tsp dried oregano
¼ tsp turmeric
1 cup Pomi Strained Tomatoes
1 cup water
1 tsp. salt
½ tsp ground black pepper
GOYA® Manzanilla Olives Stuffed with Minced Pimientos, thinly sliced
1 jalapeño, finely chopped
1 tsp GOYA® Capers
1 Bay leaf
2 Tbsp finely chopped fresh cilantro (optional)
Instructions
Using a meat mallet, pound out chicken breast to approximately ½ inch thickness.
Heat 2 Tbsp olive oil in large skillet over medium-high heat. Add chicken; cook until light golden brown on both sides, flipping once, about 5 minutes; set aside.
Stir in onions, cooking until soft and translucent, about 10 minutes. Add jalapeño and cook until softened. Add garlic and cook until fragrant, about a minute.
Add turmeric and oregano to pan and cook for about 30 seconds. Stir in tomato sauce, 1 cup water, salt, pepper, olives, jalapeño, capers and bay leaf. Bring tomato mixture to boil.
Return chicken to pan. Cook, flipping once, until coated in sauce and cooked through, about 15 minutes.
To serve, divide chicken and sauce evenly among serving dishes; sprinkle with cilantro. Serve with rice.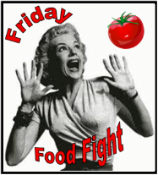 Thanks for joining our weekly Friday Food Fight! Can't wait to see what everyone is flinging this week!
*Also submitted at*