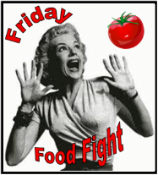 As you know, I've been on the hunt for new Meatless Monday dishes.  I'm also trying to eat less carbs.  With my pasta and a love for all things potato, that is really hard to do.  I've managed to give up bread and have been two weeks pasta free, but I can't seem to give up potatoes (or pizza) yet.
I know I should make a transition from starchy white potatoes to healthy, rich in vitamins sweet potatoes, but it hasn't happened yet.  I'll get there and I'll make my family hop on board the sweet potato bandwagon eventually. In the meantime, in my hunt for Meatless Monday dishes, I found this yummy Lentil Shepherd's Pie with Rustic Parsnip Crust from Forks Over Knives.
Now, my husband, having grown up in Northern Yorkshire, ate more of his share of shepherd's pie and he is not a fan of the "mushy tasteless mess" as he calls it.  However, in my Hispanic-Italian family, we never ate Shepherd's Pie.  We grew up on pasta, which may explain my adoration for pasta.  So, when I tasted Shepherd's Pie for the first time, I loved it.
Though I'm not sure if my kids would eat a traditional meaty mushy mess of Shepherd's Pie, I knew they would love this meatless version.  We often eat lentils and like me, my children love every variety of potato.
Iron Chef Iron and I tweeked the original recipe a bit to produce our version of a Vegan Lentil Shepherd's Pie with Parsnip-Potato Crust, because that's what we do.  If you've followed my Friday Food Fight for a while, you know that crushed red pepper flakes are a staple ingredient in most of our dishes. We also thought that the dish needed a bit more acid such as balsamic vinegar (or like a good Brit, HP Sauce or Worcestershire sauce) for a more robust flavor.
If you're trying to give up potatoes, you could easily substitute the parsnips and potatoes with sweet potatoes.   And if you're on a gluten-free diet, our Vegan Lentil Shepherd's Pie with Parsnip-Potato Crust passes the test.
Iron Chef Allan and I really enjoyed our version of a Vegan Lentil Shepherd's Pie with Parsnip-Potato Crust.  Even the kids loved it!  So, we have another crowd pleasing Meatless Monday dish in the rotation!  However, if you don't have a crowd, the leftovers freeze and reheat nicely.
Vegan Lentil Shepherd's Pie with Parsnip-Potato Crust
Cuisine:
vegan, vegetarian, gluten-free, dairy-free
Prep time:
Cook time:
Total time:
Meatless version of Shepherd's Pie made with lentils and a parsnip-potato topping.
Ingredients
1 Tbsp Extra Virgin Olive Oil
1 large red onion, diced
1 large carrot, diced
2 stalks celery, diced
2 cloves garlic, minced
1 sprig rosemary, chopped
1½ cup lentils, rinsed
1 bay leaf
3 Tbsp tomato paste
1 Tbsp balsamic vinegar (or HP Sauce or Worcestershire sauce)
1 tsp Kosher salt
½ tsp freshly ground black pepper
¼ tsp crushed red pepper flakes
8 medium red-skin potatoes, quartered (peeled optional)
4 parsnips, peeled and chopped
Instructions
Heat a 5-quart stock pot over a medium heat; add EVOO.
Add onions and cook until soften and caramelized. Add carrot and celery and sauté with onions until softened, about 10 minutes. Add the garlic and cook for another minute.
Stir in the rosemary, lentils, bay leaf and add 6 cups water. Bring the pot to a boil over high heat. Monitor and add additional water, if needed. (Lentils should have the consistency of stew.) Reduce the heat and simmer uncovered for 30 minutes.
Preheat the oven to 350°F.
Add the tomato paste and balsamic vinegar; cook for another 15 minutes, or until the lentils are tender. Season with salt and pepper. Remove from the heat; discard the bay leaf and pour the lentils into an 8x8 inch baking dish.
Meanwhile, prepare the potato-parsnip topping while the lentils cook. Add the potatoes and parsnips to a medium saucepan with enough water to cover. Bring the pot to a boil over high heat. Reduce the heat and cook uncovered until the vegetables are tender, about 15 minutes.
Remove the potatoes and parsnips from the heat and drain. Mash the parsnip-potato mixture with a handheld masher (or ricer if peeled) until smooth and creamy. Season with additional salt and pepper; then spread the mixture evenly over lentils.
Bake the casserole for 25 minutes, or until bubbly. For a browned crust, closely monitor casserole under a broil setting for a few minutes.
Let dish stand for 10 minutes before serving.
*Also submitted at*