Last Wednesday, I hurdled a huge accomplishment.  If you've followed this blog for some time you know I have some serious bike issues.  I crashed my bike about four years ago and it took me YEARS to find the courage to ride again.  Last spring, I began a journey to get back on the bike, to compete in triathlons again and I had a successful comeback.
Last week, I hurdled another big moment.  I rode the trail by myself.  I was supposed to meet some sTRIders (a subgroup of Suncoast Strider triathletes), but no one showed.  As I contemplated turning around and returning home, I decided to make the most of my time and go for a ten mile ride.  Well, it proved to be very productive morning for me.  Not only did I ride by myself, but I also shaved 30 seconds off my time from last Sunday.
10.2 miles (bike)
Time 45:16
Ave speed 13.4
Max Speed 15.7
Then, I rocked another tempo run last Thursday.  I am really digging running with faster runners.  I ran the first 2.5 miles of my 6.2 mile run with the Boston Strong crowd and I maintained an 8:30 pace.  I actually started before them, but Melanie caught up to me pretty quickly and then passed me as she asked, "Girl, what are you running from?"
I was attempting to run away from the fast people, but not for long.  I couldn't hold that pace for moree than the 2.5 miles and I didn't finish under an hour like last week's tempo run, but there's always next week.
6.2 miles
Time 1:02:59
Ave Pace 10:09
Max Pace 6:49
Friday, I rested because I had the Xtreme Challenge on Saturday.  Stayed tuned for a full race recap.
Sunday, I decided to ride, but it wasn't quite a rewarding as Wednesday's ride.  I must have been tired because I didn't finish anywhere close what I did the other day.  That's o.k..  I knew it would be a brick with a 3.1 mile run later in the evening at the Best Damn Blogger Party.
10.37 miles (bike)
Time 49:18
Ave Speed 12.6
Max Speed 15.7
Sunday evening, I attended the Best Damn Blogger Party hosted by the Best Damn Race to thank all the bloggers who supported the race and wrote about it. After brief introductions, gracious thanks and a presentation of goodie bags, we went for a 3.1 mile run.  Yes, they thanked us by making us run along Bayshore Blvd.  Thank goodness we snapped a photo before our sweaty run.
3.1 miles
Time 31:10
Ave Pace 10:04
Max Pace 6:47
I'm not used to running in the evening but the promise of wine and Ashworth Artisan Chocolates from FitNiche and FitLife Foods cookies and brownies was motivation to keep me moving.
The Best Damn Race gave us more reasons celebrate and support them by offering an exclusive Best Damn Blogger Discount for $5 off with the coupon code: BDRBLOG.  This coupon will be good through August so register here soon!  Do a challenge with me!
Here's another sweet deal from Tri Swim Coach!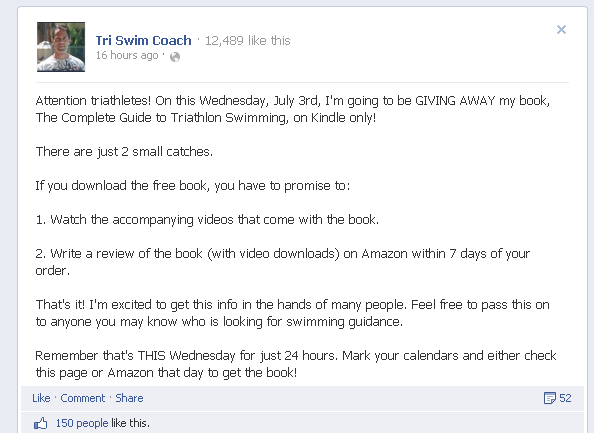 Speaking of deals and challenges, I decided to take on #42gifts #birthdayproject.  During the month of July (my birthday month), I will be offering 42 random acts of kindness and you can follow my #42gifts on me and on Twitter and Instagram.  Also as part of the #birthdayproject, I plan to run 42 miles before my 42nd birthday on July 27.
On day 1 of my #42gifts #birthdayproject, I didn't run, but I bought the WTSP Mom Squad coffee.
I also purchased a box of Silk from the Healthy Vending machine which offers funding to prevent childhood obesity. Follow me on Instagram and Twitter to see what other gifts I will be sharing this month.
For Day 2 of #42gifts #birthdayproject, I shared rehydrating drinks with the sTRIders.  They invited me to run intervals with them and to show gratitude for getting me back into the swing of sprints, I offered them coconut water, PediaONE replenishing drinks and Fit Foods for Life snacks.  In return they gave me some kick ass sprints in the rain.
The rain started about halfway through the sprints.  No going back once you begin.  I started with a 1.5 mile warm-up followed 4 x 800s and two minute rests in between each sprint.  I also ran a 0.5 mile cool down.  I am so impressed with my sprints, like a real runner and I've arrived.
Warm Up 1.45 miles
Time 14:06
Ave Pace 9:46
Max Pace 7:53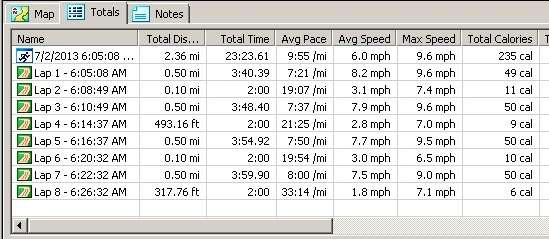 Cool Down 0.55 mile
Time 5:41
Ave Pace 10:19
Max Pace 8:13
Only 37.64 more miles to go this July!  Good thing I'm running the Lutz Independence Day 5K and the Moms Run This Town Virtual 10K!
On the subject of sprints and gifts, I recently received a tank top from YMX as a FitFluential Amabassador.  YMX prides itself in being wearable art on workout clothes.
I decided to go for a test run in my new YMX tank during my Thursday tempo run.  My YMX Mango Infinite Flower tank has no bra shelf, so I still had to wear a sports bra under the top.  Though I had no need for SPF30 at 5:30 in the morning and the tank didn't wick away the moisture any more or less than any of my other work-out tops, I enjoyed the soft stretchy, lightweight material and its flattering length.  I also think the pretty design made me pretty speedy that morning.
I wore the Infinite Flower Mango tank once more for my sprints today.  It may have been a raining, gray morning, but I brought the sunshine with this lovely mango tank.
I will wear the top again to the gym and for shorter runs but I prefer tops with pockets for longer runs.  YMX does offer a variety of designs and colors and styles with pocket, which I'd like to try.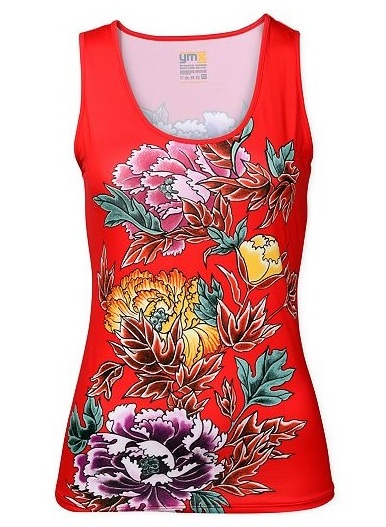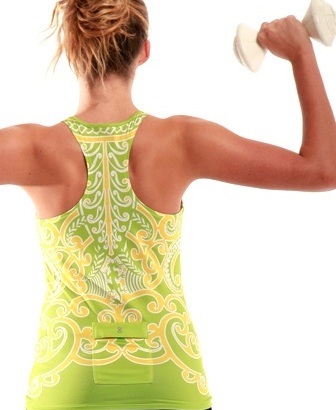 I'd also like to try some of the YMX cycling jerseys, running apparel and sleeves for the winter.  As another gift from me to you, "like" YMX on Facebook to reveal a special fan discount.
What do you think of the YMX tops?  Which #lifeartsport fits your style? How are you handling the heat and your trainings?
Psst…BTW…Don't miss my PediaONE giveaway.  It's not just for sick kids, you know.
*I received YMX as part of FitFluential Ambassador Campaign in exchange for my honest review.