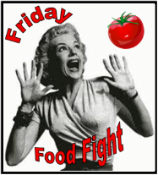 Giving up bad carbs while trying to eat meatless on Mondays has been quite the challenge.  Pasta is my go to for vegetarian meals.  Given this challenge, I've had to dust old vegetarian cookbooks and search over the Internet for simple, no pasta, Meatless Monday dishes.  I even created a new Pinterest board just for Meatless Monday meals.
Recently, I found this recipe in one of my old vegetarian cookbooks, The Complete Cookbook of Vegetarian Cooking, which I bought way back when B.C. (Before Children) when I was a vegetarian.  Though it's not even in print any more, the vegetarian meals still offer some great ideas for Meatless Mondays.
This Rolled Eggplant with Basil, Asiago and Mozzarella was a Meatless Monday hit!
Iron Chef Allan and I modified and tweaked recipe a bit.  The original recipe called for pesto, but with Allana's tree nut allergy, we omitted that ingredient and improvised a better eggplant roll.
First, Iron Chef Allan sliced the eggplant thin using a mandolin slicer, which offers a consistent, even slice.
Then, we brushed one side with a mixture of olive oil, crushed garlic, oregano, red pepper flakes, salt and pepper.  Once, the eggplant cooked for about a minute, we flipped it and brushed the other side.
With the eggplant slices only slightly cooked, they are much more flexible and easier to roll, however, if the eggplant is overcooked, it will tear while being rolled.  We layered each eggplant with mozzarella, asiago, and basil and then rolled it.
We used toothpicks to pin each roll.  Then, the rolls are placed into an ungreased baking dish and bake in the oven for about 10 minutes.
A simple Meatless Monday dish that compliments and pairs well with pasta and a marinara sauce but I prefer the rolled eggplant on a bed of arugula with ripe red tomatoes and a drizzle of balsamic vinegar.
Rolled Eggplant with Basil, Asiago and Mozzarella
Prep time:
Cook time:
Total time:
Lightly sautéed and baked rolled eggplants with a cheesy, basil center.
Ingredients
2 eggplants, sliced thin lengthwise
¼ cup olive oil
2 garlic cloves, minced
¼ tsp crushed red pepper flakes
½ tsp oregano
1 tsp salt
½ tsp fresh ground black pepper
16 oz Mozzarella sliced thin
½ cup Asiago, shaved
¼ cup fresh basil leaves, torn
Instructions
Preheat oven to 350 degrees. Combine olive oil, garlic, oregano, crushed red pepper flakes, salt and pepper in a small bowl.
Brush one side of eggplant with olive oil mixture and place on electric griddle; repeat with other eggplant slices. While eggplant sautés brush other side. After about a minute, flip eggplant to cook evenly. Avoid overcooking eggplant which will cause the eggplant to tear while rolling. Move softened eggplant to a plate to cool.
On clean work surface or a cutting board, layer eggplant with mozzarella, basil and asiago. Carefully roll and pin with a toothpick to hold the rolled eggplant. Place into an ungreased baking dish. Repeat with remaining eggplant.
Bake eggplant rolls for about 10 minutes. Serve eggplant rolls with pasta and a marinara sauce or on a bed of arugula and red ripe tomatoes drizzled with balsamic vinegar.
Thanks for joining our weekly Friday Food Fight! Can't wait to see what everyone is flinging this week! 
*Also submitted at*