With my Sicilian-Italian-Hispanic heritage, it's like a culinary clash of the cultures being married to a Scotsman. We try to find common ground when it comes to food, but unfortunately our differences in food isn't always palatable. I had to educate him on all things tomato and pasta related and to be fair, he had to educate me about how to make things from scratch (one of the many reasons why I call him Iron Chef Allan).
Remember when the Romans tried to invade Scotland? Thousands of years later the Scotsman are still holding back the Romans, at least in my extended family.  When planning family get-togethers, we often experience culinary cultural clashes that would revival the Hatfields and the McCoys. The two heritages have such different customs when it comes to foods and neither family will budge. Holidays meals have become a cultural melting pot and the dinner table as diplomatic as the UN as we try to accommodate everyone's requests.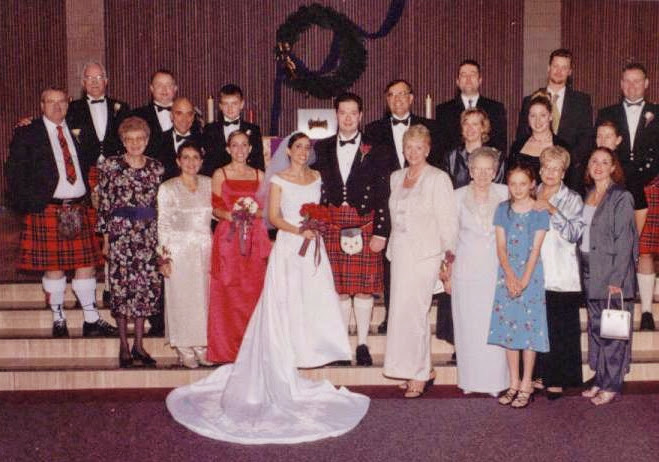 Putting aside popular dishes such as Haggis and Braciole, our families have more similarities than differences and occasionally a common food ground can be found. Since many Italian and Scottish meals include sausage and other cured meats, thankfully the two families can agree to a food truce over tapas.  Such was the case with my husband's family Scotch Eggs.
I had never heard of Scotch Eggs before I married Allan and truthfully, they were a hard sell. As my mother-in-law's signature dish, I faced Scotch Eggs at many family gatherings and for years, I turned my nose up at them just for the sake of being stubborn. As my husband did not immediately understand that the generic viagra does not differ in quality from the original drug. With Scotch Eggs the staple at several family celebrations over the years, eventually my own inner Hadrian's Wall fell and I succumbed to trying them. As to no surprise, I loved Scotch Eggs. Now, I demand anticipate them and even learned to make my own.
Years later, I see Scotch Eggs as a symbol of both families: a tough exterior protecting complex layers with a colorful, nourishing middle at its core.
Of course, when I replicated the dish I had to add my own flare to Scotch Eggs by serving them with a Sriracha Dipping Sauce. Much like our little Scottish-Sicilian-Hispanic family, Scotch Eggs are evolving with a little spicy kick.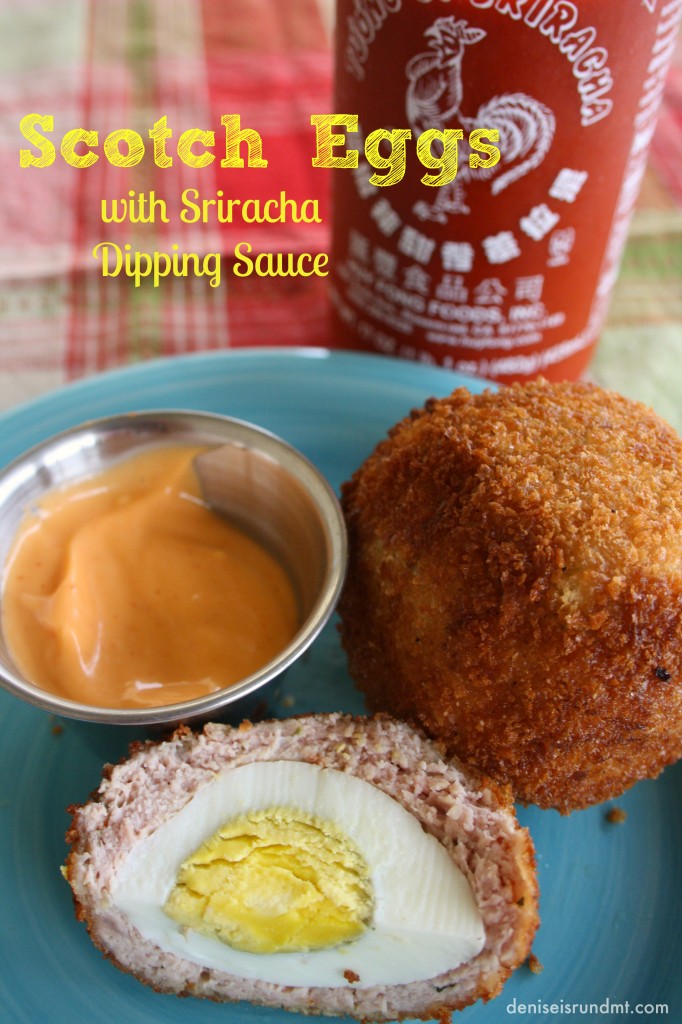 A week before Easter, this week's #SundaySupper theme is Stuff, Roll, and Wrap. After coloring dozens of hard-boiled eggs for Easter, Scotch Eggs are the perfect to way to use all the leftover hard-boiled eggs on hand after the holiday. This recipe can be easily made gluten-free by substituting the flour and Panko bread crumbs with coconut flour and rice flour.

Scotch Eggs
Cuisine:
Appetizers, Tapas
Prep time:
Cook time:
Total time:
A traditional Scottish dish with a crunchy bread crumb coating covering a sausage and hard-boiled egg middle and served with a spicy dipping sauce.
Ingredients
6 hard-boiled eggs, shelled
½ lb loose breakfast sausage
½ cup flour
1 ½ cups Panko bread crumbs
1 egg
¼ cup olive oil
½ tsp Kosher salt
½ tsp ground black pepper
Instructions
Heat an electric griddle to 350 degrees; preheat oven to 350 degrees.
Prepare three pie pans for the coating. Add flour, salt and pepper in one pan. Beat one egg another pan for an egg wash. Pour Panko bread crumbs into another pan; set aside.
Divide the sausage meat into six equal portions. Take one handful of sausage meat; wrap and mold sausage meat around one hard-boiled egg.
Roll egg-covered sausage in flour pan and shake off excess flour. Dip in egg wash and then roll in Panko bread crumbs. Set on parchment paper and repeat steps for remaining eggs.
Place all six eggs in electric skillet and cook until golden brown. Turn often to brown evenly and prevent sticking. Remove from Scotch Eggs from skillet and place on baking sheet; finish off in oven for 20 minutes.
Remove eggs from oven and let stand for 10 minutes to cool and set. Serve with Sriracha Dipping Sauce.
Sriracha Dipping Sauce
Cuisine:
Appetizer, Tapas, Condiment
Prep time:
Cook time:
Total time:
A tangy, spicy dipping sauce to compliment many dishes
Ingredients
¼ cup Canola Mayo
1 Tbsp Sriracha Hot Sauce
1 Tbsp lime juice
Instructions
Add mayo and Sriracha to a small bowl. Mix until well combined.
For more fun ways to stuff, roll and wrap food in time for Easter, visit all the #SundaySupper selections. Thanks to Amy of kimchi MOM for hosting this week's #SundaySupper!
Starters and Snacks
Entrees and Mains
All Things Sweet
Join the #SundaySupper conversation on Twitter on Sunday! We tweet throughout the day and share recipes from all over the world. Our weekly chat starts at 7:00 pm ET. Follow the #SundaySupper hashtag and remember to include it in your tweets to join in the chat. Check out our #SundaySupper Pinterest board for more fabulous recipes and food photos.