Disclosure: As part of a FitFluential campaign, I received a Mamma Chia gift set  in exchange for my honest review and for the purpose of a giveaway. The opinions shared are my own.
Ever since I read that Runner's World article about the importance of protein in a runner's diet, I have been obsessed with adding protein to my meals. Not to mention my recent obsession with chia seeds and the great source of Omega-3s they offer, therefore, this offer to review Mamma Chia products had the perfect timing!
Besides my obsession with adding protein to my diet, I have been very concerned about my 8 year old daughter's diet. Her refusal to eat some meats and an aversion to certain textured foods continually denies her body and her brain the proper nutrition she needs to function, which adversely affects her performance at school. By sneaking about a couple of tablespoons of chia seeds in her fruit smoothies at breakfast, I have noticed a huge adjustment in her behavior, particularly her ability to focus.  (Stay tuned for some of our favorite Mamma Chia smoothie recipes! In the meantime, follow Mamma Chia on Pinterest for great chia recipes.)
As a runner, I understand the importance of fueling properly and the need to rebuild and repair muscles after a run or intense workout. That's why these Mamma Chia Squeezes are perfect for a mom on the run because they're portable and store easily in my gym bag and purse.  But more than a quick and easy way to refuel, they are so healthy.  One Mamma Chia Squeeze offers 1,200 mg of Omega-3s, 4g of fiber, 2g complete protein and less than 80 calories per pouch.
But what I really love is that Founder and Chief Executive Officer Janie Hoffman created Mamma Chia in the kitchen of her small, rural San Diego farm while trying to perfect the Mango Coconut and Wild Raspberry Chia Squeezes. In fact, both of these flavors are made using nutrient-rich organic chia seeds infused with organic fruit and vegetables, have the right balance of sweetness and are Non-GMO Verified, gluten-free, vegan, kosher and Certified Organic by the USDA.
In Hoffman's book, Chia Vitality, she shares how she suffered from a host of debilitating autoimmune diseases, including severe lupus and chronic fatigue syndrome. After years of trying Western medicine, she turned to alternative methods, including mediation, an organic diet, and, eventually, the chia seed. Within three months of making chia a daily part of her diet, she was symptom-free.
Chia Vitality nourishes the body, mind, and soul with a combination of yoga, meditation, service, and, of course, the amazing chia seed. In 30 days, this plan harnesses the power of chia as part of a healthful lifestyle to boost stamina, lose weight, get healthier, and feel more alive than ever before.
After witness the benefits of chia seeds first-hand with my own family, I'm Chia Vitality believer!
 Mamma Chia is a conscious and sustainable company with a mission to share the magic of chia through delicious, high quality, organic chia-based foods and beverages which be purchased online at www.MammaChia.com or at natural food markets and mainstream grocery stores nationwide.  As part of its mission, Mamma Chia donates one percent of gross sales to support farmers, community groups and organizations that build healthy local food systems. For more information, visit www.MammaChia.com.
Mamma Chia wants you to experience a small sample of Chia Vitality with a Mamma Chia prize package just in time for Mother's Day! One lucky Run DMT reader will receive:
One week's supply of Mamma Chia products – 7 Chia Squeezes (varied flavors) and 7 beverage vouchers
One copy of Janie's book – Chia Vitality
One Mamma Chia T-Shirt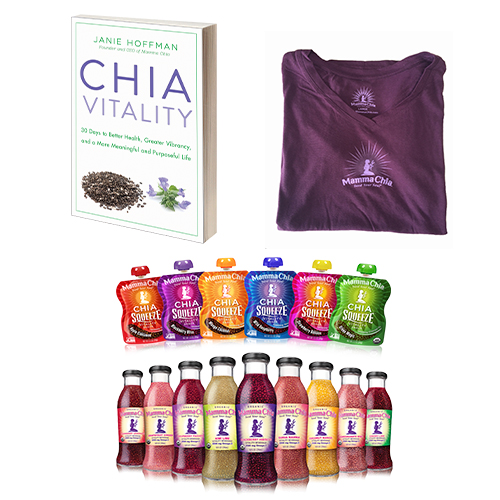 To enter, leave a comment telling me what part of this prize package (retailing about $75) excites you the most. For additional entries folllow the Rafflecopter prompts.