With being sick with allergies and hubby's traveling schedule, it has been really difficult to get a good run in lately. Given that, I honestly wasn't feeling it for Rap River Run. Since I was forced to needed to complete a June race to qualify for Digital Running Time of the Seasons Series challenge medal,  this was just a qualifier run in my mind. I didn't go into the race to PR, just to finish.
I honestly was more concerned with my looks for this run. If I wasn't going to kill myself to beat a previous time, at least I would be a stunner looking all cute in my matchy-matchy hot pink Suncast Striders gear.
I met the Suncoast Striders for their obligatory group photo. I've missed running with everyone and I really was so giddy to be back with the gang and I paired it with a big hot pink smile.
The 5K start began at 7:45 to give the 5-milers and Rap River Run "Double Sweat" Challenge Runners a chance to return to the start line for the 5K that followed. Most of the Striders took on the Double Sweat Challenge and as much as I love a challenge, I passed on this one. I was good with only running a 5K just this once. Of course, when I saw the challenge medals, I had a small pang of regret, but I got over it quickly.
Of course, I snapped a few start line selfies with my friend and fellow Jeff Galloway group run chat star, Andrea.
I tried to pace with my friends, Aaron and Leah, who maintained around an 8:30-9:00mm pace, but by the first water stop, I needed to stop. I was feeling really dehydrated and a side stitch started causing me grief.
Andrea stayed close to me and we kept each other moving. By the 2 mile mark, Leah and Aaron slipped away and I knew a PR slipped away too.
The course followed the same route as previous years. We followed Grand Blvd south along the river.  Thank goodness for large shady oak trees and the boys of Roman Plumbing with super soaker water guns.
Less than a quarter mile from the finish line, I spotted Jessica with her funny spirit booster spectator signs. A giggle and a smile was just want I need to sprint the finish line.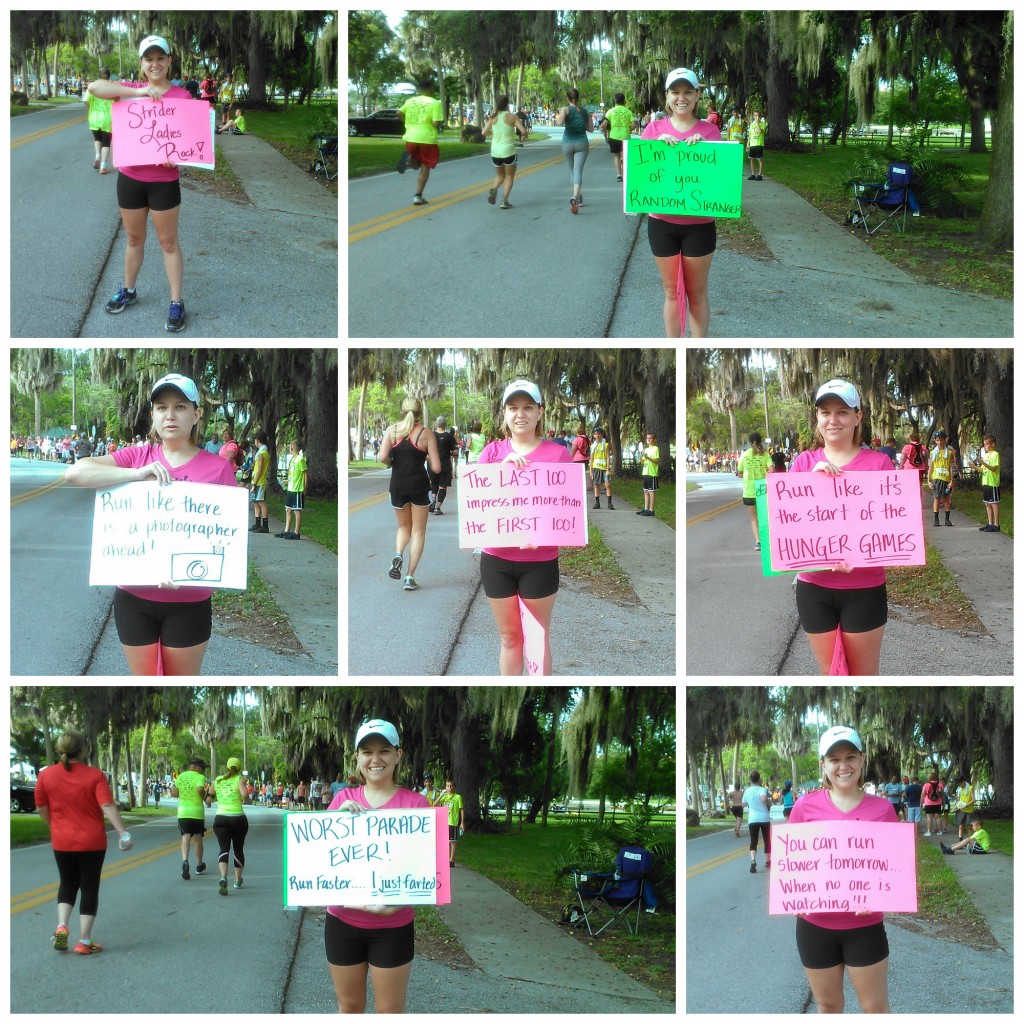 I crossed the finish just under 30 minutes; not my best time but at least I stayed under 30.
I waited around to enjoy some post-race goodies, catch up with a few more runner friends and find out my official finish time. You can imagine my surprise when I saw this. Ok, so it's blurry but you get the gist. I suppose I was shaking with shock to take a decent photo. I ran a full close to a minute slower than last year and placed first!
In case you can't read it, here it is again from the Rap River Run website.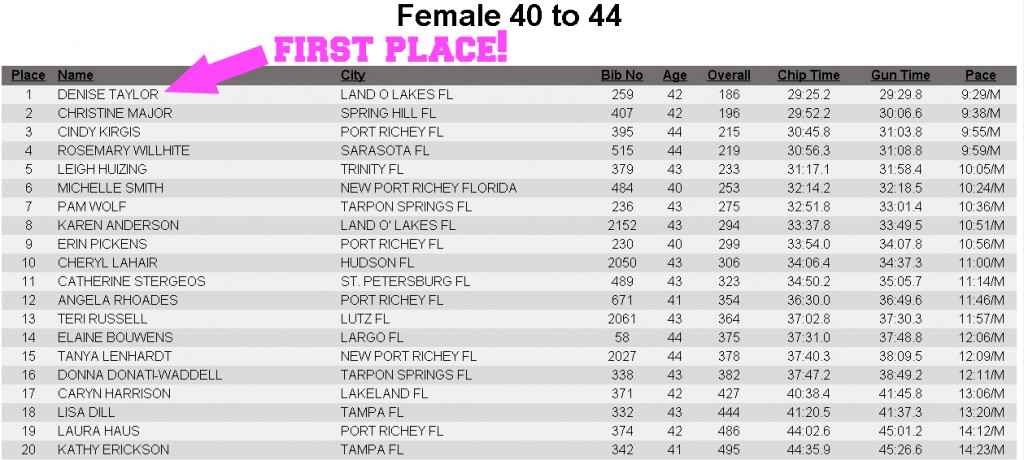 WTF?! (Where's the finish?!)
No way. FIRST PLACE?!
SHUT THE FRONT DOOR!
Although I knew I could run better and faster, today I just gave what I could. I hoped to place in the top ten but NEVER expected to place first.  I truly believe it's because most of the faster females in my age group ran the 5 miler or skipped out on the race entirely. But who cares the why's or how's?! Today was my day to shine and like my hot pink stunner Striders look, I wore it well.
Clock Time 29:53
Chip 29:25
Ave Pace 9:29
DIVISION: 1/31
Overall 34/662
You can never take to many victory selfies and photos.
I don't know what's more ironic: placing while not earning a PR or receiving an award from the Chick-Fil-a cow, since I gave up Chick-fil-a years ago. Victory tastes so much than chikin.