Who's ready for the Big Game this Sunday?
While everyone is making their football predictions and sizing up their deflated balls, I'm more concerned with what to serve on game day.
What's on your game day menu?
Typically, tailgating menu selections tend to be unhealthy, full of fat and covered in condiments that are loaded with corn syrup, artificial flavors and MSG (Monosodium glutamate). If you resolved to eat better this year, then don't blow it on game day! Level the playing field and do better for you and your loved ones by offering better-for-you selections for your Big Game menu.
With a delicious line of high-quality, homemade-tasting salad dressings and dips with NO artificial flavors, colors or preservatives, Naturally Fresh makes it easy to serve better-for-you selections with your game day tailgating spread.
Personally, I love that Naturally Fresh adds REAL, wholesome ingredients in their products, which is evident in the taste and Naturally Fresh takes pride in the fact that you can taste the difference the ingredients make.  With real chunks of blue cheese and buttermilk in their dressings, it will be love at first bite!
Naturally Fresh products (which are found at Kroger and Publix) are available in four tasty flavors:
If there is no Kroger or Publix near you, use the Naturally Fresh free mobile app to locate Naturally Fresh Products at the nearest store to you as well as discover tasty recipes while you're shopping.
Iron Chef and I were so impressed with the taste and flavors of the Naturally Fresh products and the rich buttermilk texture; we were inspired to create a better for us Ranch Turkey Burgers using lean ground turkey and the Naturally Fresh Lite Ranch Dressing.
We found that "cultured nonfat buttermilk", celery and natural spices such as garlic powder and dried parsley not only tenderized the ground turkey but also added juiciness to our turkey burgers.
While most people like to top their burgers with bacon, we added a bit of hickory smoked salt to add the smokiness and flavor to the #NaturallyFresh Ranch Turkey Burgers without adding the extra fat from bacon. The combination of flavors truly enhanced the turkey burger.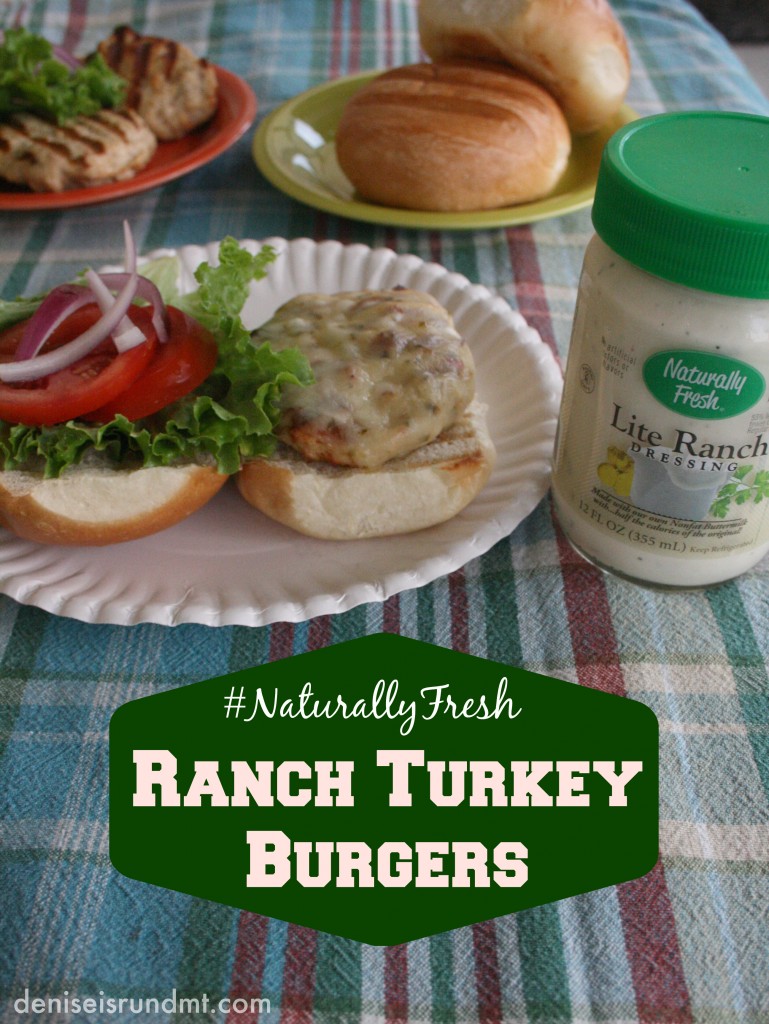 #NaturallyFresh Ranch Turkey Burgers
Recipe Type
:
Healthy, Easy
Author:
Prep time:
Cook time:
Total time:
Serves:
4[url:1][img:1][/url]
A juicy, tender full of flavor turkey burger
Ingredients
1 lb. 99% lean ground turkey
¼ cup Naturally Fresh Lite Ranch Dressing
1Tbsp olive oil
½ tsp hickory smoked salt
½ course ground black pepper
½ tsp cayenne pepper
1 package of slice pepper jack cheese
1 package of burger buns
Instructions
Preheat grill to a high heat.
Divide the ground turkey meat into four ½ inch think patties and pack loosely.
Press thumbprint into each patty to make a walnut-sized indent in the center.
Lower the grill to low heat. Add turkey patties, close lid and grill four minutes on each side.
After flipping, add pepper jack cheese after two minutes. Add buns to grill to lightly toast the buns.
Serve with on a bun with toppings such as lettuce, tomato, red onion and avocado.
 Naturally Fresh wants to you to taste the difference of its dressing made with REAL, wholesome, no MSG ingredients.
FIVE READERS will receive coupons for a FREE 12oz Bottle of Naturally Fresh Dressing!
To enter, follow the Rafflecopter prompts.  Giveaway ends Thursday, February 5 at 11:59 p.m.
Disclosure: This post is part of the blogger program by Naturally Fresh® and The Motherhood, who compensated me for my time and the development of this recipe. Opinions, experiences and photos shared here are my own, and I hope you enjoy them.