South of Tampa just off I-75, an oasis of good EATS awaits in the Winthrop Town Center in Riverview, a quaint little shopping village that resembles Sesame Street. In tucked in the corner village, sits EATS American Grill, a fun little spot that combines restored furnishings with an old-fashioned candy shop and definitely worth the drive.
On one of our gorgeous Florida winter evenings, I joined a handful of the Tampa Bay Bloggers for a unique tasting event at EATS. The entire menu consisted of several new test menu items which incorporated the Florida CANE Vodka, Florida's finest high-grade spirits.
All of the hand-crafted cocktails were divine and the presentation was outstanding! Florida CANE Vodka makes simply the best cocktails and lives up to its claim as "premium vodka". Since it's made from pure sugar cane, Florida CANE Vodka doesn't have that strong liquor "alcoholy" taste like many of the popular potato-based vodkas on the market.
A few of the cocktails we sampled were a Florida CANE Fire Ant Bloody Mary Soup Shot served with Filthy Pickles and Chili Peppers. (I loved the heat in this little firecracker!)…
… Key Lime Mule made with Key West Ginger Lemon and Lime Florida CANE Vodka served in a beautiful copper mug to match the sunset…
and a Weeki Wachee Florida CANE Vodka Watermelon Cooler which made me crave summer.
Since I'm a chicken wing connoisseur, I loved and devoured the Tamiami Gin Chicken Wings. The crispy skin and caramelized sugar seared in the gorgeous sweetness of the grilled wings. With my adoration for all things pasta, the Blackened Chicken Pasta with Florida CANE Premium Vodka was another winner for me.
By the time dessert arrived, I was done for, but I took one small taste of the Florida Okeechobee Cherry Chocolate Ganache just out of pure greed curiosity.
As part of our tasting EATS and Florida CANE tasting agreement, I was asked to create a recipe using one of the Florida CANE Premium Vodka varieties. Since Iron Chef Allan and I make a mean Penne alla Vodka and have never shared my own recipe, I thought would make an excellent selection to share.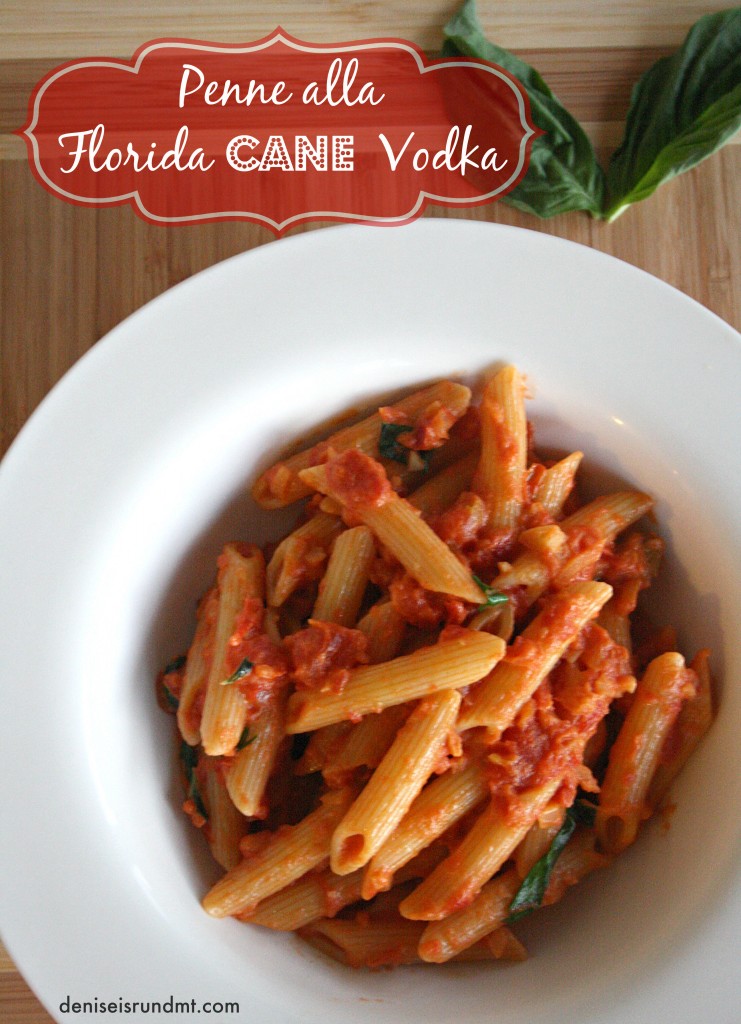 Penne alla Florida CANE Vodka
Prep time:
Cook time:
Total time:
Creamy, flavorful pasta dish that makes a delicious stand alone dinner or side dish.
Ingredients
1 Tbsp olive oil
1 lb penne pasta
1 medium onion, finely diced
3 garlic cloves, minced
1 – 26.5 oz carton chopped tomatoes
¼ tsp red pepper flakes
½ tsp salt
¼ ground black pepper
⅓ cup Florida CANE Vodka
⅓ -1/2 cup heavy whipped cream
10 fresh basil leaves, chiffonade
Instructions
Cook penne according to al dente directions on box
Heat olive oil in a large skillet on a medium heat. Add chopped onions and sauté until soft and transulencet; add garlic and cook until fragrant.
Lower heat; add chopped tomatoes, salt, pepper, red pepper flakes and vodka. Simmer for 10 minutes.
Stir in cream; add basil and remove from heat immediately. Pour over pasta and serve.
Disclaimer: The Tampa Bay Bloggers and I were invited to participate in a EATS American Grill and Florida CANE Vodka tasting event. The opinions and recipe shared are my own.