Twenty years ago, I introduced Harry Potter and the Sorcerer's Stone to my third graders. As much as I loved the characters and bringing them to life in the classroom, I had no idea the impact the series and movies would have on generations to come around the world, including my own children.
Once I became a parent, I delighted in sharing the stories with my own children. As we joined Harry, Hermione, and Ron on many adventures, they tagged along on many of ours – from the Blue Ridge Mountains to London.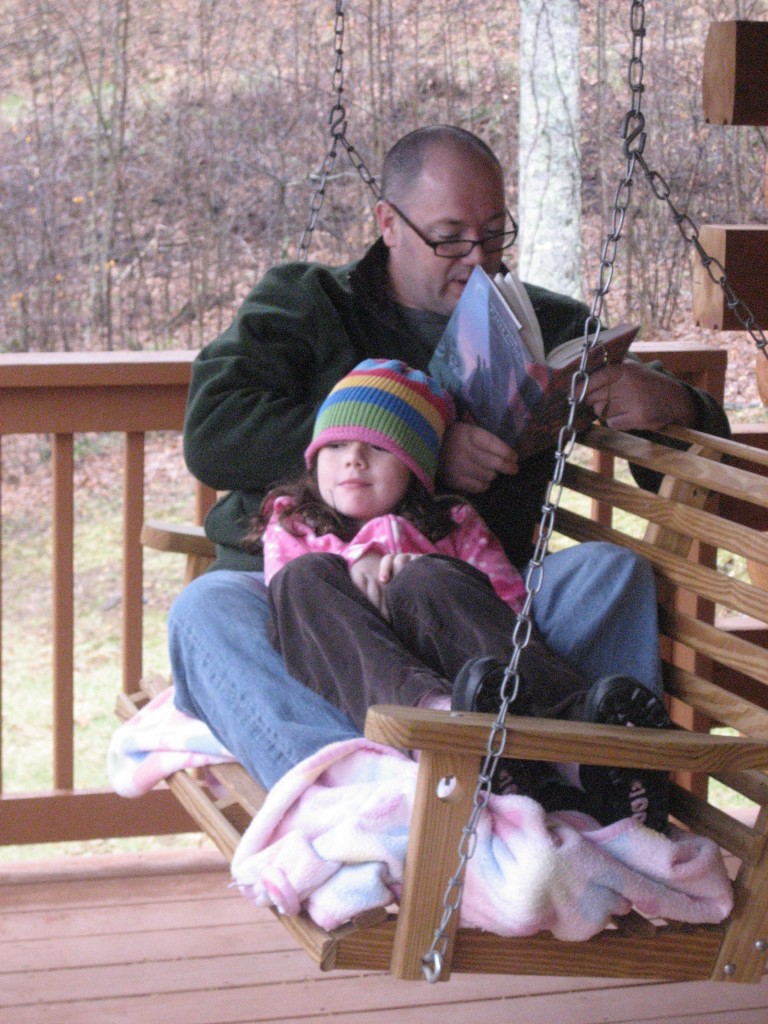 While in London and being the Potterheads we are, my family simply had to visit the Warner Brother Studios where all the films were made. Walking through the halls where Harry walked, gazing upon all the costumes and creatures, and seeing the sets where all the magic happened was so surreal.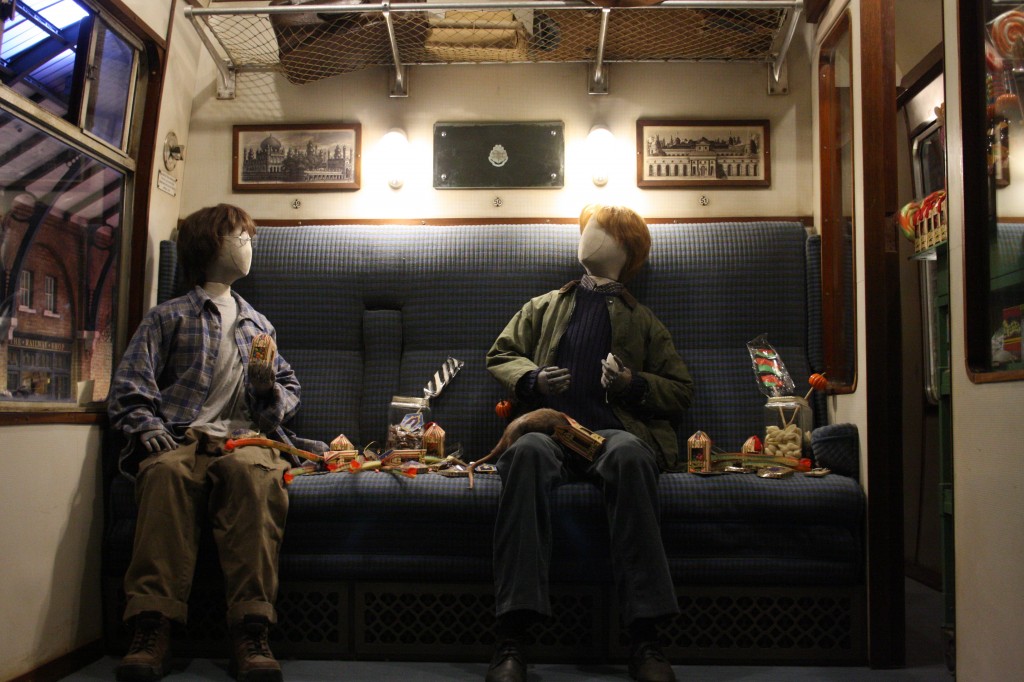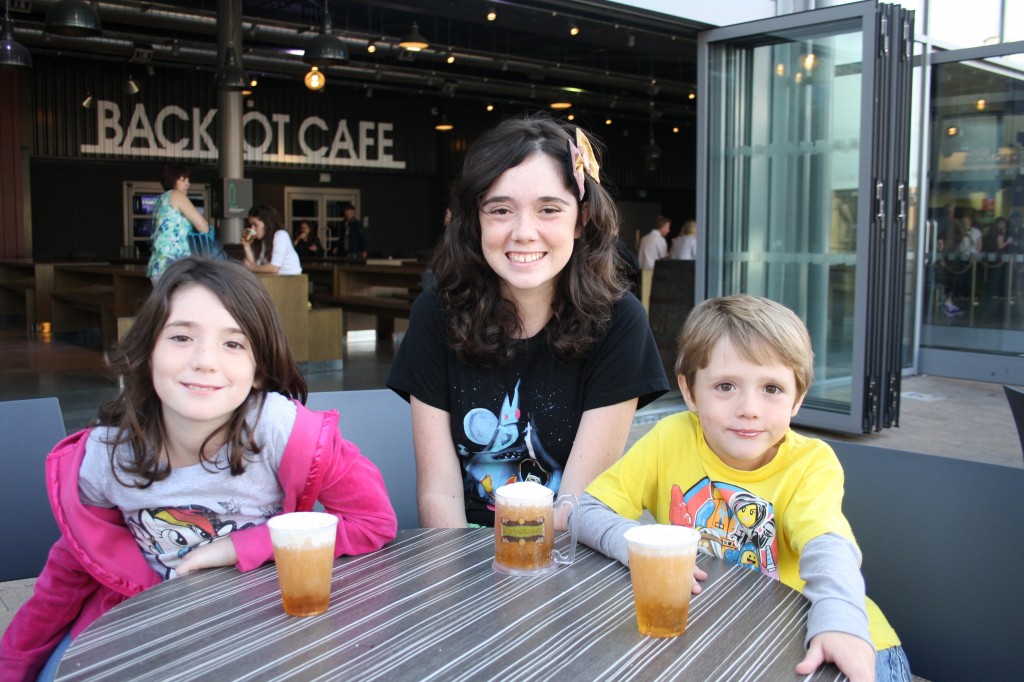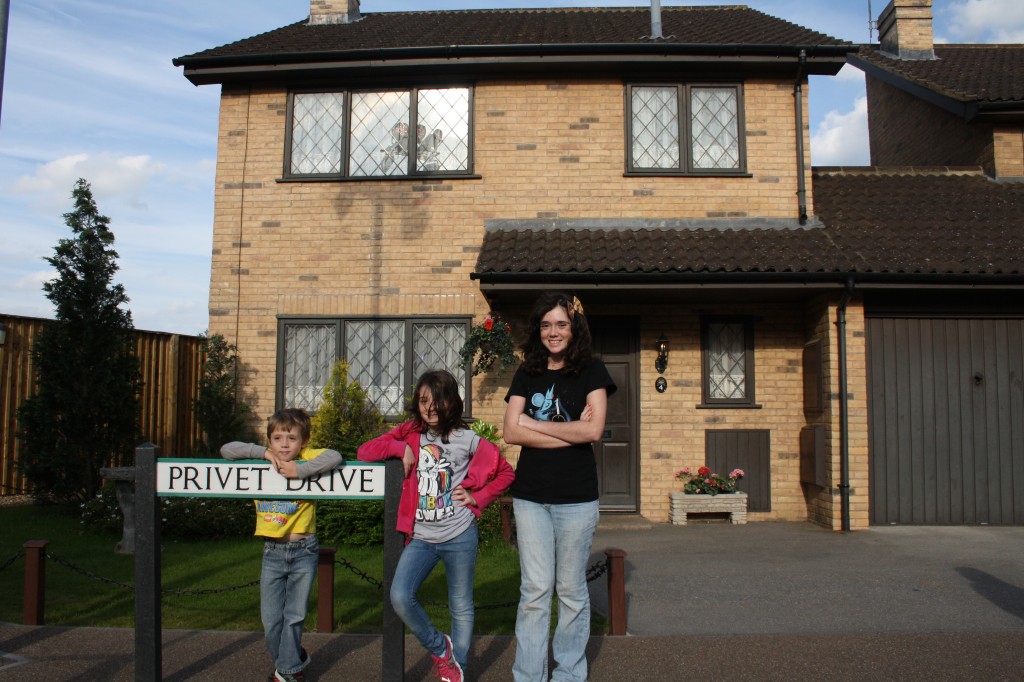 While in London, we also found our way to THE Platform 9 3/4 at King's Cross.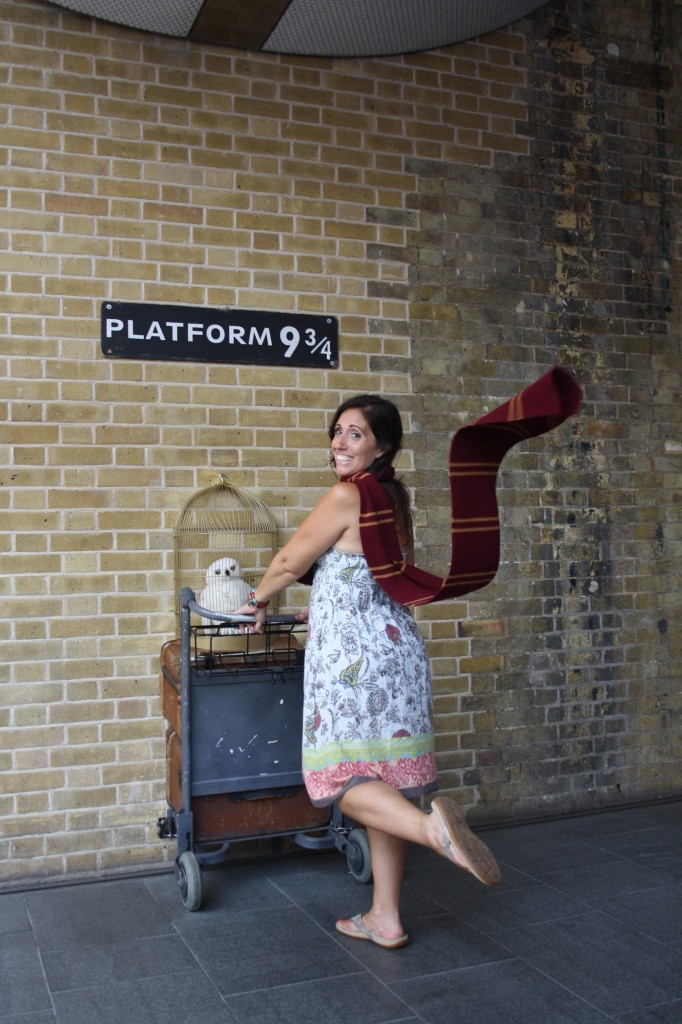 And of course, living so close to Orlando, there have been many visits to the Wizarding World of Harry Potter at Universal Studios.
We even attended the Potted Potter performance when it made its way to the Straz Center in Tampa a few years ago. No doubt about it. We are Potterheads.
During my mom life and Harry Potter cultivator, I have planned multiple Harry Potter parties. The first one happened well before Pinterest and you can view all the tricks here.
Then last summer, I planned the perfect Pinterest inspired Harry Potter Party for my middle daughter's eleventh birthday. Seriously, it was magical!
How To Plan A Perfect Harry Potter Party

Although there are so many fantastic DIY decorations and Harry Potter How-To's, I kept the décor simple by purchasing a personalized banner made with actual pages of the books on Etsy and coordinating house crests. (If you're crafty, you could probably figure it how to make it yourself.) I designed the invitation using a Harry Potter font which I downloaded into Word.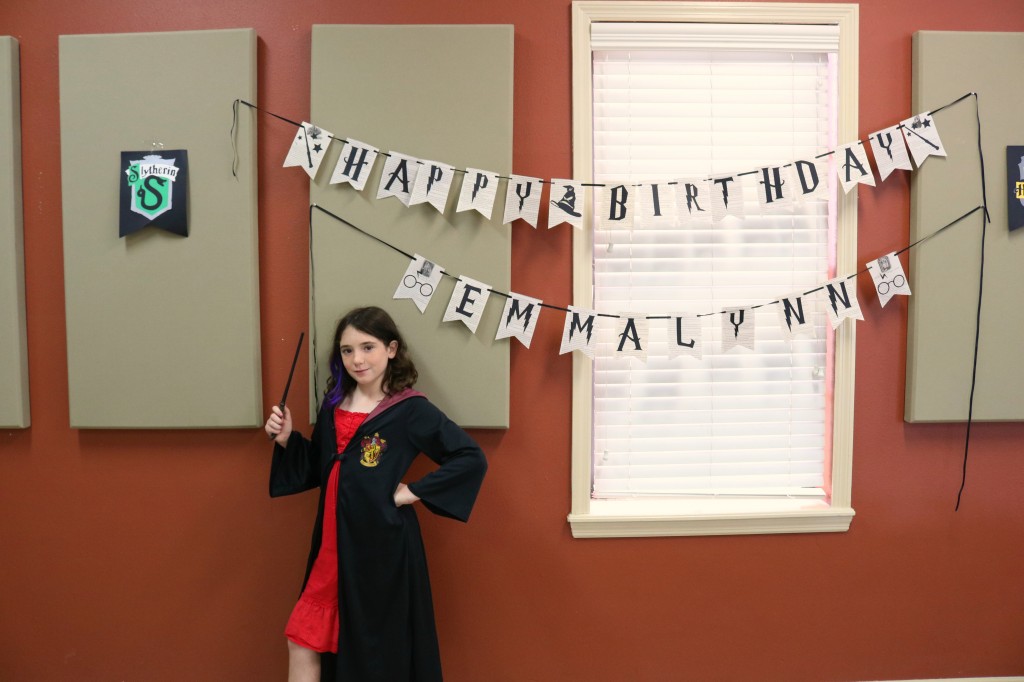 Together my daughter and I planned the activities starting with making wands using this tutorial from Boxy Colonial. Basically, I purchased 12 inch dowels and wooden knobs from Wal-Mart. I hot glued the knobs to one end of the dowel. Once the knob dried, I hot glued the entire dowel to make spiral patterns that resembled wood carved designs. We attempted to make each wand unique and even painted them with different shades on brown acrylic paint.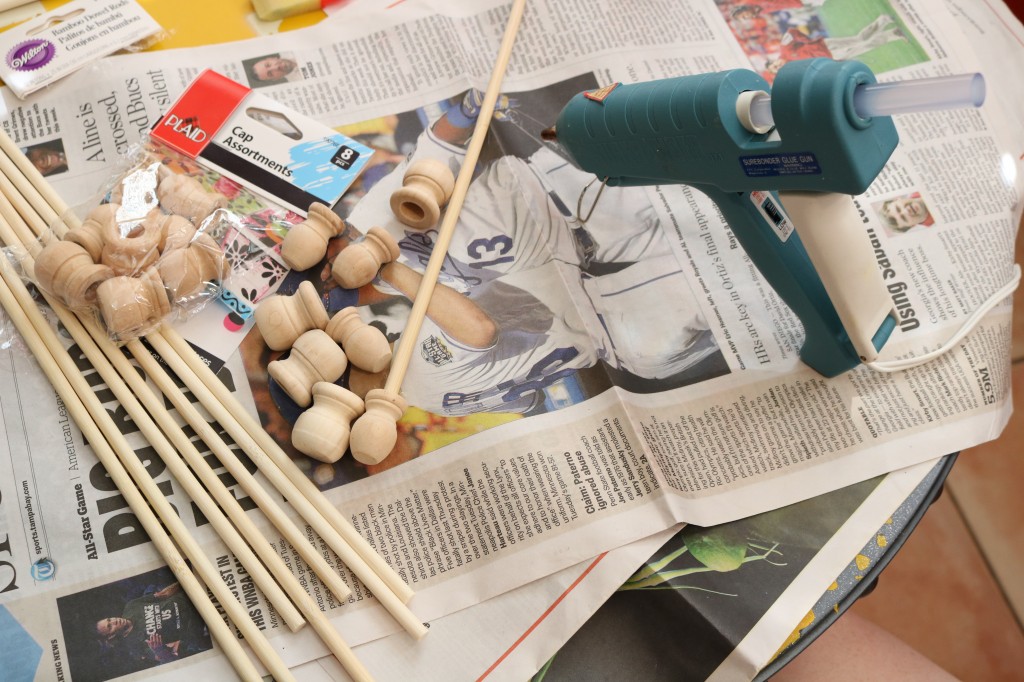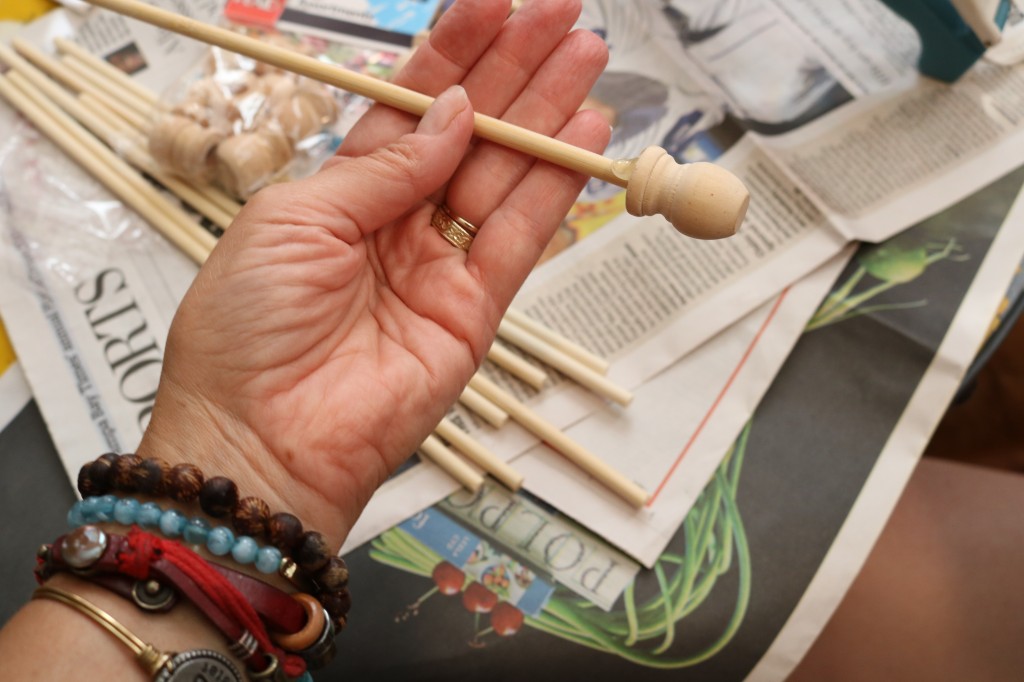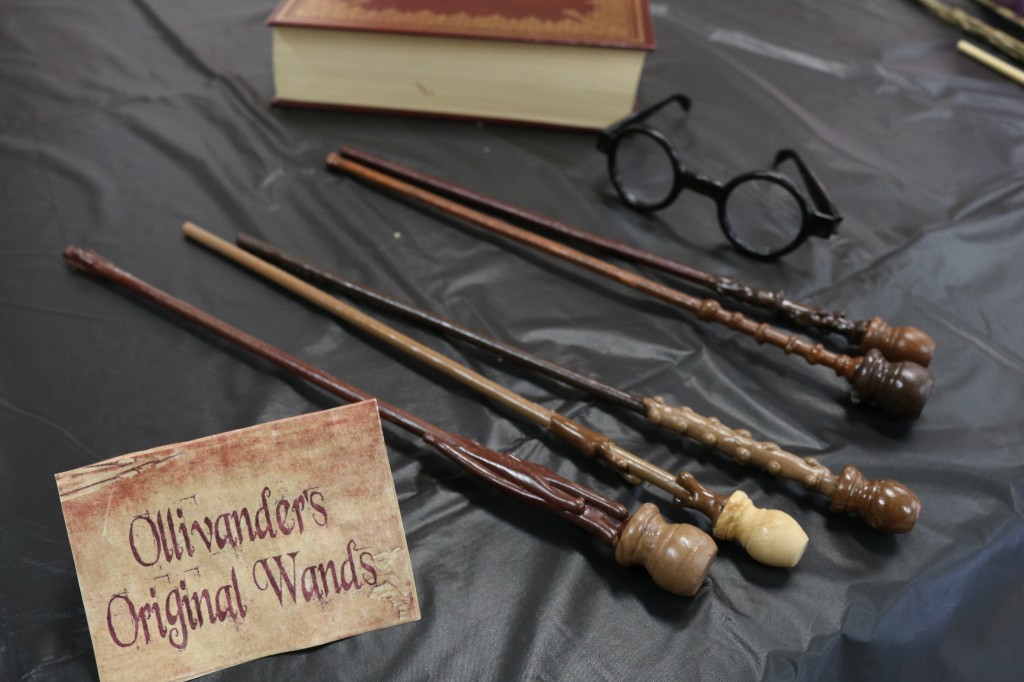 Then, my daughter helped me make the Golden Snitches party favors. We printed out the wing template here and glued the wings to Lindt Lindor White Chocolates which come in gold foil wrappers.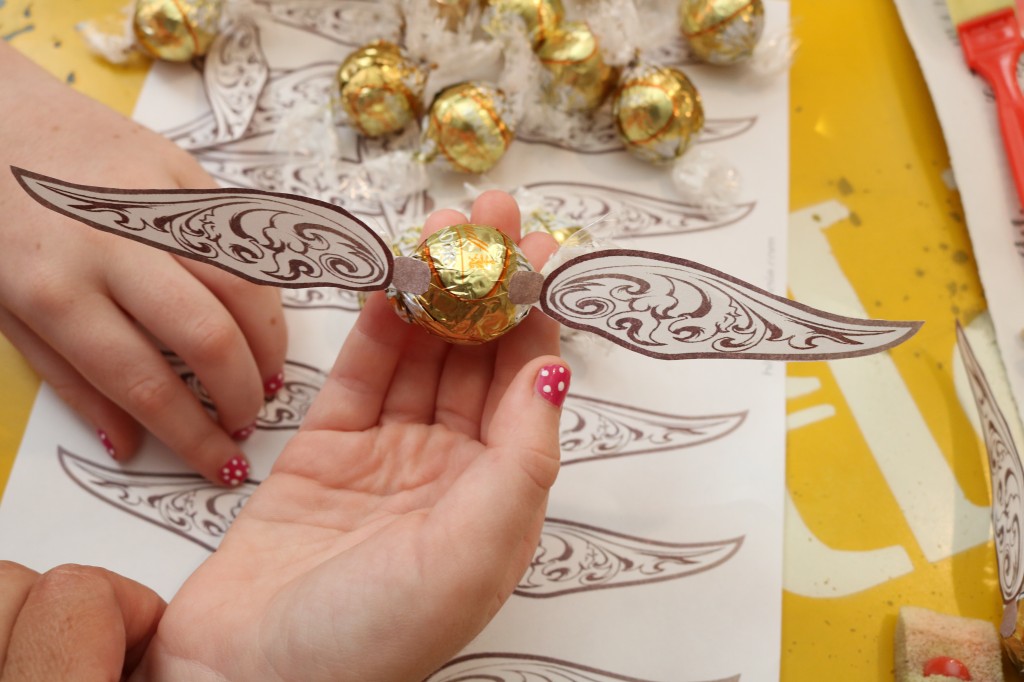 Over the course of the month leading up to Emmalynn's party, I saved various liquor bottles and wine bottles to use as props for the Potions Class at the party. I found the fun potion labels online; printed the labels and affixed them to the different bottles and jars.
On the day of the party, when the guests arrived, they were sorted to their house using a Sorting Hat app and sat at the corresponding house table draped with back plastic table cloths: red plates and napkins  for Gryffindor, Green plates and napkins for Slytherin, yellow plates and napkins for Hufflepuff, and blue plates and napkins for Ravenclaw. A Butter Beer Mug sat at each place setting.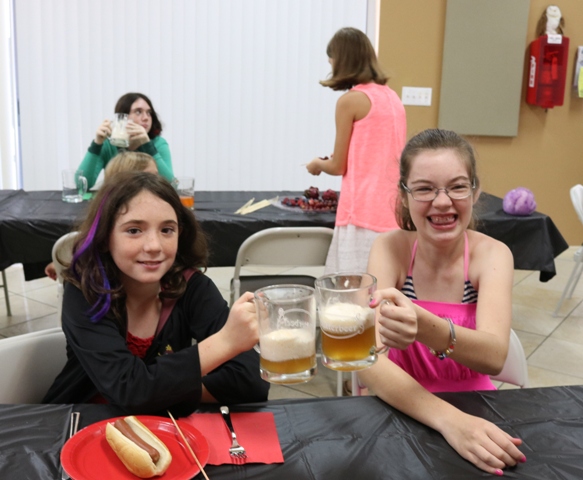 As the guests ambled through Diagon Alley, each one received a set of Harry Potter glasses, a cauldron for the potions portion of the party and selected a wand (although the wand is supposed to pick them). The potion classes conducted by Professor Taylor (Dad) included two experiments: combining ground bat bones and juice of pickled slugs (vinegar with baking soda) and snake blood and petrified frog egg (Diet Coke with Mentos).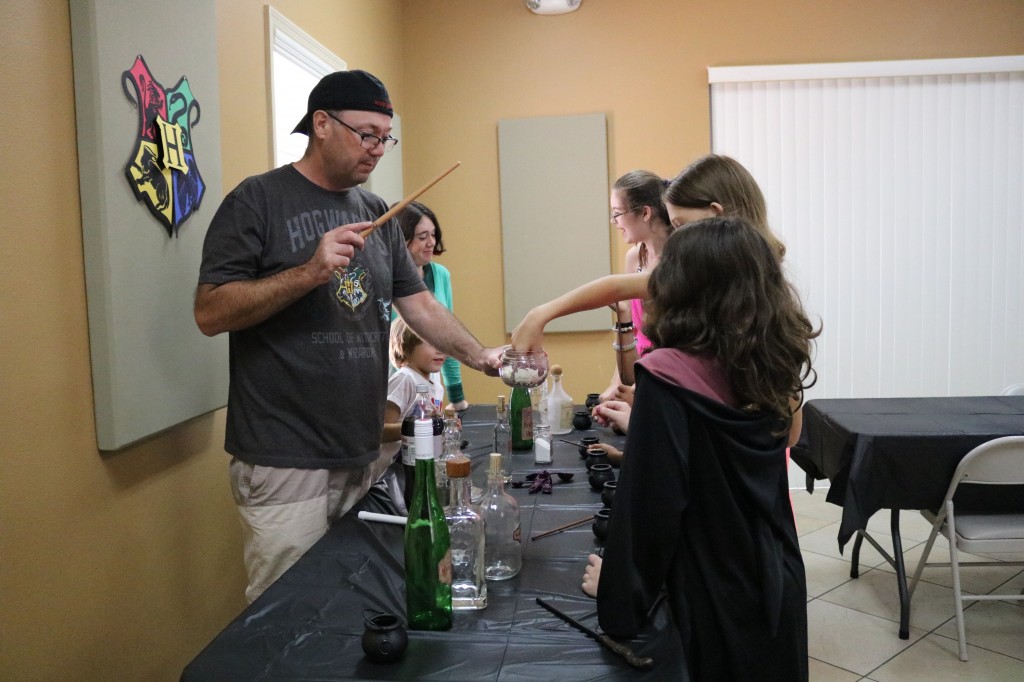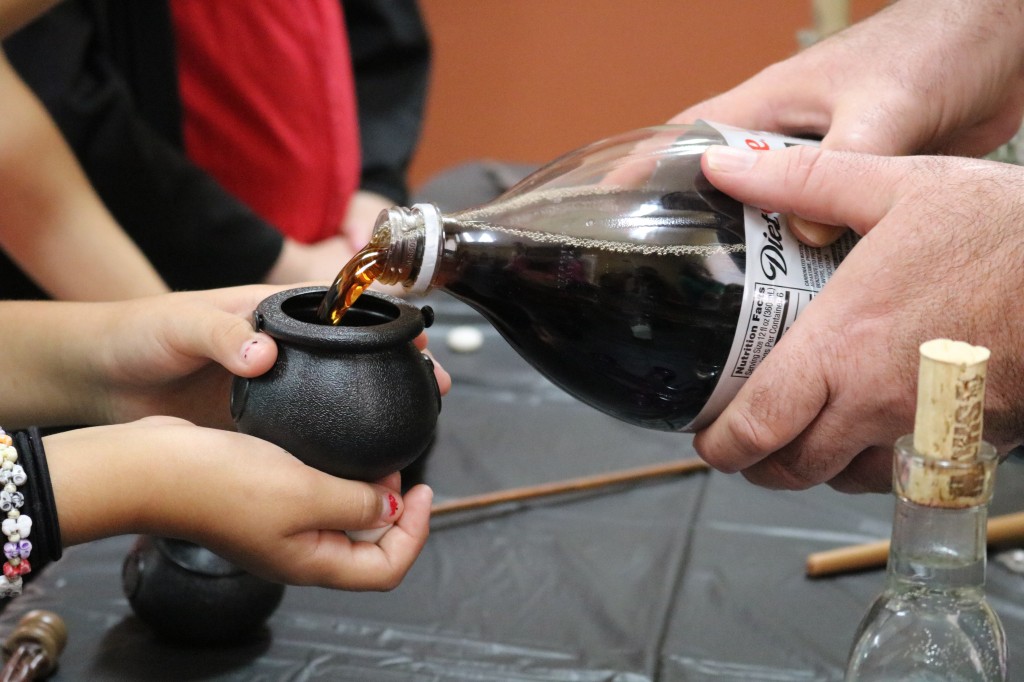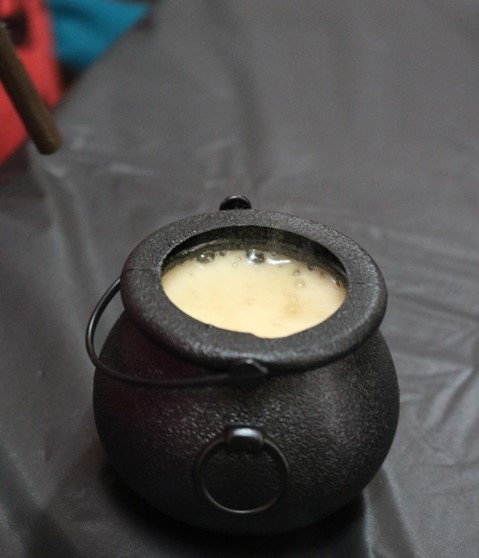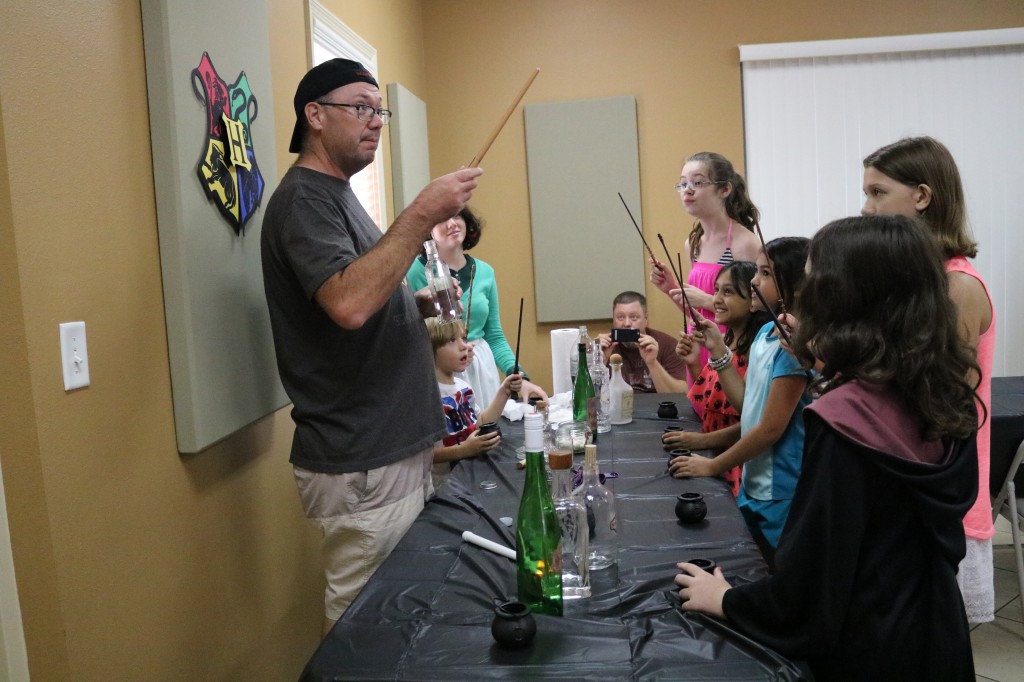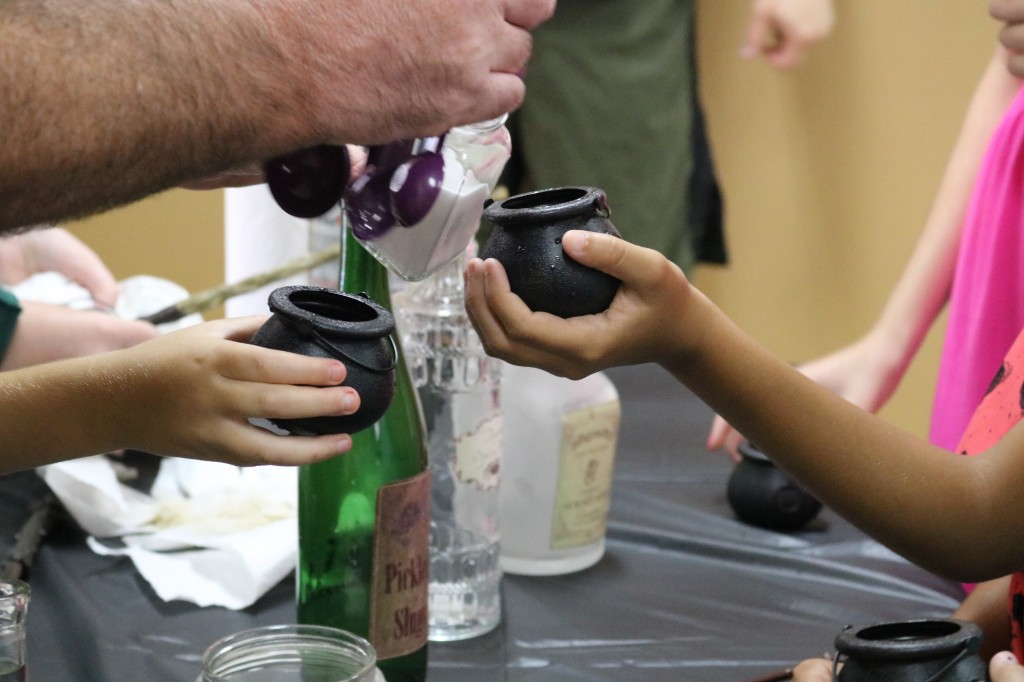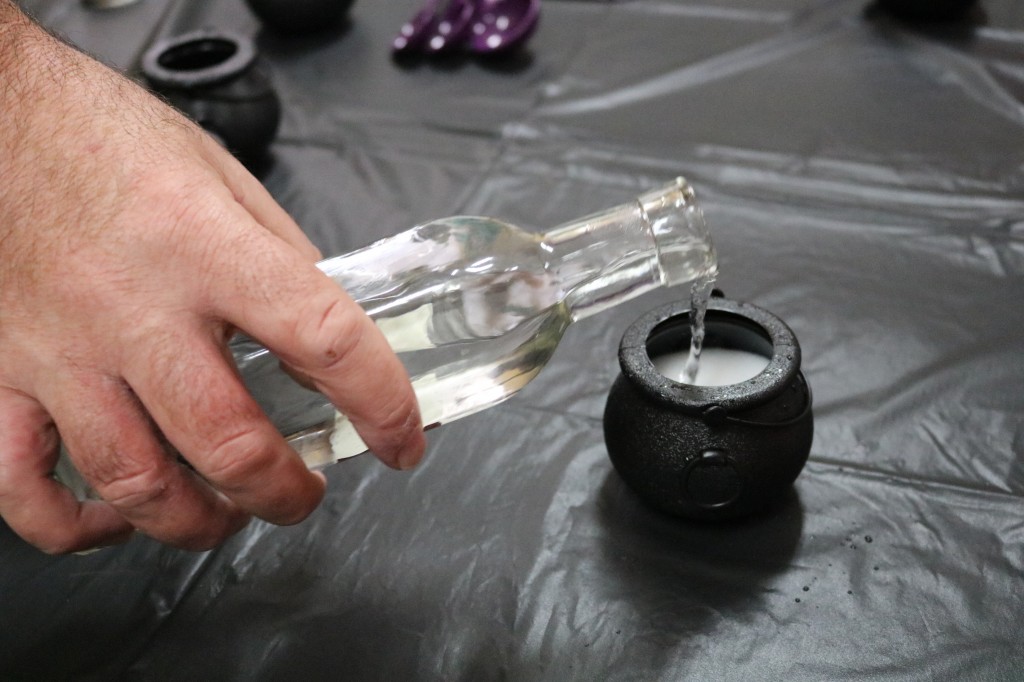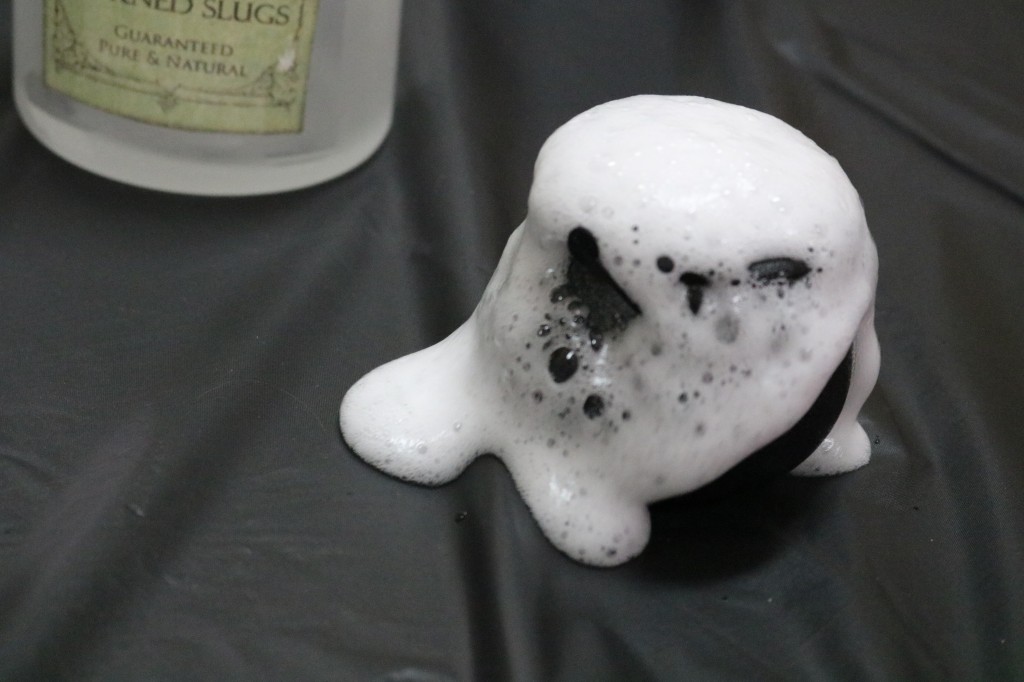 Because my daughter is so picky, we decided to keep the menu simple: hot dogs (wands), pretzel rods (wands), salt and vinegar chips (It's a British thing.), fruit kabob wands and Butter Beer Cupcakes. The guests had a choice of two drinks: Butter Beer (using this recipe by Delish) and Pumpkin Juice (Orange Crush soda with a Pumpkin Juice label on it). The gorgeous Butter Beer mugs were purchased from IKEA and the vinyl label was designed by This Crazy Life Designs.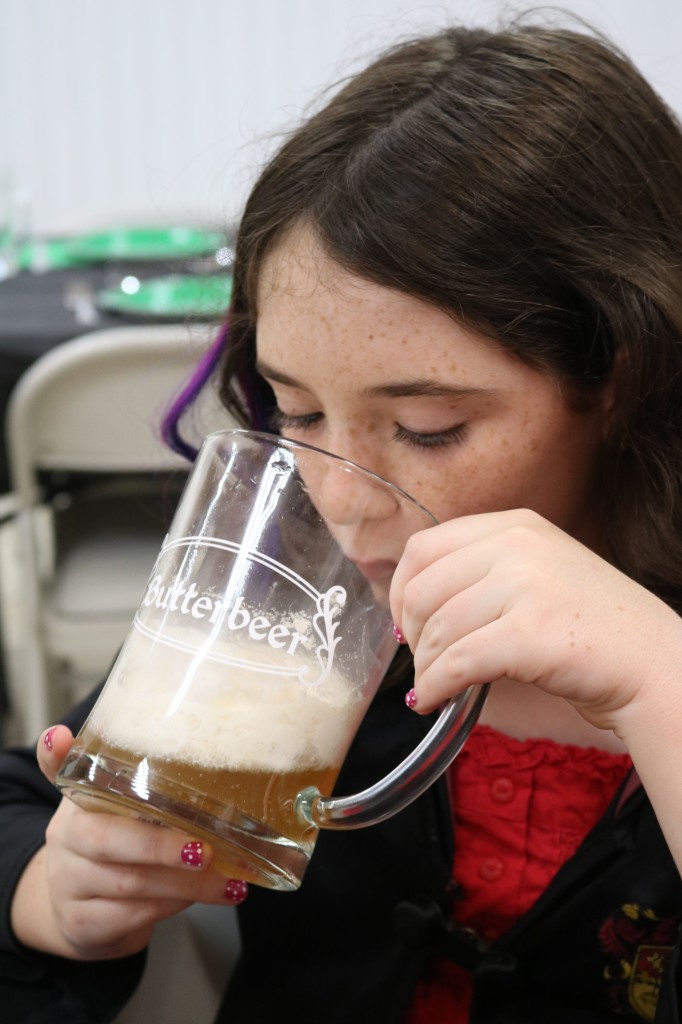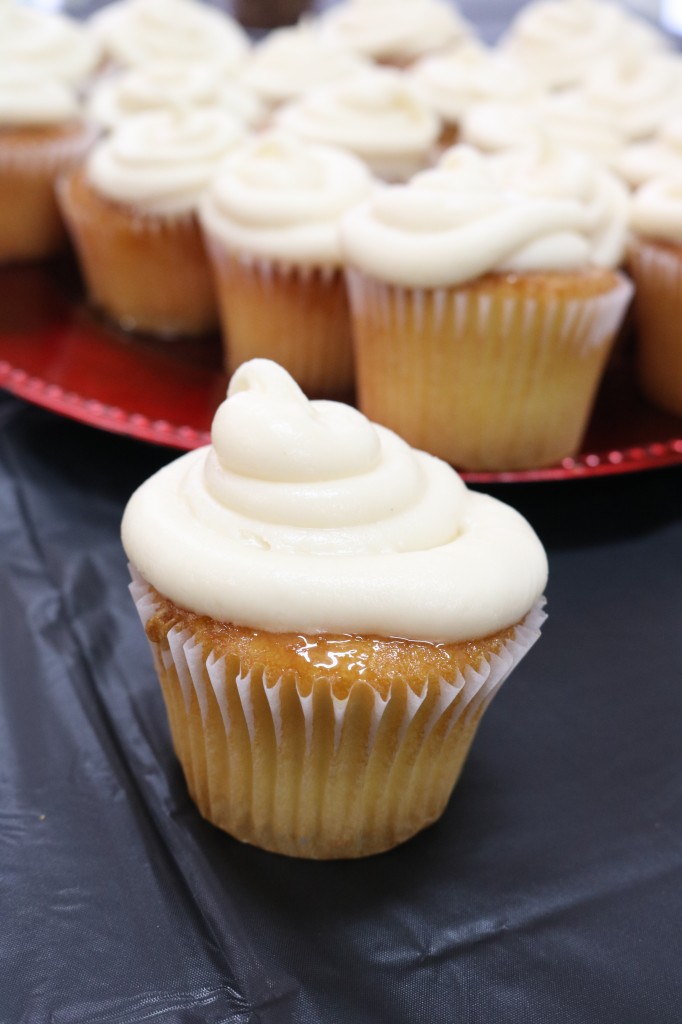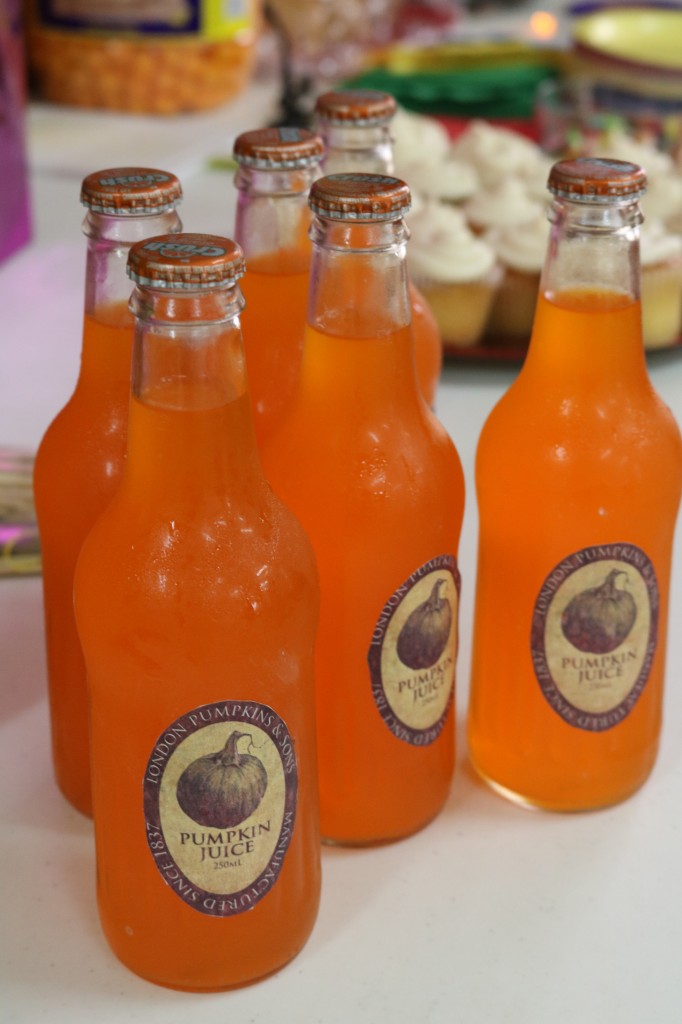 Since the summer is so brutally hot, we quickly defeated the Dementors (a piñata made from two large grocery bags taped together covered with black trash bags) and then jumped into the pool for a Florida version of water Quidditch.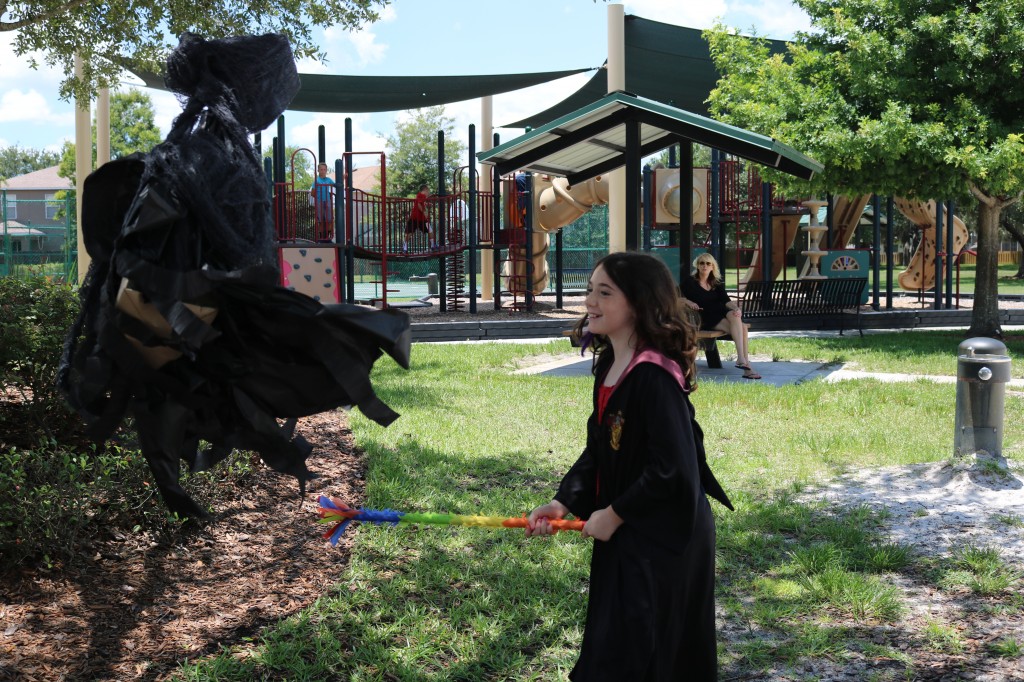 However, we had to modify the game a bit for the pool. The "brooms" were yellow pool noodles with two inch strips of yellow tablecloths duct taped to the end with either a red  tape (Team ) or blue (Ravenclaw) tape. We had three quaffles (starred small balls), one bludger (a volleyball) and one golden snitch.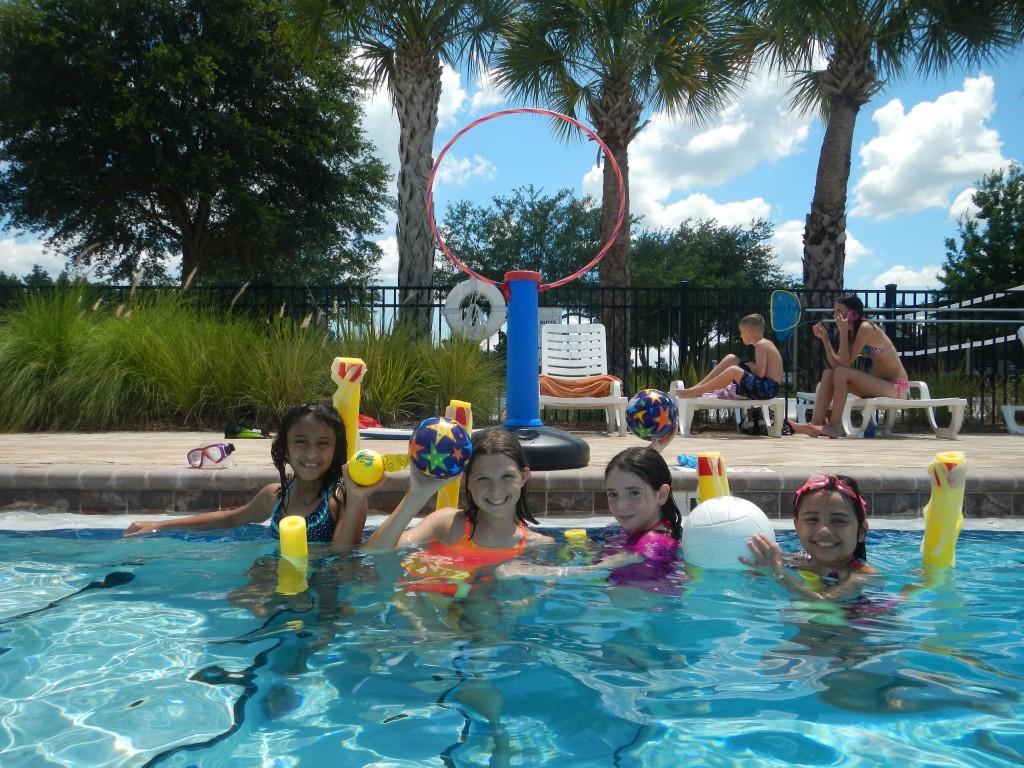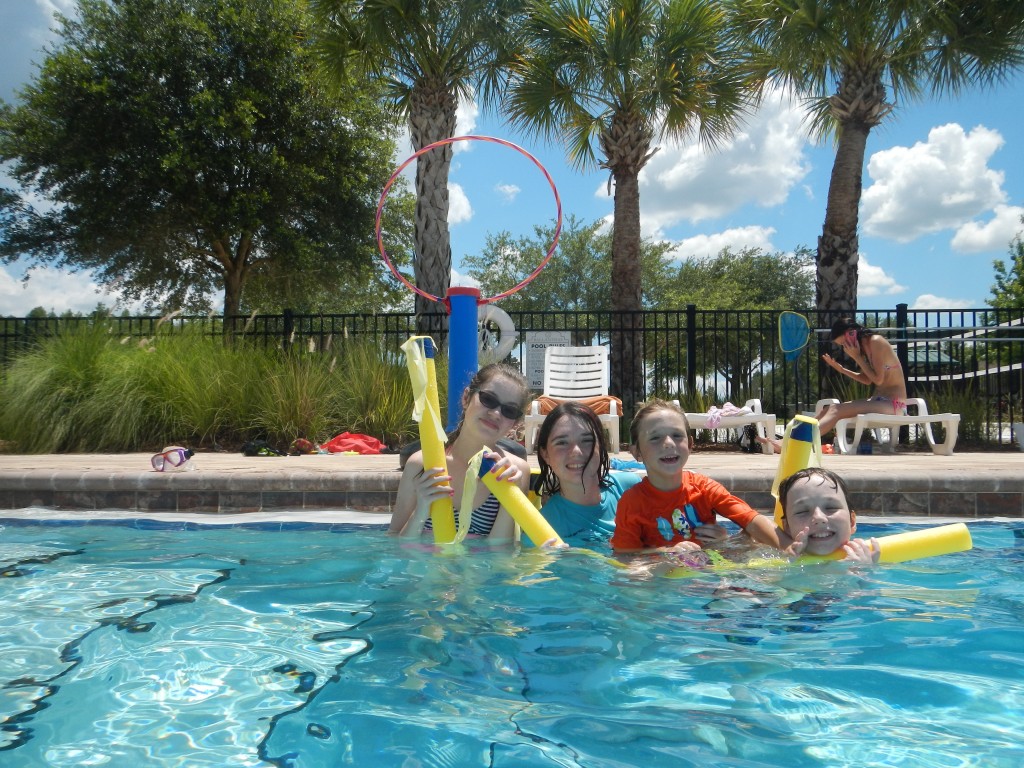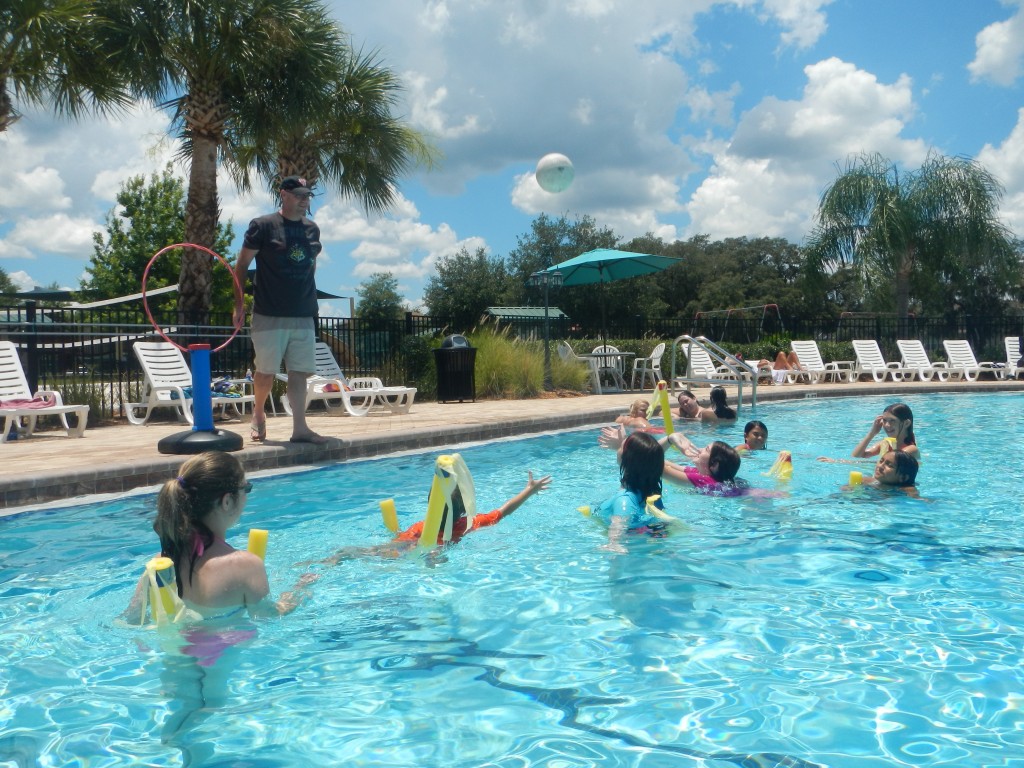 The Quidditch hoop was constructed using an old Little Tykes Basketball play set with a hula hoop attached to it. Although there were no designated roles or positions such as Chasers, Beaters or Seekers, instead the players "flew" around on their brooms to grab the Quaffles and toss them into the hoop all while avoiding being hit by a bludger (thrown by dad, the referee).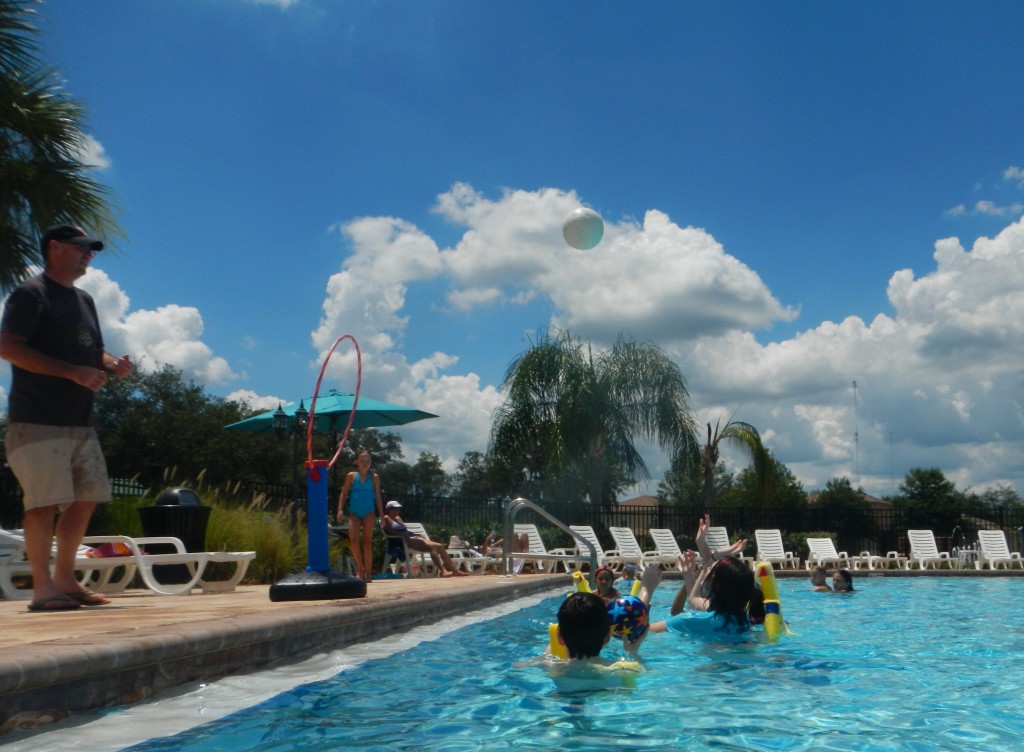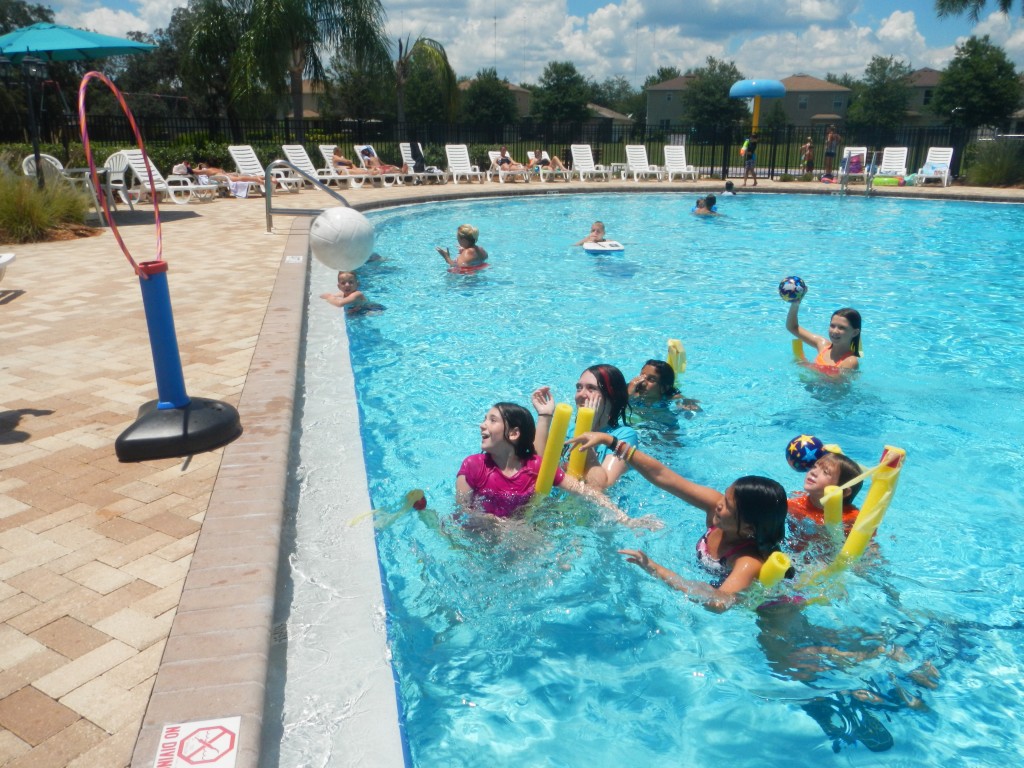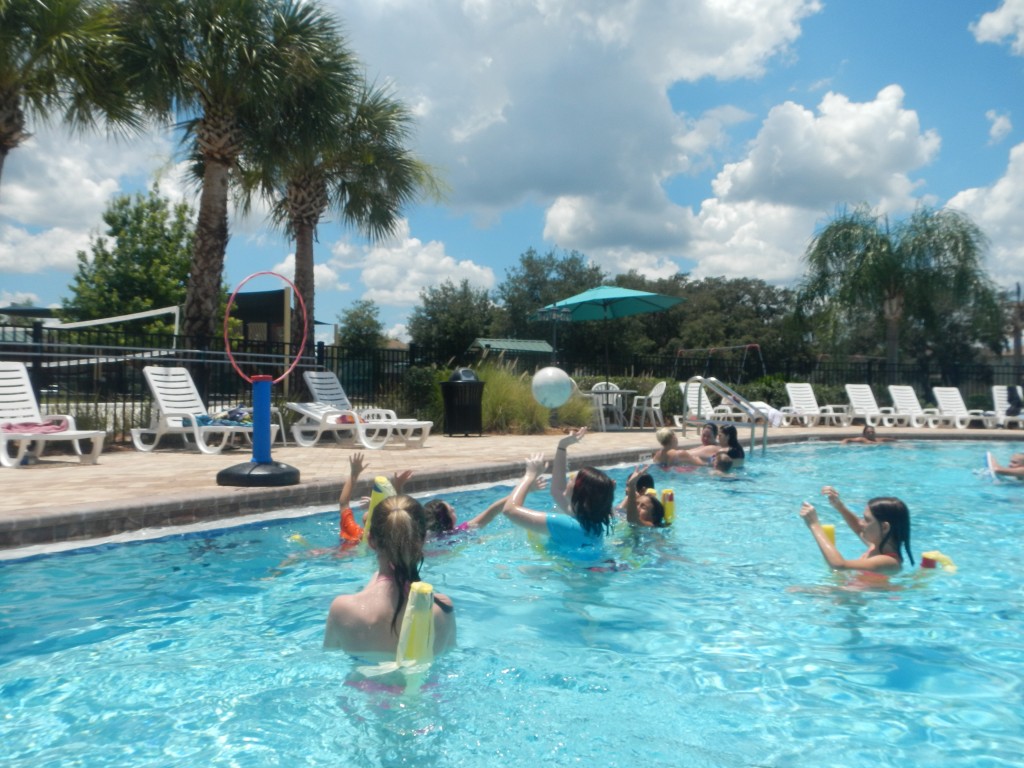 The parents and older siblings sitting around the pool would randomly throw the balls back into the pool to keep the game in play. At some point, I had an adult throw the Golden Snitch (a yellow splash bomb ball with foam wings attached to it) into the game.  Additional Quidditch Instructions can be found here.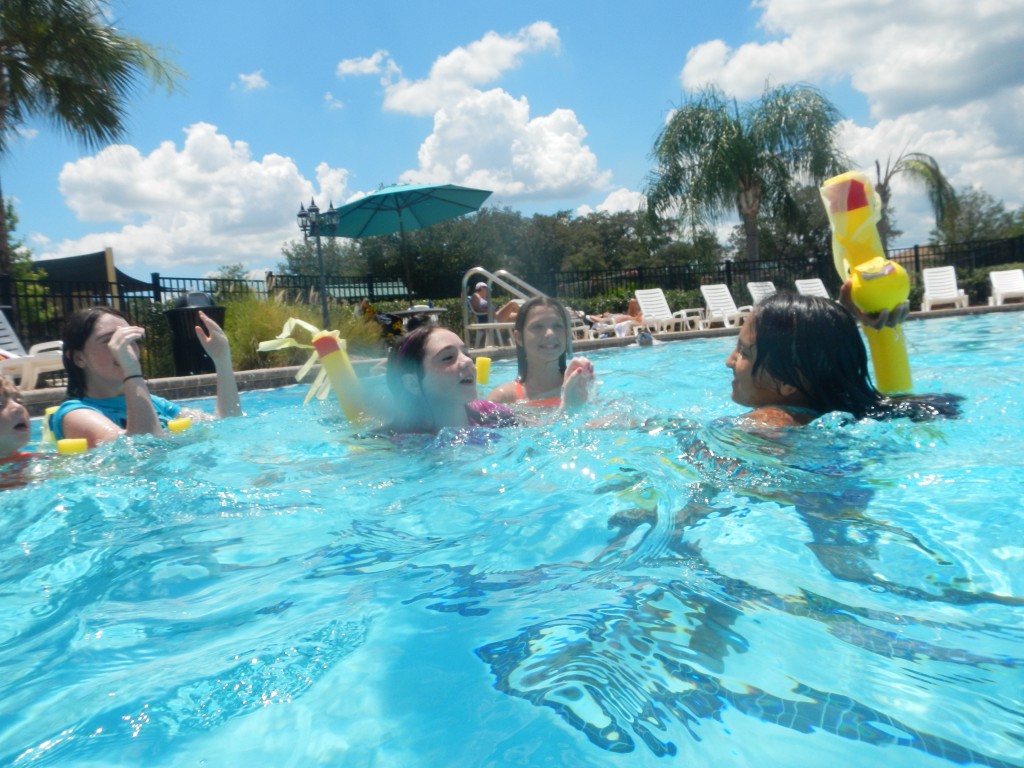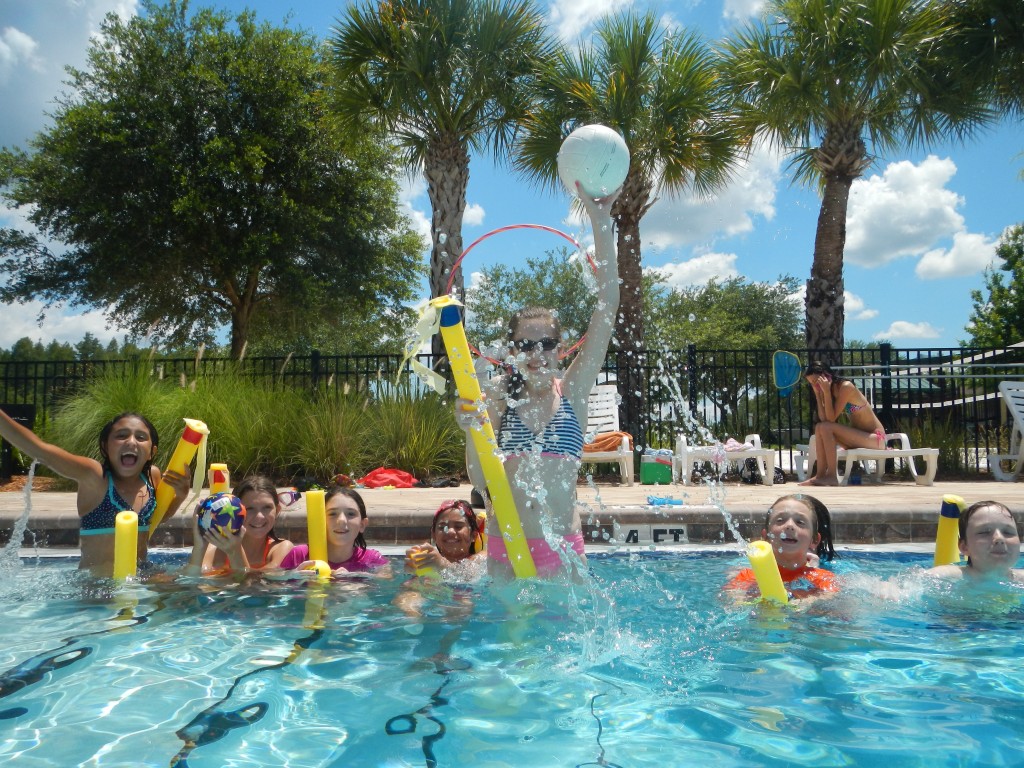 Although this Harry Potter Party was very different from the first one my oldest daughter and I planned years ago, it was still simple and super fun. Hopefully, my son will want to conjure up a Harry Potter party someday so we can make magic all over again.