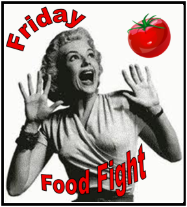 After visiting the Cayman Islands for our honeymoon many moons ago, Allan and I began to crave Caribbean flavors.  Fortunately living in Florida, we're relatively close to the Caribbean, its lifestyle and wonderful foods. Whenever we spot a dish with Caribbean flair on a menu, we don't pass it up.
Last summer, Allan found a Bobby Flay Jerk Grilled Chicken recipe but tweaked the recipe (as only Iron Chef Allan could do) into fabulous a Jerk marinade that sends us back to the Caribbean with every bite.
When Allan last prepared this dish, he cubed the chicken and grilled it on skewers as bite size morsels for wraps and as his sous-chef, I made the mango salsa. The sweet paired with the heat is simply delicious!
This marinade and mango salsa also works well with whole boneless chicken breasts for sandwiches or served on a bed of rice.
Jerk Chicken
Ingredients
1 lb boneless chicken breast
1/4 cup olive oil
½ red onion
1 large Habanero pepper, stem and seeds removed
1 tablespoon fresh ginger (about 1″)
3 cloves garlic
1 tsp thyme
1 Tbsp red wine vinegar
1/4 tsp ground cinnamon
1/4 tsp ground nutmeg
Pinch ground clove
1 Tbsp ground allspice
1 Tbsp Kosher salt
1/4 tsp freshly ground black pepper
Juice of 2 fresh limes
¼ cup orange juice
Place all ingredients in a food processor (except the chicken) and puree until almost smooth. Place the chicken breasts into a gallon size Ziploc bag and pour marinade over the chicken.  Place bag in refrigerator and marinade for 24 hours.  The longer the chicken marinades the more intense the flavors and heat becomes.
Grill chicken on each side for 5 to 6 minutes or until cooked through.
Mango Salsa
2 mangoes, peeled and diced
1/4 cup finely chopped red onion (about one half red onion)
1 Habanero pepper seeded and minced
2 Tbsp chopped cilantro
Juice of one lime
3 tablespoons fresh orange juice
Salt
Pepper
Combine the mangoes, onion, cilantro, lime juice, habanero pepper and orange juice in a bowl and gently mix. Add a dash of salt and pepper to taste
Now link up and see what If I Could Escape and Gone Bananas are serving for this week's Friday Food Fight.
Powered by Linky Tools
Click here to enter your link and view this Linky Tools list…
*Also submitted at*