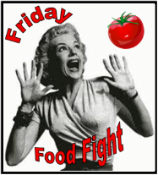 Some days on a healthy kick and some days I kick healthy eating habits to the curb.  Healthy eating was definitely curbed from October to December, which you probably observed if you follow this blog.
The week after Christmas, I decided was to get back on the healthy wagon and it started on New Year's Eve.  So when our friends invited us to their home to ring in the New Year, I wanted to bring a dish that would help ring in a healthy New Year.
I've read that the best way to control your eating habits and not kill your diet at potluck parties is to 1) eat before your show-up and 2) bring a healthy option to share.
But what healthy dish would I share that wouldn't spoil the evening?
With a quick Google search for "healthy appetizers", I found a dish on Eating Well that looked good and would most certainly taste good.  Plus, this dish would spare our wallet because our local supermarket, Publix, had grape tomatoes as a "buy one, get one" special that week and I already had mini bamboo skewers. (Total coast of this dish cost for me was $9.48.) With this dish, we would be starting the New Year by saving money and calories!  WOOHOO!
Mini Caprese Salad Skewers
Ingredients (adapted from Eating Well)
16 mini fresh mozzarella balls
16 grape tomatoes, sliced into halves (I used red and yellow just for presentation purposes.)
10 fresh basil leaves, torn
Kosher salt, to taste
Freshly ground pepper, to taste
Extra-virgin olive oil, to drizzle
Balsamic vinegar to drizzle
Directions
Thread one half grape tomato, basil, mozzarella and other of the tomato onto skewer.  Then repeat step so that each skewer has two servings of a mini Caprese salad.
Drizzle with oil and sprinkle with salt and fresh ground pepper just prior to serving.
(Makes 32 servings)
BTW…This dish was so easy to assemble even Emmalynn got in on the act.
Now link up and see what If I Could Escape and Gone Bananas are flinging for this week's Friday Food Fight.  
*Also shared at*