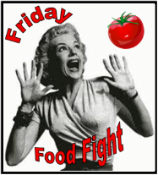 I have to confess.  I found this recipe in a place other than Pinterest.
*gasp*
Remember that social network everyone was obsessed with before Pinterest?  You know, the one where you collected friends instead of ideas, objects, bodies, food, home décor, etc.  you wished you had?
Remember Facebook?
Sometimes I remember to visit Facebook too, which is where I found this tasty soup.
I follow Fila Toning and you should too if you love motivating discussions and recipes related to fitness and healthy living.  Someday I hope to be part of the Fila Toning team.  Until then, I'll keep lurking following the Fila Toning Facebook page.
Last week, the Fila Toning Team shared a recipe.
Sounds interesting and different, doesn't it?  My family loves Potato Leek Soup, but it's not the healthiest soup.  But Irish Oatmeal Leek soup sounds like a healthy alternative.  So, of course I pinned it…
…which led me on a path exploring skinnytaste.com, but that's a whole other post.
I shared Skinny Taste's Irish Oatmeal Soup with my non-Pinterest hubby, Iron Chef Allan, to hear his thoughts on it and he thought the same. "That sounds interesting."
One trip to my local Publix and I found all the ingredients.  You know, the whole six ingredients in the soup.  You have to love a recipe with only SIX ingredients!
Although we don't use light butter, I opted for the full fat of 1 Tbsp of butter, so my finished soup isn't quite as healthy as Skinny Taste's, but the results were tasty nonetheless.
So this once referred to as an interesting Irish Oatmeal Leek Soup can now be called a simple, tasty, slightly healthy soup.
And one we will definitely eat again.
Just out curiosity, I visited Spark People to calculate the nutritional contents of my full fat version.  Incidentally, there is only one fat gram difference between using regular butter over light and no difference between the saturated fat content between light and regular salted butter.  Plus, regular butter has less sodium!  So go on and drop small slice of full fat butter when making this soup or opt for canola oil instead.
Also, the original recipe states to cook the oats for 45-50 minutes, but I found the oats still too raw and chewy after that cooking timeframe.  I continued simmering the oats on the lowest setting for a few hours which allowed the soup to become thicker and creamier (more mushy), but that's a personal preference.
Irish Oatmeal Leek Soup
(From skinnytaste.com)
Ingredients
1 Tbsp butter
1 ½ cups (3 large) leeks, white and pale green only, sliced thin
1/2 cup Irish steel cut oats
4 cups fat-free reduced sodium chicken broth or vegetable broth
1 ½ cups non-fat milk
Fresh cracked pepper and salt to taste
2 tbsp fresh chives for garnish

Directions
Melt butter in a medium saucepan over low heat.  Add the leeks and cook, stirring occasionally until the leeks are soft (about 15 minutes).
Add the broth and then milk to avoid scalding the milk.  Raise heat to high and bring to a boil.
Add the oatmeal and fresh cracked black pepper to taste.  Return to a boil, stirring occasionally. Once a boiling, reduce heat to lowest setting, cover and simmer until oats are tender, 45-50 minutes.  For a thicker creamy soup, allow soup to simmer for three hours.
Serve garnished with chopped chives and fresh ground pepper.
Thanks for joining our weekly Friday Food Fight! Can't wait to see what everyone is flinging this week!


*Also submitted at*