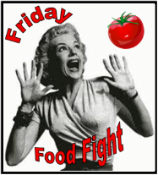 I am a Skinnytaste stalker fan.
I follow her on Pinterest and I love clicking through the recipe box on her blog.  Her photos and recipes are truly outstanding and drool-inducing.
On Skinnytaste.com, you will uncover tons of low calorie, low fat recipes that don't compromise taste for caloric content.  All recipes I've tried so far (like this one or this one) have been a hit in my house and that's no easy task.
Skinnytaste's Chicken Tikka Masala was the most recent to pass Iron Chef Allan's palate.  After one taste, he gave this dish two forks up and remarked, "This is really, really good."  That is a HUGE compliment.
Iron Chef Allan also said he wouldn't change a thing other than maybe adding cream, but then it wouldn't be "skinny" now would it?
In this dish, you will find all the full, earthy and aromatic flavors that make Indian cuisine so unique but often difficult to replicate at home.  Not anymore.  Skinnytaste has discovered the right balance of spices as well as simplified a complex dish.
Seriously, this dish is perfect as is.  If you love Indian cuisine as much as we do, but don't love all the fat, then you have to try your hand at this.
You can find Skinnytaste's Chicken Tikka Masala here.  For the chili powder, I used my own concoction, which you can find here. Enjoy!
Honestly, I am so impressed with Skinnytaste's recipes that I've made it my mission to try a new one every week.  I challenge you to do the same.
For next week's Friday Food Fight, let's all attempt a Skinnytaste recipe, review it and share it.  Give us a real rundown.  What did you think?  Would you add anything?  Does it need some tweaking?  Then, swing back to Run DMT to link up the Skinnytaste recipe you tried.
Will you take on Run DMT's Skinnytaste test challenge?  Who's in?
***Let's have fun, but avoid a lawsuit or a blogging war.  Please note when sharing a recipe on your blog, you should not repost the recipe unless you've tweaked it by adding new ingredients.  It's bad blogging etiquette to repost a recipe without permission or credit to the original post.***
Thanks for joining our weekly Friday Food Fight! Can't wait to see what yummy food everyone is flinging this week!
*Also submitted at*