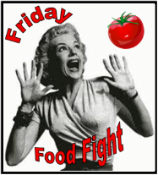 Do you ever find yourself enjoying a meal so much that you have to take a picture of it immediately to brag share how delicious the dish is?
*Raises hand.*
That's me.  I love food and creating food porn.  I love snapping a photo and then sending it into cyberspace forcing my followers and friends' tummies to grumble.
I'll text it.
I'll tweet it.
I'll Facebook it.
But I'm not really sure if anyone else shares my food fondness.  Such was the case with my Roasted Tomatoes and Arugula Linguini dish.
I snapped a photo of the tomatoes as they glistened on the baking sheet in the oven.  They just looked so beautiful.  (Please ignore my filthy oven.)
I snapped a photo of the arugula in all its green glory.
But combining the two in the linguini really made my eyes and stomach smile.  Just look at how gorgeous this dish is!
Appreciating beauty in food, that is the true measure of a foodie.
I should mention that all these photos were taking with my new HTC Incredible phone.  The picture quality is stunning.  My little Incredible phone has an 8MP camera, which is the same as my little Cannon Elph.  Just to compare the picture quality, this photo was taken with my Cannon.
See, it's all fabulously perfect food porn.
Linguini with Roasted Tomatoes and Arugula
Ingredients
2 pints grape tomatoes, rinsed and halved
¼ cup olive oil
8 garlic cloves, chopped
Salt
Pepper
2 cups arugula, rinsed thoroughly
1 lb linguini
1 cup pasta water, reserved
Directions
Preheat oven to 450 degrees.
Prepare a baking sheet with olive oil.  Spread garlic and grape tomatoes halves onto baking sheet, making sure that the tomatoes are well coated with olive oil.  Sprinkle with salt and pepper.  Roast garlic and tomatoes in oven for about 20 minutes.
While tomatoes are roasting in oven, boil linguini until al denti, as directed on box.  (For al denti, I usually cook a minute less than recommended on package.)  Before draining, reserve 1 cup of pasta water.  Once drained, add a touch of olive oil to linguini to prevent sticking.
Remove tomatoes from oven and add to a sauté pan.  Add pasta water and arugula and cook until wilted, about 5 minutes.  Add a tsp of salt and ½ tsp of black pepper.  Toss through linguini.
Serve with fresh grated parmesan.

Thanks for joining our weekly Friday Food Fight! Can't wait to see what everyone is flinging this week!
*Also submitted at*