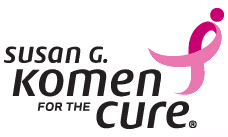 Once again this October, I will Race for the Cure. Earlier this year, when Susan G. Komen was catapulted into the controversial battleground of the "War on Women", I worried about my involvement with the race.  Would I be able to put politics aside and participate in Race for the Cure which has provided countless mammograms to women?
Thankfully my worries were put to rest when the members of the executive board resigned and funding was reinstated to Planned Parenthood.  I could proudly wear Komen pink ribbons once again although others may feel differently.
Whatever your religious or political beliefs, the fact remains that this race is more than politics and pink ribbons as "one in eight U.S. women will develop invasive breast cancer over the course of her lifetime". (Statics borrowed from Breastcancer.org)
One of those eight women is our own Miss Sharon, a true superwoman that has been battling breast cancer for nearly a year now.
This year I run for Miss Sharon.
[youtube=http://www.youtube.com/v/-AphKUK8twg?version=3&hl=en_US]
Please support me and my Race for the Cure teammates in this important project and cause by contributing to the Susan G. Komen for the Cure Florida Suncoast Affiliate.    Your tax-deductible contribution will fund breast cancer education, screening, and research programs.
Whether you choose to walk or run in the race or make a monetary donation, together we can fight for a cure against a disease that takes our hair, our breasts, our lives and the lives of our loved ones…
[youtube=http://www.youtube.com/v/E_5jIt0f5Z4?version=3&hl=en_US]
…because Miss Sharon and each of us are more than hair, breasts, pink ribbons, politics and a war on women. Together we can love each other through it all and stand side by side in a sea of pink as we battle against the real enemy, breast cancer.
By doing so, we educate women about the importance of regular self-breast examinations, yearly mammograms and early detection for prevention and together, we all Race for the Cure.
To make a donation, click here.
[youtube=http://www.youtube.com/v/ZYNOXRifXKQ?version=3&hl=en_US]
Visit Xmas Dolly and Jade Louise Designs for more Music Monday.