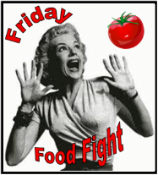 The first time I made this dish, I impressed my MIL, which is never easy given her natural talent with food.  It's in the blood, though.  That's why I call my husband Iron Chef Allan.  Give him an ingredient, any ingredient and he will whip up something amazing.
I happened to serve this dish the evening my MIL flew back into town after visiting her family in Scotland.  She popped in for a quick cup of a tea before for the final leg of her journey back home.  Well, tea became tea (in the British sense of the word) and she stayed for a quick bite too.
Since I hadn't made the dish before, I didn't know how it would turn out or taste.  Admittedly, I was a little nervous to serve a new dish to my MIL and Iron Chef Allan.  Years ago, I wore a horrible scarlet letter of cooking shame for the atrocities I performed to poor unsuspecting foods and the loved ones I forced to eat them.  Over the years, I thankfully shed that bad cook persona and I didn't want this dish to shame me into hanging up my apron now.
What if this dish tasted horrible?  The anticipated feedback played in my head as I cut the casserole into squares to serve it.  "You know what this needs?  A little (fill in blank) would really finish this dish off."
Time slowed down as Allan and his mom took their first bite.  "Wow," my MIL exclaimed.  "This is delicious!"
"Hon, you've out done yourself with this one," Allan added.  "I could eat this whole tray."
I demonstrated my mad culinary skills for them once again and could retain my position in the kitchen.  Phew.
Since that fateful first night, I've made this Roasted Vegetable Mexican Lasagna twice and it works well an entrée or as a side dish.  Not all the roasted vegetables fit in the stacked casserole, so I snack on them while it bakes in the oven.  You could also serve the extra veggies on the side.
You could also add a dollop Greek yogurt or sour cream on top (My kids love everything topped with sour cream.), but honestly, it doesn't need it.  No matter how you serve it, there are rarely any leftovers.
Roasted Vegetable Mexican Lasagna
Recipe type:
Entree, side dish
Cuisine:
Tex Mex, Vegetarian
Prep time:
Cook time:
Total time:
A wonderful mix of deliciously roasted vegetables stacked with tortillas, salsa, baby spinach and cheese.
Ingredients
1 poblano chile, cut into matchsticks
2 red bell peppers, cut into matchsticks
1 head of cauliflower, cut into 1-inch chunks
1 small sweet potato, peeled and cut into 1-inch cubes
1 medium onion, sliced Asian style
1 cup frozen corn kernels
¼ cup olive oil
2 tsp ground cumin
3 garlic cloves, minced
1 tsp salt
½ tsp fresh ground black pepper
½ cup fresh cilantro, chopped
16 oz store bought refrigerated salsa (Found in produce aisle.)
10z bag baby spinach
10 ct medium size flour tortillas
7 oz Kraft Reduced Fat Sharp Cheddar Cheese, grated
Instructions
Preheat the oven to 400 degrees F. Prepare a baking sheet with cooking spray.
Toss sliced poblano chile, red bell peppers, cauliflower, sweet potato, onion, and corn in a large bowl with olive oil, cumin, minced garlic, salt and black pepper. Toss vegetables until well coated.
Spread the vegetables evenly over baking sheet. Roast for 30-40 minutes until vegetables are tender and begin to brown in spots. At the halfway point, stir or shake the pan to roast veggies evenly. Remove pan from oven and reduce oven temperature to 350 degrees F.
Prepare an 8x8 inch square baking pan with nonstick spray. In a small bowl, combine the chopped cilantro with the salsa and stir. Spread ⅓ cup of salsa into the bottom of the baking pan and covering the bottom well. Add one tortilla over salsa. Cover with about a cup roasted vegetables, a handful of spinach, and about a ¼ cup cheese. Then, make a second layer of tortilla, salsa, vegetables, spinach, and cheese. Repeat steps once more for a third layer of salsa, vegetables, spinach and cheese. Cover with aluminum foil.
Bake for 20 minutes. Remove the foil and bake another 10 minutes, until cheese is melted.
Let it sit for 5 minutes before cutting casserole into squares.