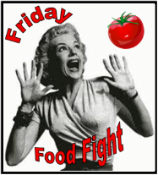 With Iron Chef Allan traveling this week, I decided to get creative and play sneaky chef by using my kids as guinea pigs for one of my kids' favorite meals.  My youngest daughter considers herself a mac and cheese connoisseur.  She can tell you which restaurants have the best mac and cheese.  Of course, little does she know, many restaurants rarely make the favored kids' meal from scratch  It's typical Kraft mac and cheese.
With hubby out of town, I thought I would try to replicate the infamous mac and cheese in the blue box.  I forewarned my girls that I was trying homemade macaroni and cheese and sometimes homemade tastes a little different from the stuff from the box.
With butternut squash and mashed cauliflower as the "cheese", they had no idea how different it would be!
For this mac and "cheese" bake, I made mashed cauliflower by following my own recipe.  Then, I boiled the butternut squash until it was soft and then pureed it in a processor.  You could skip this step by using frozen squash.
I boiled the elbow macaroni for half the time as directed on the box.  I reserved a cup of pasta water before draining the pasta.  Then, I combined the ingredients in one pot with the pasta water and then dumped it into a casserole dish to bake.
I didn't add any herbs or any fancy cheese other than Parmesan cheese because the kind of macaroni and cheese that kids typically prefer (like the stuff in the blue or yellow box) doesn't have a bunch of fancy herbs or cheeses.  Most kids (my kids) like foods plain.  You could also make this gluten free by substituting the elbow macaroni with rice or quinoa pasta.
Looks gorgeous, doesn't it?
But it still had to pass my little connoisseur's taste test.  I am happy to report that all my children loved it!  My oldest daughter commented that it was missing something.  (Yeah, like an abundance of cheese.  hee hee), but I told her that when foods taste like they need something, a dash of salt usually fixes that.  As in this case, a little extra salt was all it needed.
Not only did my kids eat it without complaint, they also requested the leftovers in their lunch the next day!  My sneaky chef mac and "cheese" plan was a successful!  I will also add that dish is incredibly filling!  No one could eat more than one helping, not even me.
Since you will have tons leftover like me, the dish freezes and reheats well.  When you reheat it, add about a tablespoon of milk per serving to bring the creaminess back to life.
Baked Mac and "Cheese"
Ingredients
1 medium sized butternut squash, cut into 1" cubes
1 head of cauliflower
1 lb elbow macaroni
½ cup grated Parmesan cheese, plus 2 Tbsp for topping
1 cup pasta water, reserved
1 tsp salt
½ ground black pepper
Directions
Preheat oven to 350 degrees.  Prepare an 8"x8" baking dish with non-stick cooking spray.
Steam cauliflower and prepare mashed cauliflower.
Boil butternut squash in salted water until soft, about 10 minutes.  Puree in a processor and set aside.
Boil elbow macaroni for half the time as directed on the box (about 4 minutes).  Drain but reserve 1 cup of pasta water.  Return macaroni to pot.
Stir in butternut squash, mashed cauliflower and Parmesan cheese.  As you mix ingredients, add pasta water a little a time until creamy.
Move macaroni and veggies into prepared casserole dish.  Top with additional grated Parmesan cheese.  Cover with foil and bake for 20 minutes.  Uncover and bake for an additional 10 minutes or until Parmesan cheese is melted.
Thanks for joining our weekly Friday Food Fight! Can't wait to see what everyone is flinging this week!



*Also submitted at*