I ain't going to sugar coat it.  Last week, I was a slacker.  I ate poorly and lack of sleep made me truly unmotivated to get back into training.
Although I had good intentions of running while staying at the Rosen Shingle Creek for the Food and Wine Conference, I never found the time to run on the hotel's trail.  Then, Monday I was so tired from traveling and working that I couldn't find the energy to run.  Forget intervals on Tuesday!  My body craved more rest.
Wednesday, Jenny forced encouraged me to ride with her on the trail and by then, I was up for it.  However, my bike felt differently about the matter.  The chain fell off and I didn't know how to fix it.  Jenny wouldn't let me flake on her and came to my rescue.  She fixed the chain and we were ready to ride.  And then it rained.  In the running community, they say "You're a real runner when you run in the rain."  Is it the same in the cycling world?
I forgot my Garmin, but we rode about 12 miles at 15 mph.  Not great, but I'm showing steady improvement.  After our ride, I went for a swim.  Between my chain mishap, the rain and a 600 yard swim, a rainbow appeared in the sky to offer a sign of approval for my efforts.
Thursday, I intended to run with the Striders again to work on my tempo run, but then it thundered and lightning which totally ruined spoiled my speedy plans.
Friday, I popped over to Pura Cycling for spin.  LuAnn pushed us so hard that my legs screamed, but it felt good to push them after slacking so much.
Saturday, I celebrated my birthday with a Birthday 10K with the Suncoast Striders and I brought a ridiculous amount of cupcakes for the post-run social hour.  I posted a message on Facebook requesting my friends to meet at the park me or to run virtually with me.  The out pouring and virtual love was incredible.  Lots more photos here.
The humidity made the 6.2 mile run unbearable but having the opportunity to spend the morning with my running friends made that difficult run so enjoyable.  For most of the distance, I ran with Jen M. and Chrissy, but the humidity and my lack of running during the week just got the best of me.  I had to stop and walk quite a bit but at least I could watch Bambi enjoy breakfast.  (Deer photo credits to FroNasty da Barber)
6.2 miles
Time 1:03:56
Ave Pace 10:19
Max Pace 8:02
Allan planned a date night for the two of us at Boca, which serves all local, farm to table meals.  Although the meal and the vodka infused cocktails were incredible, spending quality with my husband made the experience so much more wonderful.  We haven't had a date night that wasn't blogging related in FOREVER. Unplugging to recharge and reconnect into our relationship was truly the best gift.
Sunday morning, I decided to burn off my birthday cupcakes and calories with an 11 mile ride.  I am becoming more proficient since I added the clip-in shoes.  In fact, I picked up some major speed hitting about 18 mph and only slowed for turns in the road.  Honestly I was moving so fast, I felt like I was flying, but I was a little scared to look down and check for my speed.  My "flying" can be best described as running on the bike and I am happy to report that my Garmin thought I was pretty speedy too.  In fact, I shaved 6 MINUTES off my last neighborhood Sunday ride.
11.11 miles
Time 43:38
Ave Speed 15.3 mph
Max Speed 19 mph
Later on Sunday, I planned a SUP (stand up paddleboard) tour with Stand Up Paddle Life for my birthday.  We had quite a few SUP newbies, including Allan, and everyone loved it.  Or tour gurides, Frank and Sharon, always offer careful instruction and lots of feedback for everyone to learn proper technique.  Allan loved it so much he wants to plan another tour with our friends.
Monday, I appeared on the Channel 10 News for another Mom Squad segment.  This week we discussed "Do kids get dumber in the summer?"  I shared how I try to keep my kids smart during summer break and I brought materials to share.  Click here to view the segment.  When I returned home from studio, I went back to bed.  Between biking so hard and SUP in one Sunday, I was shattered.
Today for Track Tuesday, I met the Eastside Suncoast Striders for our weekly intervals.  Even though speedwork sucks, it felt so good to be back on track with intervals again.  We laughed and joked about how much the humidity sucked and how we hated doing, but we had fun.  Who knew intervals could be fun?  AND I ROCKED my 4 x 800s today!!!!  Then, Jackie showed me some love with my own slice of birthday cake. 🙂
Mica wants to get faster, so I ran my warm-up and cool down with her.  To increase my speed, I chased after Jackie, Rachel, Kim and Tara, but for that last 0.15, they dragged me.
4.46 miles total
1.10 mile warm-up, 10:38
1.01 mile cool down, 10:54


After intervals, I went to an express Body Pump class at the YMCA. It may be shortened class, but it's the same amount of ass kicking.  My arms are killing me.
Tomorrow, I'm meeting Jenny again to ride because I need the biking accountability.  Then on Thursday, I'm looking forward to chasing Jackie, Kim, Rachel and Tara again.  Friday, I'll be at Pura.  If you live in the 'hood, you should come join me at 6:00 a.m.  Your first ride is free!
And speaking of free, don't miss out on my 5th Blogoversary Extravaganza Giveaways!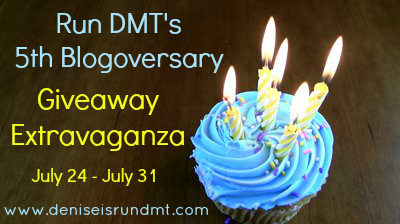 *Submitted to*