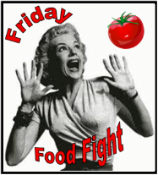 When Iron Chef Allan is out of town traveling for work, I see it as an opportunity to prepare dishes he would never want to eat.  And when Dad is not around for dinner, you can guarantee some type of dish with shrimp as the main ingredient will be on the menu that week, especially if shrimp is on sale that week.
I've made Skinnytaste's Tuscan White Beans with Spinach, Shrimp and Feta a few times now and I've made a few modifications each time.  The dish is light and tasty, but it needed a little something, like salt.  The original Skinnytaste recipe is meant to be a low salt recipe, but it definitely needs the salt.
With adding salt, I also added extra sage to the recipe because I like a strong sage taste.  I also added red onion for some sweetness and a bit of red pepper flakes to bring out the flavors and add a little heat. Making those simple modifications made the dish much more flavorful.
This shrimp dish would taste great on a bed of couscous, rice or with some crispy toasted garlic bread to soak up the juice, but I prefer to eat a bowl full just like this. Iron Chef Allan doesn't know what he's missing!
Sage Shrimp with Spinach, White Beans and Feta
Prep time:
Cook time:
Total time:
A simple, healthy and flavorful shrimp dish
Ingredients
1 Tbsp extra virgin olive oil
1 lb large shrimp, peeled and deveined
1 small red onion, chopped
2 Tbsp garlic, minced
1 Tbsp fresh sage, chopped
2 Tbsp balsamic vinegar
½ cup low sodium, fat-free organic chicken broth
15 oz can cannellini beans, rinsed and drained
6 oz bag of pre-washed baby spinach
1 tsp salt
½ tsp ground black pepper
¼ tsp crushed red pepper flakes
1 – 3.5 oz crumbled reduced-fat feta cheese for topping
Instructions
Heat olive oil in a large skillet over medium-high heat. Cook shrimp until just opaque, about 2 to 3 minutes. Transfer to a plate.
Add onion and cook until softened, about 5 minutes. Then add garlic and sage and cook until garlic becomes golden brown. Stir in vinegar and cook 30 seconds.
Add broth and bring to a boil; simmer for about 2 minutes. Stir in beans and spinach and cook until the spinach wilts.
Remove from heat and stir in shrimp. Serve in bowls topped with crumbled feta.
Thanks for joining our weekly Friday Food Fight! Can't wait to see what everyone is flinging this week! 
*Also submitted at*