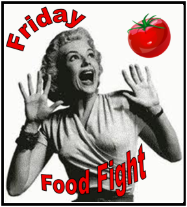 Unlike most of the meals I share for Friday Food Fight, these Greek-Style Quinoa Stuffed Cabbage Rolls were not a hit with my family.  Honestly, I am the only one in my family that enjoyed this meal.
Although Allan didn't like the flavor profile, I liked the combination of cinnamon and mint with the feta cheese and tomatoes.  It tasted similar to some of the traditional Tarpon Springs Greek dinners that I ate during my youthful days at the Sponge Docks and I thought these cabbage rolls were a nice change from our usual Meatless Mondays.  Unfortunately no one else in family enjoyed it, but that won't stop me from making it a few more times to see if I can bowl them over with some cabbage rolls!
The original cabbage rolls recipe can be found at EatingWell.com, but this is my slightly modified version.
Greek-Style Quinoa Stuffed Cabbage Rolls
Prep time:
Cook time:
Total time:
A low fat vegetarian full of Greek flavors stuffed into cabbage rolls.
Ingredients
1 large green cabbage head
¾ teaspoon salt, divided
1 cup cooked quinoa
2 tablespoons extra-virgin olive oil
4 cloves garlic, minced
1 carton Pomi chopped tomatoes
2 tsp red wine vinegar
1 teaspoon sugar
¼ tsp ground cinnamon
1 tsp salt
½ tsp ground black pepper
⅓ cup reduced fat crumbled feta cheese
4 Tbsp chopped Kalamata olives
2 Tbsp chopped fresh mint, chopped
Instructions
Gently remove 8-10 large outside leaves from cabbage head. Rinse well.
Bring 3 cups of water to boil in a large skillet. Add cabbage leaves and reduce heat. Simmer until softened, about 5 minutes. Then, gently remove cabbage leaves and transfer to plate covered with thin layer of paper towels. Discard the water and dry the pan to prepare the Greek-style sauce.
Heat olive oil in the skillet over medium heat. Add garlic and cook until golden brown. Add Pomi chopped tomatoes, vinegar, sugar, cinnamon, salt and pepper. Reduce heat and allow tomato sauce to simmer while preparing the stuffing and cabbage rolls.
In a small bowl, combine quinoa, feta, olives and mint. Spoon about ¼ cup of the quinoa mixture at the stem end of a cabbage leaf. Tuck in sides and roll into a pillow shape. Repeat with remaining cabbage leaves.
When the tomato sauce is ready, add the cabbage rolls seam-side down. Cover and cook until the rolls are warmed all the way through, about 5 - 10 minutes. Serve the cabbage rolls topped with the sauce. Garnish with mint, if desired.
Thanks for joining our weekly Friday Food Fight! Can't wait to see what everyone is flinging this week! 
*Also submitted at*