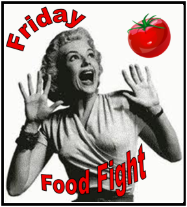 Disclaimer: For this week's Friday Food Fight, I am participating in a Mom Bloggers Club campaign in which I received OrganicGirl products and coupons for additional purchases to develop a recipe and share my honest review of its products.  The opinions and recipe are my own.
Do you remember Elaine from Seinfeld always craved a big salad?  "It's like a salad only bigger."
I often channel Elaine often when craving a big salad, however, with more helpings of OrganicGirl salad blends, I may get my fill of greens.
OrganicGirl prides itself in offering products that are triple-washed "crisp, fresh, wholesome and tasty", as it states right on the earth-friendly 100% recycled post-consumer clamshell packaging.  Only the best veggies become hand-picked OrganicGirl products and organic means their veggies are free from pesticides.  With the added bonus of triple-washed, you can eat it right of out the clamshell container, if you're a fan of big salads of course.
The "Five Happiness" blend peeked my curiosity.  It's a "Tasty Salad" which includes are variety of seasonal baby leaves including baby bok choy leaves, baby red chard, tango, mizuna, baby arugula, baby spinach, baby green chard, baby green romaine and baby green oakleaf lettuce.  As with most baby leaves, they taste less bitter than their full-grown varieties.  The Five Happiness blend offers a mild, pleasant taste and perfect for a fresh salad.
For this Five Happiness salad kit and its combination of Asian greens, I thought an Asian flare salad with mandarin oranges would make a great presentation against the vibrant rich baby greens.  An Asian flare salad would also need some traditional Asian veggies, like snow peas, shredded carrots and Mandarin oranges.  For some added crunch, I added thinly sliced jicama and almonds.  All of these ingredients were easily located in my grocery store produce aisle.
For the dressing, I juiced one Navel orange and mixed it with some canola oil, Sriracha , minced fresh garlic and ginger and a pinch of orange zest.  The mixture made a light, slightly sweet salad dressing as to not overpower or drown the salad.
After sampling the OrganicGirl greens, loving them and developing some recipes for the purpose of this review, I was thrilled to discover several varieties available at my supermarket.  Find out if the products are available near you here.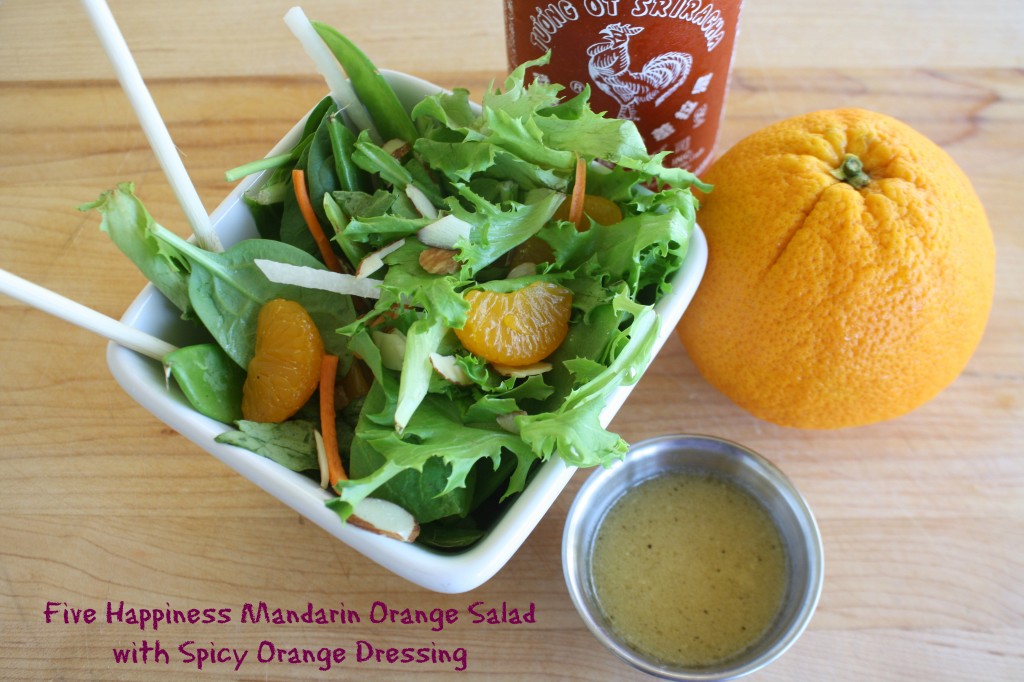 Five Happiness Mandarin Orange Salad with Spicy Orange Dressing
Ingredients
1 OrganicGirl Five Happiness Clamshell Kit
1 small jicama, sliced into ¼ inch strips
¼ lb. organic snow peas (two handfuls)
¼ cup organic shredded carrots
¼ cup sliced organic almond slivers
1 – 10 oz can of organic mandarin oranges in juice, drained
Directions
Combine all the ingredients into a large bowl.  Toss lightly to blend well.  Serve with Spicy Orange Dressing.
Spicy Orange Dressing
Ingredients
1 Navel orange
¼ cup canola oil
1 tsp Sriracha
½ tsp garlic (one half clove), minced
½ tsp fresh ginger, grated
½ tsp salt
¼ ground black pepper
Directions
In a small bowl, juice the Navel orange.  Add remaining ingredients and whisk well.
*Also submitted at*