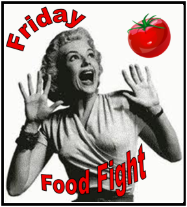 I know I should have shared these Anitpasto Skewers before New Year's Eve or even earlier in December so that you would have something fun to share at your holiday gatherings.  I really wish I did now because this simple appetizer was such a hit with my friends and family this holiday season.
Selfishly, I served this dish on more than one occasion because I knew the small bites would help with my issues with portion control.  Plus, using good quality ingredients makes the dish a healthier appetizer and gluten free.
Since I'm really sensitive to MSG and nitrates, I used Applegate Natural Traditional Italian Deli Meats and Cheese, Coppa, Genoa Salami and Provolone. Each slice was cut into half and folded to make a small bite size amount for the skewers.
Each 6" bamboo skewer was topped with two tops of olive, Lindsey Natural Green Ripe California Medium Pitted Olives and Lindsey Natural Black Ripe California Medium Pitted Olives followed by a mini fresh mozzarella ball.  For the salad, I used Alessi Roasted Red Peppers cut into small slices and Vigo Quarter Artichoke Hearts.
To build each skewer, I started with the olives, mozzarella, roasted red pepper and the coppa.  Then, I sandwiched the provolone between the salami and ended with a quartered artichoke.  It's that simple and only takes about 30 minutes to build a platter full of these Antipasto Skewers.
Antipasto Skewers
Cuisine:
Appetizer, Salad
Prep time:
Cook time:
Total time:
A traditional Italian appetizer presented in a new, fun and simple way.
Ingredients
Package of 8" bamboo skewers
1 – 8 oz package Applegate Natural Provolone
1 - 4oz package Applegate Natural Coppa
1 – 4oz package Applegate Genoa Salami
1 – 8oz package Belgioioso mozzarella pearls
1 - 14oz can of quartered artichoke hearts, drained
1 – 7.5 oz jar of roasted red peppers, drained
1 – 6 oz can natural black olives
1 - 6 oz can natural green olives
Instructions
Prepare the build skewers by cutting each slice of cheese and meat into half. Then, slice the red roasted peppers into one inch pieces.
Build the antipasto skewers by starting with one black olive and one green olive and slide to top of skewer with about an inch room from the top. Add one ball of mozzarella to skewer, followed by a small piece of roasted red pepper.
Fold the coppa in half and add to skewer. Then, fold the provolone and salami and add to skewer. End with quartered artichoke and add to platter. Repeat steps until platter is full. Cover and chill in fridge until ready to serve.