All the recent Florida cold snaps have made me crave warm soups.  On a cold day, there's nothing like a steaming bowl of soup to warm you inside and out.
For me, warm hearty soups need more than a spoon to slurp up the goodness.  Sometimes soup needs a companion like a slice of crusty bread to soak up all that homemade comfort and warmth. Depending on whether it's a hearty stew or chunky chowder will determine the appropriate carb companion.
When it's a Garden Minestrone, only a crusty slice of Italian bread will do.  A biscuit is the best for a chowder or pot pie soup.  But a bowl of Chicken and Andouille Sausage Gumbo with an extra spicy kick calls for a sweet slice of cornbread.
Rather than the usual suspects (honey or sugar) to sweeten a basic cornbread recipe, I had this creative idea to add maple syrup to the cornbread.  Maple syrup is much lower in sugar than honey and it would add richness to the overall taste.  Plus by using Bob's Red Mill Coarse Grind Cornmeal, it would add some texture to the cornbread.
My maple syrup hypothesis was correct!
The maple syrup added just the right amount of sweetness and the course cornmeal added some depth and character to the texture of the cornbread.
My maple syrup cornbread was cornbread perfection.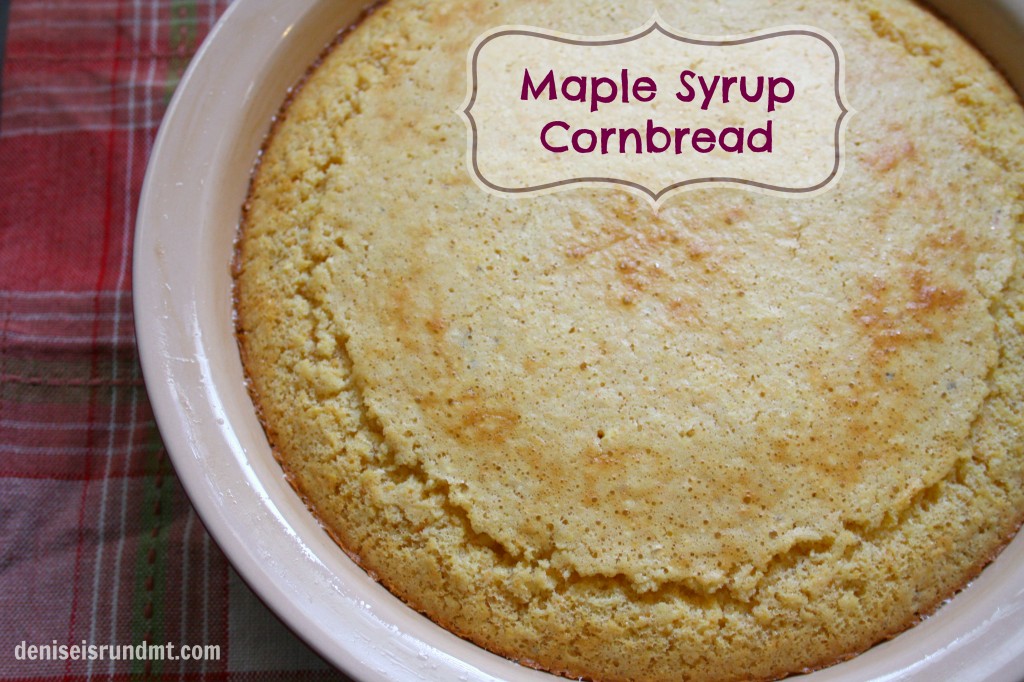 Maple Syrup Cornbread
Prep time:
Cook time:
Total time:
A traditional cornbread with a touch of maple syrup
Ingredients
1¼ cup of unbleached all purpose flour
1 cup Bob's Red Mill Coarse Grind Cornmeal
1 Tbsp baking powder
½ tsp salt
1 cup 2% milk
½ cup maple syrup
4 Tbsp butter, melted
2 large eggs
Instructions
Preheat oven to 435 degrees. Lightly grease a 8 x8 inch square pan or a 9 inch pie dish.
In a medium sized mixing bowl, whisk together the flour, cornmeal, baking powder and salt until well combined. In a small bowl, whisk together milk, maple syrup, melted butter and eggs. Add the maple syrup mixture to dry ingredients and stir just until moistened.
Pour batter into prepared pan and bake cornbread for 30 – 40 minutes until golden brown and a toothpick comes out clean. Allow to cool for 5 minutes before slicing and serving.