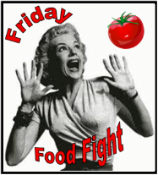 Every May, right around Mother's Day, I come down with the worst allergy related cold.  My chest becomes tight.  I can't breathe and I spend my days hacking up a lung.
This May has been no exception.  Since I spend my nights coughing, I'm not sleeping well.  A lack of sleep means I've been too tired to run, but I can't breathe anyway; therefore running has been replaced with resting.  Plus all the coughing has caused me to lose my voice although I don't think anyway in this house is too terribly upset that I can't speak to them above a whisper.
Despite being under the weather, I still have an appetite, but all I want is soup.  For me, soup is my favorite natural remedy and I crave it whenever I'm feeling poorly.  Since I was too tired and not up for the soup kitchen challenge, I submitted an order to Iron Chef Allan for Garden Minestrone.
Chopped tomatoes and chicken stock is the liquid base for the soup, which is already a healthy start.  Toss in some summer time veggies and it becomes healthy portion of green goodness with every spoonful.
Garden Minestrone
Cuisine:
Soup, Vegetarian
Prep time:
Cook time:
Total time:
A garden flare to a favorite traditional Italian pasta bean soup.
Ingredients
2 Tbsp olive oil
1 cup chopped onion
2 teaspoons chopped fresh oregano
1 Tbsp garlic, minced
2 large yellow squash, chopped
2 large zucchini, chopped
1 carrot, chopped
1 celery stalk, chopped
1 carton (26. 46 oz) Pomi chopped tomatoes
4 cups organic chicken or vegetable broth
½ cup uncooked ditalini pasta
1 (15.5 oz) can white beans, rinsed and drained
1 (6 oz) package fresh baby spinach
1 tsp salt
½ tsp freshly ground black pepper
¼ tsp crush red pepper flakes
Grated Parmesan or Asiago cheese, (optional for topping)
Instructions
In a large stock pot, heat oil iover medium-high heat. Add onion to pan; sauté 3 minutes or until softened. Add oregano and garlic; sauté 1 minute. Stir in squash, zucchini and carrot. Sauté five minutes or until vegetables are tender.
Stir in chopped tomatoes, broth and beans and bring mixture to a boil. Reduce heat, and simmer 20 minutes.
While soup simmers, prepare ditalini pasta as directed on package for al dente, only one minute less. Drain and add to soup. Stir until well incorporated. Remove from heat.
Stir in spinach; season with salt, pepper and crushed red pepper flakes.
Ladle soup into individual bowls. Top with freshly grated Parmesan or Asiago cheese.
Thanks for joining our weekly Friday Food Fight! Can't wait to see what everyone is flinging this week! 
*Also submitted at*