Iron Chef Allan and I love Indian cuisine, but we have had a tough time turning our kids onto the aromatic, earthy dishes. However, recently I discovered if I hide the rich flavors inside empanada pastry dough, then they are more inclined to eat it when they don't see it.
For whatever reason, when a mixture of yellow chicken curry is staring up at them from a bowl, my kids will turn their noses up at it. Take that same curry, hide it inside in a Hispanic hot pocket or pasty puff, and my kids will eat it. I guess I've become an ethnic-style sneaky chef. Whatever it take to get my kids to learn to love Indian food! And in turn, I've given my kids worldly palettes!
My Baked Vegetable Samosas make a fantastic meatless Monday meal and they're simple to make (under 30 minutes). I often make the filling ahead of time and bake them in the evening just before dinner. On the occasion when Iron Chef Allan dices and pre-boils too many potatoes for his breakfast skillets, I'll use the leftover pre-boiled potatoes in my vegetable samosas.
To make the filling, I sauté half a large white onion until soft and then add some grated fresh ginger and garlic. Once that's nicely caramelized I'll add the spices and then the potatoes.
When the potatoes become soft and break down a bit, I add frozen peas and carrots and the spinach to the pan and heat it through. Once spinach wilts, I place about a quarter cup of the mixture on a small six-inch, defrosted empanada disc. (Frozen empanada discs can be found in the ethnic section of the frozen foods aisle at your local supermarket.)
Then I place the disc on a prepared baking sheet, folded it, crimp down the edges with a fork ans poke a few holes on top. I finish it by brushing it with some olive oil and then repeat the steps all over again with the remaining filling and discs and bake the samosas for about 10-15 minutes. While they are baking, I prepare a cilantro chutney dipping sauce to serve with the vegetable samosas.
It is seriously that simple. And because they're baked instead of fried like traditional vegetable samosas, they are much healthier than a traditional fried samosa.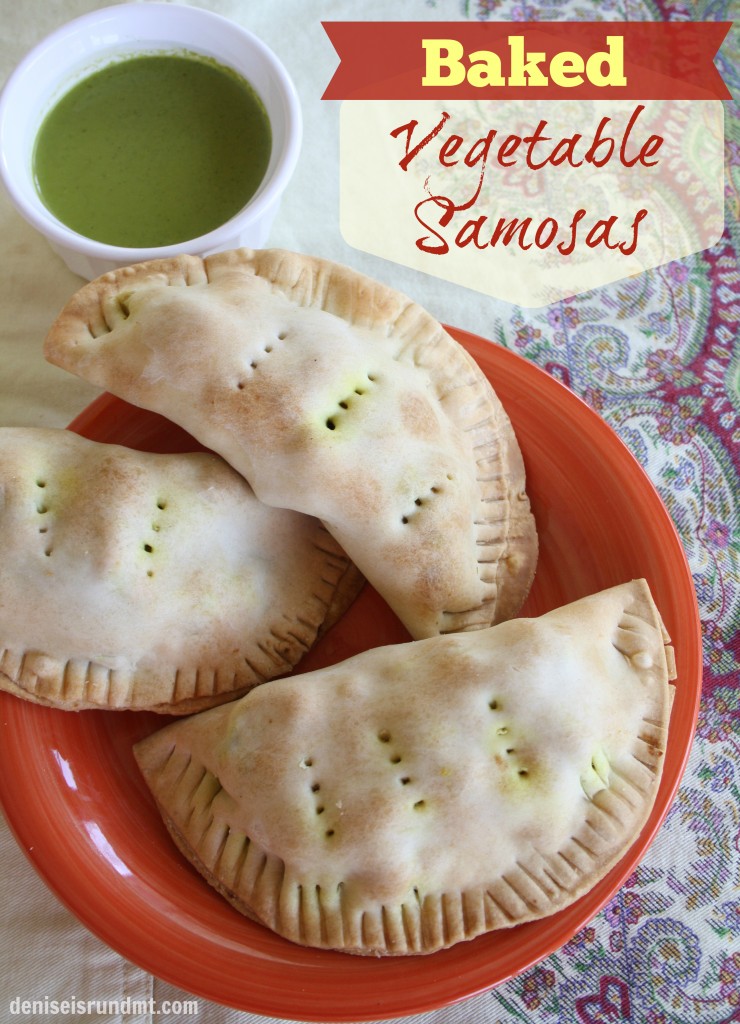 Baked Vegetable Samosas
Cuisine:
Indian, Vegetarian
Prep time:
Cook time:
Total time:
A baked, low fat version of a traditional Indian pastry and its earthy, aromatic flavors.
Ingredients
2 Tbsp olive oil
1 package frozen empanada pastry (6 inch size)
2 pounds baking potatoes
½ onion, chopped
1 Tbsp garlic, minced
1-inch fresh ginger, grated
1 Tbsp Garam Masala
1 tsp turmeric
2 tsp cumin
½ cup frozen diced peas and carrots
1 cup fresh spinach
Instructions
Remove empanada discs from freezer and defrost completely before beginning recipe.
Preheat oven to 350 degrees Prepare a baking sheet by brushing it lightly with olive oil.
Dice potatoes into one inch cubes. Add to pot; add enough water to barely cover the potatoes. Boil until fork tender.
In a large skillet, heat olive oil on a medium to low heat. Add onions and sauté until translucent. Add grated ginger and minced garlic and sauté until aromatic. Add spices and warm through.
Add potatoes and sauté in spices until soft. Add peas and carrots and warm through potatoes. Add spinach; place lid on pan to steam spinach until wilted.
Fill one empanada disc with about a quarter cup of filling. Lay on baking sheet and fold in half to make a crescent shape. Crimp and seal empanada with fork; then pierce holes on top. Brush with olive oil and repeat steps with remaining filling. Yields about 10-12 samosas.
Bake in oven for about 10-15 until golden brown. Serve with cilantro chutney.
Cilantro Chutney
Cuisine:
Indian, Vegeatarian
Prep time:
Cook time:
Total time:
Tangy cilantro dipping sauce for samosas
Ingredients
2 cups cilantro
1 Tbsp juice of lemon
¼ inch fresh ginger
¼ jalapeño chili, seeded
2 tablespoons non-fat plain yogurt
Salt and pepper to taste
Instructions
Add all ingredients to processor and puree. Pour into ramekin and chill until ready to serve.