Remember Eileen from Seinfeld? Her meal of choice was always "a big salad".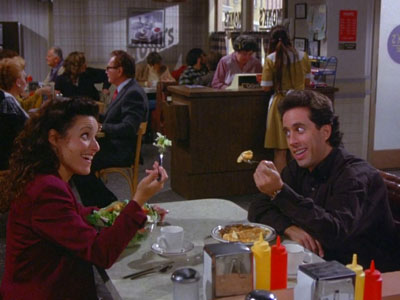 I'm with her. Give me some mixed greens and I can make a mean meal. It's kind of my thing. In the kitchen next to Iron Chef Allan, I'm the creative Garde Manger. Give me a pile of greens and I will throw together an eclectic mix that will bowl you over.
So, when the Tampa Bay Bloggers and organicgirl enlisted me to create a recipe using their new PEPPERGREENS and Salad Love Dressings, I declared "Challenge accepted!" My head began spinning with fun salad ideas. Like I said, salads are kind of my thing.
And since I'm already a huge fan of organicgirl greens, I knew the favor profiles of all the varieties. I knew just the right mix of veggies to combine with the different greens and the Salad Love Dressings taste as good as homemade delicious!
So what to make? What to make?
As much as I love a big salad, I want to feel like I'm eating more than just mixed greens. There needs to be lots of crunch and I need to feel full. As I pondered over an original Run DMT salad creation, it dawned on me that here in Tampa Bay we are on the cusp of blueberry season and *this close* to warmer weather and spring break which means lots of poolside entertaining and outdoor grilling. Therefore, I wanted a salad that would compliment cookout fare. I pondered over a PEPPERGREENS salad with crispy fruit and veggies and a tangy dressing.
The PEPPERGREENS would pair nicely with the sweetness of blueberries and the crispy tanginess of green apples with jicama and sunflower seeds for added crunch. For a little extra protein, I tossed in small bites of white cheddar which compliments the green apples perfectly.
If you don't know, jicama is this wonderful Caribbean root vegetable also known as a Mexican Chestnut that adapts the flavor of anything you mix it with and it's full of fiber, rich in Vitamin C and high in potassium making my already rich with antioxidants and fiber Blueberry Apple Crunch PEPPERGREENS Salad even more heart-healthy.
For the dressing, I decided to experiment with the Salad Love Lemon Agave. A slightly sweet dressing rich with garlic flavor, that alone is scrumptious, however, for purely aesthetics, I wanted to dress up the salad dressing a bit by blending it with some blueberries.  Not only did the color POP, but the results were a perfect sweet and savory profile. Overall, this Blueberry Apple Crunch PEPPERGREENS salad delivers the ideal combination of crunch with a sweet and savory flavor.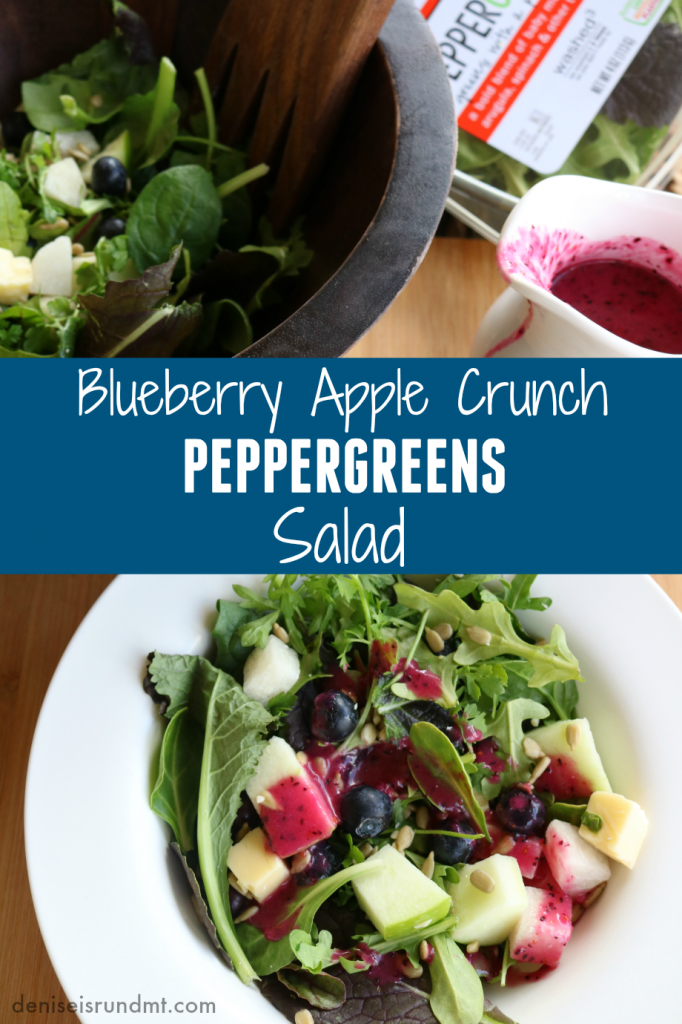 Blueberry Apple Crunch PEPPERGREENS Salad #GetURGreenOn #Giveaway
Ingredients
1 clamshell organicgirl PEPPERGREENS
1 bottle organicgirl lemon agave salad love dressing
¾ cup fresh blueberries ( ¼ cup reserved for dressing)
One half green apple, chopped
½ cup jicama, peeled and diced
¼ cup sunflower seeds
4 oz aged white cheddar, chopped
Instructions
Using a single serving blender, combine entire bottle of lemon agave dressing with ¼ cup of blueberries and blend well. Pour into a creamer or gravy boat. Chill in fridge until ready to serve.
In a large bowl, combine peeled and diced jicama, sunflower seeds, chopped apple, blueberries and white cheddar; gently toss. Serve in individual bowls; pour dressing over salad.
Create your own organicgirl big salad and #GetURGreenOn! Enter to win a month's supply of organicgirl greens and salad love dressings. 
To enter, tell me what you love about organicgirl greens. Follow additional entries, follow the Rafflecopter prompts.
Want to be a guest judge at the Tampa Bay Bloggers private LIVE tasting event at Datz? Enter here.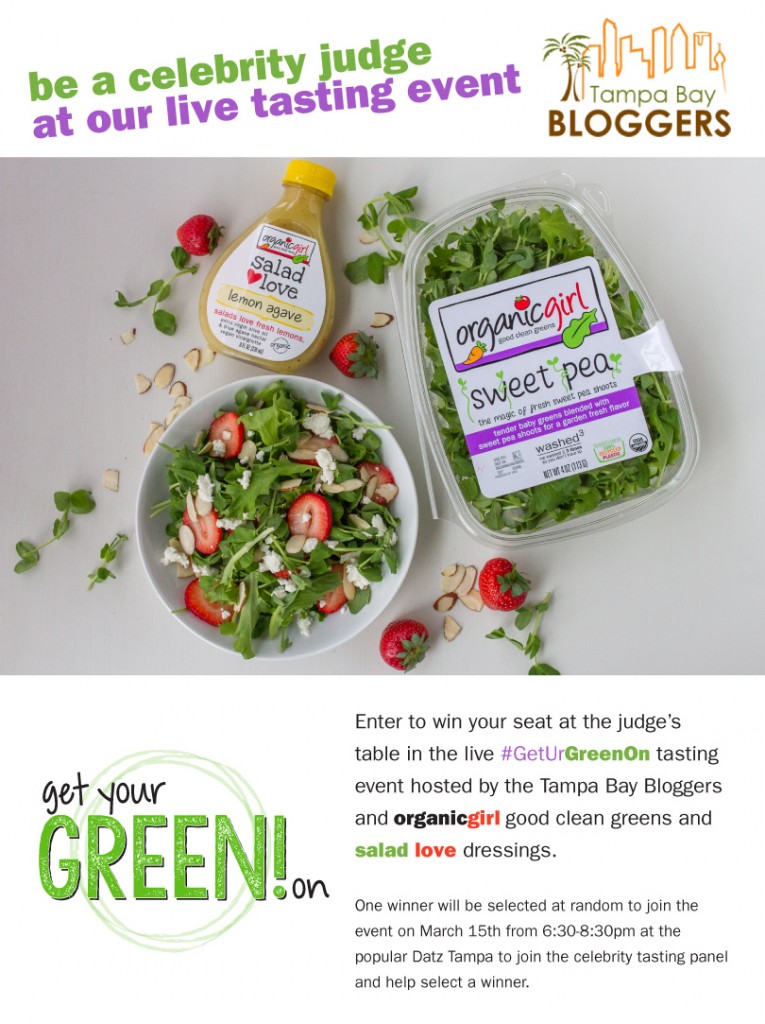 Organicgirl products are available at grocery stores and natural food markets nationwide, including Whole Foods and Publix Super Markets and many neighborhood markets in Tampa.
Disclosure: I received compensation and product through a campaign designed by the Tampa Bay Bloggers and organicgirl for the purpose of developing an original organicgirl tastemaker recipe. All delicious opinions and creations are my own.