For the past month, I've been trying to be so good. I cut back on intake of beer and wine and I've been journaling my meals on MyFitnessPal. I even survived Super Bowl and Mardi Gras without overdoing it. But then, Valentine's Day came into the scene and for me, it quickly developed into a foodie love fest.
And it wasn't pretty.
Well, the food was pretty fabulous and the wine was gorgeous! But my portion control and insatiable appetite grew ugly fast. There was no stopping my foodie love affair and it started with a beautiful Pho-style short rib sandwich at Craft Street Kitchen.
Then, a visit to the Mini Doughnut Factory foiled all hope to keep my diet healthy and low fat. I did, however, only take one bite of just one of the delicious two-bite doughnuts in a sad attempt to control in my portion control.
A few days later, more short rib entered my culinary scene with a lunch sampling at TinDrum Asian Café. Later that day, the foodie adventure continued with cocktails and a sunset at The Edge followed by dinner at Elevage.
And then, my food lover's adventure ended with dinner out at Ava's.
Put a fork in me; I am seriously done.
So my "diet" may have been a total train wreck, but it's a new week and a new opportunity to get back on track to eating smaller, healthier meals and journaling it all again.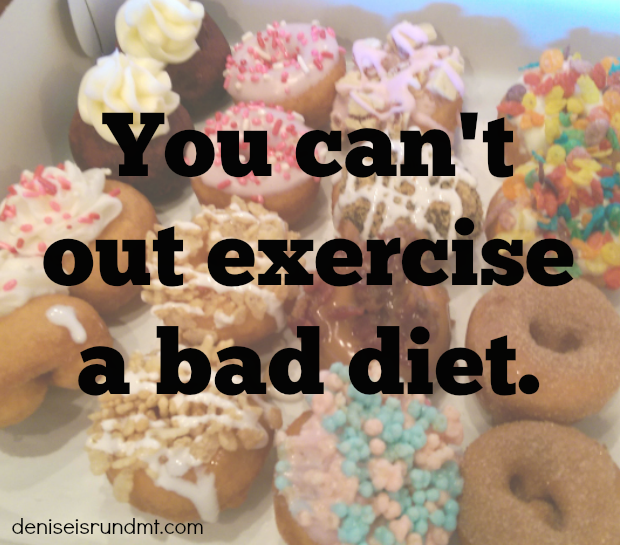 Here's our dinner menu for the week:
Soup Sunday – Garden Minestrone with 1967 Salad
Meatless Monday – Caprese Paninis with Mixed Green Salad
Tuesday – Skinnytaste's Easiest Crock Pot Salsa Verde Chicken
Wednesday – Skinnytaste's Orecchiette with Chicken Sausage and Broccoli Rabe
Thursday – Leftovers
Friday – Pizza
How are you avoiding diet train wrecks and staying on track with healthy eating? What recipes are you pinning and planning?
Follow Run DMT on Pinterest for more kid-approved healthy recipes.