I've shared my roasted veggies before, but I've never shared them like this.
I began making these veggies about fifteen years ago when I was a vegetarian and I still enjoy these veggies as a main dish, served on a bed couscous or sandwiched between crunchy Cuban bread with a shmear of goat cheese.
Although there are so many variations to how you can do this dish, I stick with the simple squash varieties that my family likes.  For additional greens, toss in some asparagus tips or add some sliced fennel for a more complex, rich fall flavor.
No matter what you toss in, these roasted veggies are a wonderful side dish for Thanksgiving and the leftovers make the best veggie omelets.
Roasted Veggies
Ingredients
Juice of one lemon
¼ cup olive oil
1 tsp thyme
1 tsp kosher salt
½ tsp ground black pepper
¼ tsp crushed red pepper flakes
4 garlic cloves minced
½ red onion, chopped
1 pint white or Baby Bella mushrooms
1 eggplant
2 zucchini
2 yellow squash
Directions
Preheat oven to 450 degrees.
In a large bowl, whisk the lemon juice, olive, garlic, thyme, salt, pepper and red pepper flakes.
Cut the eggplant lengthwise twice to quarter the eggplant.  Then, slice the eggplant into 2-inch chunks.  Toss into bowl with lemon juice marinade.
Slice the zucchini and yellow squash into 1-inch slices and toss in bowl.
Add chopped onions and mushrooms to bowl.  (Depending on the size of the mushrooms, cut into halves or leave whole.)  Toss all veggies until well covered in lemon juice marinade.
Prepare a baking sheet with cooking spray.  Arrange veggies evenly on baking sheet.  Bake for about 20-30 minutes.  For more charred veggies, bake longer or broil veggies for one minute.
Thanks for joining our weekly Friday Food Fight! Can't wait to see what everyone is flinging this week! Remember to visit our Thanksgiving food blog hop too!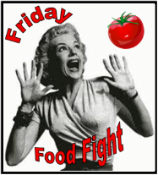 *Also submitted at*