Recently Iron Chef Allan and I dined at a fairly new restaurant in our area that has been getting a lot of buzz, Carmel Café.  At this relatively inexpensive paperless establishment, diners make their selections from a menu application on an electronic tablet full of vivid, colorful photos of Mediterranean foods.
Carmel Café offers a variety of Mediterranean dishes, but the restaurant is also known for its wines.  However, it was the sangria served in a coffee press that intrigued us.  With a few presses, the sangria became infused with all the fruit juices but the fruit stayed secure under the springy press.
For our meal, we started with the chick peas fries.  Although a fried dish, the lightly battered texture and creamy center tasted much lighter than regular fries.  The dipping sauces of tomato jam and curry aioli finished the fries perfectly.
For my meal, I chose the House Salad and the Grilled Chicken Artichoke Flatbread topped with arugula and parmesan cheese.   The crisp flatbread perfectly complimented the flavors of the lightly marinated lemon chicken.
Carmel Café makes these exquisite entrees even more affordable with weekly evening specials.  On Sundays and Mondays, couples can experience a four course meal (including a starter, salad entrée and dessert) for only $24.95.  On any weekday between 5-7 pm, visitors can enjoy $5 dollar wines and flatbreads.
Since so many items on the menu appealed to us, Iron Chef Allan and I vowed to return.  Until then, we attempted to replicate the flatbread dish with our own flare.
However instead of making our own pizza dough, we purchased already prepared dough at our local supermarket bakery and allowed it to sit in the fridge overnight.  Letting the dough sit in the fridge overnights activates the yeast and the results produce an even lighter, crisper crust.
As Iron Chef rolled out the dough to less than a ¼ inch thick, I marinated the chicken breast in my mojo marinade.  I let the chicken marinate for about 15 minutes before Allan tossed it on the grill.  While the chicken cooked, he caramelized sliced red onion in olive oil.
Once the chicken was finished, he sliced it into ½ inch slices.  He lightly brushed the flatbread with some olive oil, red pepper flakes, salt and pepper before adding the chicken.  He then topped it with a handful of arugula and grated asiago cheese and baked it all for about ten minutes at 500 degrees F.
The results were tastier than we anticipated.
Then, we started dreaming of all the other types of flatbreads we could make, like marinated mushrooms, jerk chicken or a curried chicken.  The possibilities were endless.
But I'd want to wash it all down with sangria.  So, before we create any other flatbreads, I have to learn how to replicate the coffee press sangria first.
Do you ever try to recreate a restaurant favorite?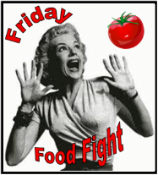 Thanks for joining our weekly Friday Food Fight! Can't wait to see what everyone is flinging this week!
*Also submitted at*