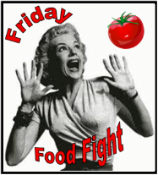 "This is needs to be in the regular menu rotation."
Score!
Whenever Iron Chef Allana declares a dish to be in the regular rotation, I know I've made a winner dinner.
This Iron Chef Allan approved meal, Blacked Baja-Style Talapia, was a Pinterest find.  Overall, the recipe looked and sounded good, except I thought the blackening spices needed a full teaspoon of cumin.
And the onion sauce needed a little salt and black pepper.
I sautéed the fish in canola oil, which surprised Allan, but I thought sautéing would bring out the blackening spices better than baking the fish.
The recipe recommends serving the fish in corn tortillas, but we don't like the texture or taste of corn tortillas.  Therefore, I served the fish on a bed of shredded romaine lettuce in flour tortillas, but the meal was missing something: texture.  Ironically, the corn tortillas would offer that desired texture.
Allan suggested serving the tilapia on a bed of rice instead of a soft taco, like a Baja bowl.  Brilliant!  See this is why I keep Iron Chef Allan around.
Blackened Baja-Style Talapia
(Adapted from myrecipes.com via Cooking Light)
Ingredients
¼ cup reduced-fat sour cream
2 Tbsp chopped fresh cilantro
Juice of one lime
1 jalapeño pepper, seeded and chopped
1 cup thinly sliced white onion
1 ½ tsp paprika
1 ½ tsp brown sugar
1 tsp dried oregano
¾ tsp garlic powder
1 tsp ground cumin
½ tsp salt
¼ tsp ground red pepper (or cayenne pepper)
1 lb tilapia
Canola oil
1 avocado, peeled and thinly sliced
Shredded romaine lettuce
Lime wedges
Directions
Add sour cream, cilantro, lime juice and jalapeño to a food processor and process until smooth. Combine jalapeño sauce and onion in a small bowl.  Salt and pepper to taste.
In a small bowl, mix together paprika, brown sugar, oregano, garlic powder, cumin, salt and red pepper until well combined.  Then, sprinkle evenly over fish.
Heat oil in an electric skillet set to 325 degrees F or a large cast-iron skillet over medium-high heat.  Add fish to skillet and cook 3 minutes on each side.
Serve tilapia on a bed of romaine lettuce over rice or a warmed corn tortilla. Top with onion mixture, avocado slices and a wedge of lime.
Thanks for joining our weekly Friday Food Fight! Can't wait to see what everyone is flinging this week!
*Also submitted at*