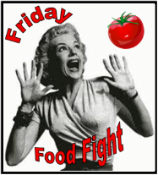 "This is needs to be in the regular menu rotation." If you're a regular Run DMT reader, then you may have noticed this Creamy Avocado and Roasted Tomato Fettuccine pasta dish included in my Pinning and Planning menu a few times.  It took a few trial and errors and a little tweaking here and there until it came out a way that pleased me
This dish may not look like much but the creamy tomato texture packs a lot of punch.  Plus, the combination of garlic, tomatoes and avocadoes offer a dish that is high in lycopene and good fats for an ultimate heart-healthy dish.
Even with all my trial and errors, it managed to pass the Iron Chef Allan taste test every time, however, he would prefer it served with some grilled chicken, shrimp or some other kind of protein.  Of course, the pine nuts in the original recipe would add the extra protein Allan craves, but unfortunately I've recently added pine nuts to my ever growing list of nut allergies, so I omitted that ingredient and the protein.
As for my kids, I still haven't convinced them to try it. Oh well.  This dish only confirms what Kermit has been saying for years.  "It's not easy being green."  But this kind of green sure is tasty.
Creamy Avocado and Roasted Tomato Fettuccine 
(Recipe adapted from Flourishing Foodie)
Ingredients
10 – 12 Campari tomatoes, cut into halves
2 garlic cloves, minced
1 Tbsp olive oil
2 packages of Buitoni Fettuccine
2 ripe avocados, skin removed and seeded
2 garlic cloves
Juice of one lemon
2 Tbsp olive oil
¼ tsp cayenne pepper
½ tsp salt
¼ tsp ground black pepper
Fresh grated Parmesan cheese (for topping)
¼ cup pine nuts (for topping – optional)
Directions
Preheat oven to 450 ºF.
Toss the tomatoes in a bowl with olive oil, minced garlic, salt and pepper until well coated.  Place on a baking sheet prepared with parchment paper or cooking spray.  Roast tomatoes in oven for about 20 minutes.
Ten minutes before tomatoes are finished, boil pasta as directed on package for al dente.
While the pasta is boiling, add olive oil, avocado, garlic, salt and lemon juice to a food processor. Pulse until the ingredients are smooth and creamy.
Strain the pasta and combine with the sauce in a large bowl, until all the pasta has been covered.
Gently fold in the roasted tomatoes and salt and pepper to taste.  Serve with fresh grated Parmesan cheese (and pine nuts).
For additional serving suggestions, add an olive tapenade before adding the Parmesan cheese.  This dish also compliments grilled shrimp and chicken.
Thanks for joining our weekly Friday Food Fight! Can't wait to see what everyone is flinging this week!
*Also submitted at*