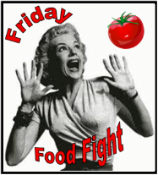 Growing up, we never ate Brussels sprouts.  My mom never served them to us and I'm not quite sure why.  I suppose she didn't like them, because my mom only served the veggies she liked, such as green beans and broccoli and they were often steamed.
Other the hand, Allan's mum serves Brussels sprouts at every holiday meal.  At first, it was a bit of culture shock for me and I don't remember liking them.
But somehow, in my old age, I've grown a liking for Brussels sprouts.  At one Christmas in particular, my MIL served Brussels sprouts roasted which has become my favorite way to eat them although I can't seem to convince Allan.
Despite eating them many times during his youth, he still can't stand them.  He says it has something to do with genes and being classified as a "supertaster".  Whatever.  Leave it to my Iron Chef Allan attempting to set himself apart from a third of the population.
He can turn his nose up at Brussels sprouts and it will just leave more for me to enjoy.  And boy did I enjoy these!  When I roast my veggies, I prefer a a charred finish, so I roasted my a little longer than the original recipe.
Next time, I make this dish, I may toss in a red onion to add a little caramelized sweetness to the dish.  Oh the bitter sweet joy of eating roasted Brussels sprouts…by myself.
Roasted Potatoes and Brussels Sprouts with Garlic and Rosemary
Recipe type:
Vegetables, Side Dish
Cuisine:
Healthy, Vegetarian
Prep time:
Cook time:
Total time:
Crispy, slightly charred roasted potatoes and Brussels sprouts with a hint of garlic and rosemary. Perfect side dish!
Ingredients
1 lb baking potatoes, quartered
1 ib Brussels sprouts
3 garlic cloves, minced
2 Tbsp fresh rosemary, roughly chopped
¼ cup olive oil
1 tsp sea salt
½ tsp black pepper
¼ tsp red pepper flakes
Instructions
Preheat oven to 400F degrees and prepare a large baking sheet with parchment paper.
Thoroughly rinse and cut potatoes into quarters. Leave in colander and set aside.
Rinse Brussels sprouts. Cut off stems and remove loose outer leaves. Leave in colander and set aside.
Whisk garlic, rosemary, oil, salt, pepper and red pepper flakes in a large bowl. Add potatoes and sprouts and toss until well coated. Spread over parchment on baking sheet.
Roast for 45-60 minutes, stirring once half way through baking. Potatoes will be golden and Brussels will be lightly charred when ready. Season with some additional salt and pepper before serving.
Denise Mestanza-Taylor+
Thanks for joining our weekly Friday Food Fight! Can't wait to see what everyone is flinging this week!
*Also submitted at*