Last Wednesday, I visited Pura Cycling Studio a second time to experience another spin class.  I didn't arrive early enough to adjust my seat properly and struggled throughout the class.  Let's just say my va-jay-jay  I enjoyed lifting up out of the seat to do hills.  Thankfully, there were lots of hills.  Tomorrow morning, I will attempt a spin redo by planning to arrive early enough to adjust the seat and bars to the right height.
Last Thursday, I met Chrissy, Marie and the Suncoast Striders for a temp run.  My legs were pretty sore from Wednesday's spin class and I had hard time keeping up with Marie and Chrissy.  I did pretty good but not as fast as I would have liked to gone.
5.4 miles
Time 54:31
Ave Pace 10:06
Max Pace 8:12
Friday, I had planned to attend a spin class at Ryde 4 Life, but I read the schedule wrong and showed up at the Westchase location at the wrong time.  Therefore, Friday was a forced rest day.
Saturday, my Tampa Bay Blogger girlfriends and I ran the Dirty Girl Mud Run.  I shared a little sneak peek yesterday for Music Monday, but I'll have a full race report tomorrow.
Chrissy and I wanted to carve out Sunday as a cycling day, but unfortunately I was camping with my girls' Girl Scouts troop and I was completely shattered when I got home.  I felt pretty much the same on Monday, so it was another lazy day.
I've been trying to show my abs some daily love for our Love Abs Challenge.  Last week, I did 100 bicycle crunches and 60 cross-over with 1 minute planks.  Are you seeing any progress?  Me either. lol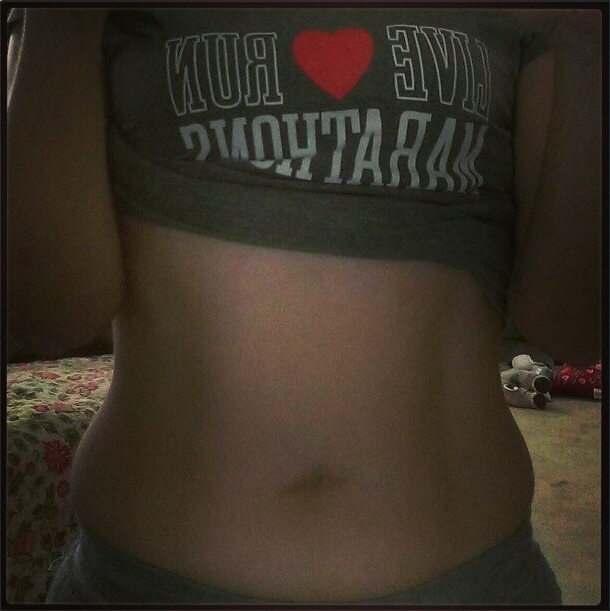 But today is Track Tuesday and I was ready to take on those intervals with the help of my friends!    Wanting to add speedwork to their half marathon training, Chrissy, Larisa and Maribel joined me this morning.  I was thrilled to have them, because it's been a long time since I did speedwork with a running partner.  For what will be our weekly Track Tuesday intervals, we mapped out a mile warm up/cool down and four 0.25 sprints in a nearby parking lot.  Between all the laps and resting, it took us about 45 minutes to run it all (about 3.35 miles).  Perfect!
I took that first sprint a little too fast.  I think I was showing off to my friends.  lol  In all seriousness, my sprints were definitely a little faster this week than last week.
1 mile
Time 10:25
Lap 1 – 0.24
Time 1:27
Ave Pace 6:07
Lap 2 – 0.26
Time 1:49
Ave Pace 7:08
Lap 3 – 0.25
Time 1:45
Ave Pace 7:02
Lap 4 – 0.25
Time 1:53
Ave Pace 7:36
1.04 mile
Time 10:34
Ave Pace 10:03
This morning, our local NBC affiliate WFLA ran a story about the Airheads fitness class.  I can't find a link to the new story, but you can read about our experience here. Remember how I said after I high-fived the instructor.  Well, that proud moment is on YouTube.   I can't wait for that to surface on Tosh.0!  Can I get a web redemption?
Speaking of that Airhead event, I have 5 winners to share!  The following winners were chosen randomly by Rafflecopter: Chrissy, Jen, Jennifer, Erin and Jina!  Congratulations, ladies!
As for another nice little surprise, my blog was featured on 83 degrees along with some other Tampa Bay Bloggers, like Jenny and Kirsten.
Hubby is traveling this week which really puts a damper in my fitness plans as well as my Valentine's Day plan.  He owes me BIG TIME!
What are your workout plans for the week?  How will you be spending Valentine's Day?
*Also linking up at*