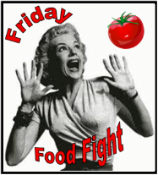 Whenever tilapia is on sale at my local supermarket, you can guarantee it will be on our dinner menu that week.  Tilapia is a wonderful, mild flaky white fish that compliments most recipes.  Though most fish tastes best fried, tilapia is delicious no matter how it's served and my family always loves it.
I pinned this Cooking Light Lemon-Peppercorn Tilapia recipe from MyRecipes.com about a year ago and I have wanted to share it the very first time I made it, however, since this tilapia recipe is always a hit with the family, there are never any leftovers to photograph and blog.  If I was a better foodie blogger, I would cook dishes just to photograph, but let's be honest.  This mother runner blogger ain't got time for dat.
Which leads to a little confession.  This photo was taken two days after I made the dish.  So, the fish doesn't look the prettiest, but believe me when I tell you, that this lemon tilapia dish is delicious and the lemon and capers compliment coucous perfectly.  I also got bit carried away with the capers in this photo, but we love capers.
Since I couldn't find any peppercorns in my supermarket, I omitted them and added capers for a more Tilapa Picatta type dish.  Keeping it light, it still has a lot less fat than most picatta dishes.
Although this Tilapia Picatta may not be the prettiest, last week's Rolled Eggplant with Basil, Asiago and Mozzarella was a winner and featured at Diane's Simple Living and Eating Foodie Friday blog hop.  Stop over there and check it out and all the wonderful dishes featured on Foodie Friday.
Lightened Tilapia Picatta
Cuisine:
fish, healthy, low fat
Prep time:
Cook time:
Total time:
Lightly floured tilapia in a traditional picatta made with less butter.
Ingredients
¾ cup fat-free, low sodium organic chicken broth
Juice of one lemon
1 3.75 oz jar capers
¼ cup vegetable oil
1 ½ pounds tilapia fillets
¼ tsp salt
¼ tsp freshly ground black pepper
½ cup all-purpose flour
1 Tbsp butter
Instructions
Wisk chicken broth lemon juice and capers in a medium bowl and a set aside.
Using an electric griddle set to 300 degrees, heat ¼ cup vegetable oil.
Trim and prepare tilapia. Combine flour, salt and pepper in a shallow baking dish; lightly flour and dredge fillets and shake off excess flour.
Place tilapia in heated vegetable oil; cook for three minutes a side or until butter turns golden brown. Remove tilapia from pan and set aside on a plate covered with a paper towel to soak up excess oil.
Add butter and broth mixture to pan, scraping to loosen browned bits. Bring to a boil and cook until reduced and thick. Remove from heat. Serve sauce over fillets.
Thanks for joining our weekly Friday Food Fight! Can't wait to see what everyone is flinging this week! 
*Also submitted at*