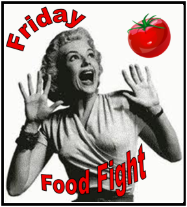 I've been failing on my Friday Food Fight posts because it's been a while since I shared a recipe. I wish I had something green to share for St. Patrick's Day, but I'm not that lucky.
If you've followed my blog for some time, then you know I've been sharing weekly dinner menus every Sunday in my Pinning and Planning feature. Well, almost every Sunday because I didn't share one last week. I seem to be a bit of a slacker mother runner blogger these days. Don't judge.
Anyway, in my almost weekly Sunday Pinning and Planning feature, I share our menu for the week which always includes a Meatless Monday dish. As much as I would love to be vegetarian again, I crave meat too often to give up meat completely. By committing to at least one day a week (Monday) to go meatless, I can strive towards a vegetarian lifestyle again. Until I crave some Buffalo chicken wings after a triathlon.
Speaking of cravings, my oldest daughter has been craving mushrooms which may be a sign of a lack of potassium, iron, selenium or Vitamin D. So to appease her mushroom-mineral-vitamin deficiencies, I served some Portobello Burgers.  The thick, chewy texture of the portobello mushroom fools my family's brains into think they are eating meat. It's very bizarre. Sometimes I'll serve these Portobello Burgers without a bun but over a bed of mashed cauliflower instead, which really pulls one over on my brain! Bun or no bun, this Portobello Burger is so filling and delicious and will satisfy the most carnivorous meateaters in your house. Bring some portobello mushrooms to your next potluck cook-out for a meatless grilled option.
To prepare the portobellos, I start by brushing a grill pan with olive oil.  Then, I lightly drizzle olive oil and balsamic vinegar over the caps. I season the mushrooms with some sea salt, fresh ground pepper and a pinch of thyme. After lightly seasoning the caps, I roast them in the oven for about 20 minutes and that's it. A rich, healthy meatless dish that is so simple and tasty! They even look meaty!
Since I bought Publix Greenwise organic portobello mushrooms to create this meal, I suppose that means I did offer something green for St. Patrick's Day.  A vegetarian meal option for St. Patrick's Day? Now that's lucky! For a Meatless Monday meal for this coming St. Patrick's Day, serve these Portobello Burgers with a side of vegan roasted cabbage and a helping of red potatoes for a vegetarian option.
Portobello Burgers
Cuisine:
Vegetarian, Vegan
Prep time:
Cook time:
Total time:
A rich, healthy meatless dish that is so simple and tasty!
Ingredients
4-6 large portobello mushrooms
Olive oil
Aged balsamic vinegar
Salt and pepper to taste
Thyme (optional)
Instructions
Preheat oven to 400 degrees. Prepare a baking sheet or a grill pan by brushing the pan with olive oil.
Rinse and remove any dirt from the mushrooms; gently pat dry and remove the stems. Place the mushrooms on the grill plan cap side down (ridges up) and drizzle olive oil and balsamic vinegar. Add salt and pepper to taste and a pinch of thyme.
Place in oven and roast for about 10 minutes. Then, flip mushrooms and roast for another 10 minutes. Portobello mushrooms will reduce in size.
Serve on a roll with your favorite toppings.