This post is sponsored by American Family Insurance. The recipe and opinions are my own.
In an attempt to eat healthier, my family and I began incorporating a weekly "Meatless Monday" and a plant-based diet into our dinner menu. At first, my family fought the new, healthy change, especially since a meatless menu would force them to eat more greens. Once my husband and three children realized that meatless dishes would include hearty vegetable alternatives like portobello mushrooms, they were on board.
Then, I took our healthy Meatless Monday meals one step further by trying incorporate carb-free alternatives, such as mashed cauliflower. By steaming and "mashing" cauliflower with bit of parmesan cheese, it helps mask the vegetable which often turns kids' (and husbands') noses. Of course, before they even tasted, my family fought me, but once they tried it, they loved it.
By substituting cauliflower for is starchy counterpart, I cleverly fed a vegetable that is rich in fiber, potassium, vitamin K and vitamin C.  Plopping some cauliflower on top of a portobello mushroom, I offered my family a double dose of potassium in one Meatless Monday #WeekdaySupper.
And then, I threw some steamed arugula at them.  Oh the horror of eating heart healthy veggies! 
Once my family could overlook the added green, they learned to love the richness, flavor and color the arugula added to this white earthy, healthy meal.
With adding arugula to this already healthy dish, it delivers even more vitamin A, K and C as well a calcium and iron.  Plus, in the heat of the summer, arugula also helps hydrate your body. This one gluten-free, Meatless Monday #WeekdaySupper delivers a stack of superfoods that packs a healthy punch, which is so important for growing children and a long distance runner like me.  One portobello cap (or two because their carb-free and so healthy) fuels me to run multiple miles and continue to #ChooseDreams of running more marathons.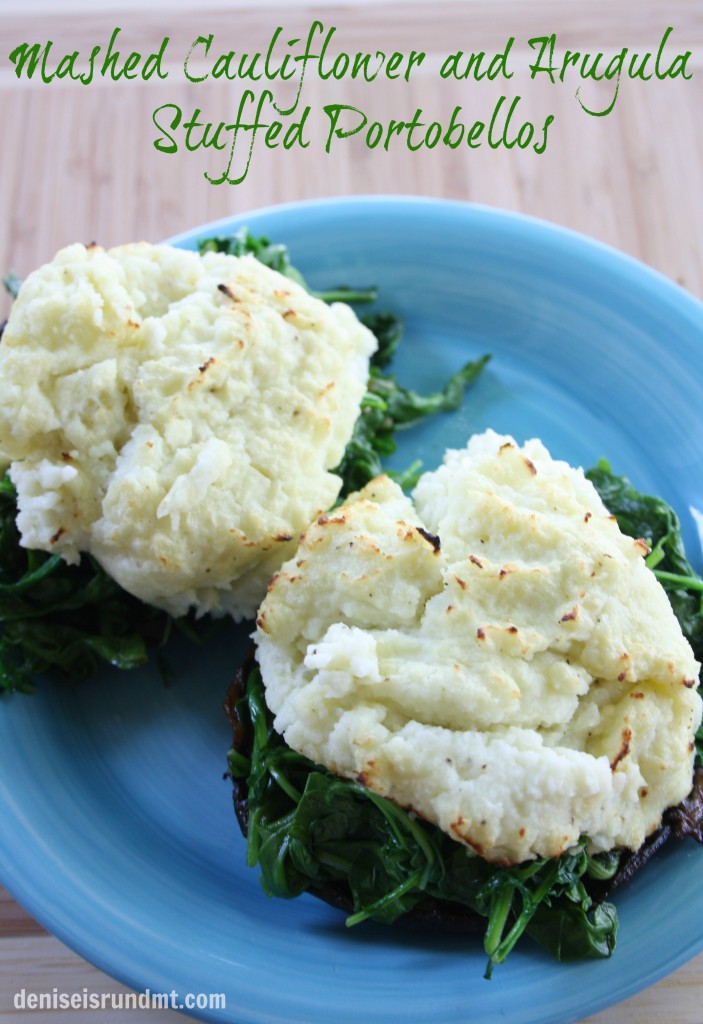 Mashed Cauliflower and Arugula Stuffed Portobellos #WeekdaySupper #ChooseDreams
Portobellos stuffed and stacked with steamed arugula and mashed cauliflower that will satisfy your most carnivorous family members.
Ingredients
¼ cup olive oil
4-6 large cap Portobello mushrooms
5 oz arugula
1 tsp fresh garlic, minced
1 head of cauliflower
¼ cup parmesan cheese, grated
Salt and pepper to taste
Instructions
Preheat oven to 400 degrees.
Rinse and gently remove dirt from Portobello mushrooms. Brush mushrooms with olive oil and lay mushrooms on baking sheet cap side down. Sprinkle with salt and ground black pepper to taste. Roast in oven for about 20 minutes or until soft. Flip halfway through.
While portbello mushrooms are roasting, rinse and trim cauliflower into medium size florets. Add to double-boiler to steam. Cook until fork tender and crumbly.
Once full cooked, move cauliflower to a food processor. Add 2 tablespoons of olive oil, a teaspoon of salt, 1.2 tsp ground black pepper and parmesan cheese. Blend until soft and smooth; set aside.
Heat a tablespoon olive oil in a large skillet on a low heat. Add garlic and simmer until fragrant and golden brown. Add arugula and sauté until wilted.
Remove portobellos from oven. Layer about a ¼ cup of arugula on top and top with ½ cup of mashed cauliflower. Serve as is or finish off under broiler for about two minutes for a golden brown crust.
https://deniseisrundmt.com/2014/07/07/mashed-cauliflower-and-arugula-stuffed-portobellos-weekdaysupper-choosedreams/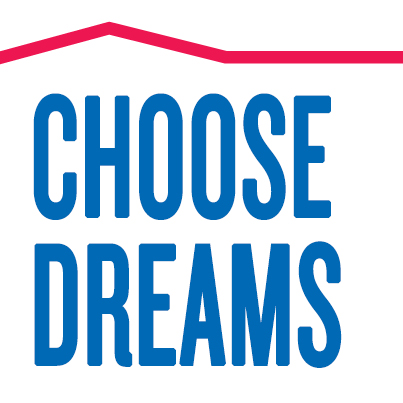 Through a partnership with American Family Insurance, we are encouraging all families to take steps to #ChooseDreams and turn your favorite family recipes into healthy ones.  For more great healthy recipes, follow AmFam on Pinterest.
Also visit American Family Insurance on Facebook, Twitter, Pinterest,Google +, Youtube, and LinkedIn.
Want more healthy, quick dinner ideas? Check out these amazing #WeekdaySupper meals for some pinspiration!
Meatless Monday – Mashed Cauliflower and Arugula Stuffed Portobellas by Run DMT
Tuesday – Loaded Mediterranean Sweet Potato Fries by Neighborfood
Wednesday – Grilled Salad with Skirt Steak by Country Girl in the Village
Thursday – Mango Avocado Quinoa Chicken Salad by Cupcakes & Kale Chips
Friday – Tex-Mex Shrimp Skillet by The Weekend Gourmet