While the folks up north are up to their eyebrows in a winter wonderland, we've experienced our first cold snap here in the Sunshine State sans snow. Our overnight lows hit 38 degrees which is a new record low for this time of year.
Cooler weather always makes me crave soups and reminiscence about the post-holiday soup parties we hosted every winter in a life before our third child. In our own twist to a traditional Christmas party, Iron Chef Allan would serve up four-six different types of soups for our friends and families. With piping hot bowls of soups cupped in our hands and lively conversation among friends, an incredible warmth and good cheer filled our house to the brim. It was the perfect way to wrap up the holidays.
With cooler weather and craving soups, we've added Soup Sunday to our weekly dinner menu which also means I've dusted off the crock-pot. Although every time I use my crock-pot, my husband gives me such grief about it. He's not the biggest fan of this handy small kitchen appliance. He always points out all the prep work I have to do just to toss in a bunch of ingredients. "You could just let it simmer all day in a large stock pot and get the same effect. You don't need a crock-pot to make a soup."
Iron Chef Allan may be right, but there is just something so nice about having dinner waiting for you when you return home after a busy mom on the run day.
Being a crazy crock-pot kind of mood, I've pinned a ton a recipes to try out and even tweaked a few, like this Low Fat Copycat version of Olive Garden's Zuppa Toscana – a hearty spicy Italian chicken sausage soup with arugula and potato. To lighten up this recipe, I omitted the bacon and cream and replaced it with 2% Reduced Fat Milk. I also added arugula rather than the more popular choice kale for the peppery flavor it adds to the soup. If you want the smoky bacon flavor minus the fat, try seasoning it with hickory smoked sea salt.
This Low Fat Copycat Olive Garden's Zuppa Toscana recipe is perfect for the crockpot, but you could also follow Iron Chef Allan's suggestion by simmering the soup on the stovetop for a few hours for the same flavor and effect.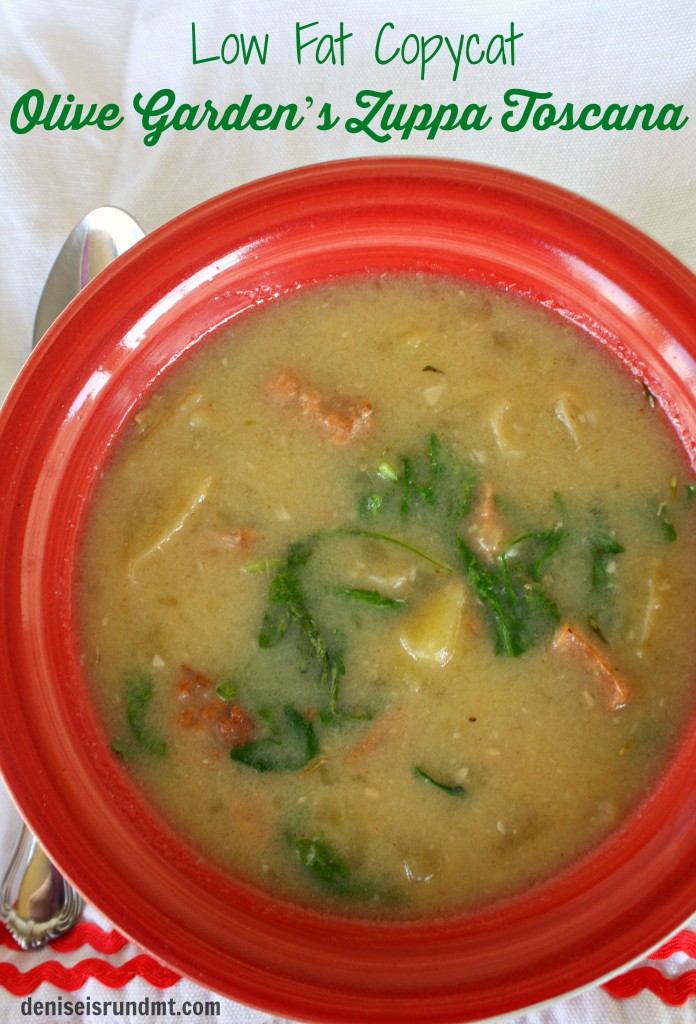 Low Fat Copycat – Olive Garden's Zuppa Tocana
This Low Fat Copycat version of Olive Garden's Zuppa Toscana is a hearty spicy Italian chicken sausage soup made with arugula and potato.
Ingredients
1 Tbsp olive oil
1 lb. hot Italian Chicken Sausage (I used Publix Greenwise.)
4 Yukon Gold potatoes, chopped into ½ inch cubes
1 onion, chopped
1 Tbsp minced garlic
4 cups low sodium organic chicken stock
1 cup water
1 cup organic arugula
1 cup 2% Organic milk
2 Tbsp flour
1tsp salt
½ tsp black ground pepper
¼ tsp cayenne pepper (optional)
Instructions
In a large skillet, heat olive oil on a medium heat. Add sausage links and sauté until golden brown on both sides. Remove from pan and slice links into quarters; set aside.
Add onions and garlic to pan and saute' until onions are soft. Add potatoes and sausage to skillet; mix through until well-combined and warmed through.
Add sausage mixture, chicken broth, water, salt and pepper to slow cooker. Cook on high 3-4 hours (low 5-6 hours) until potatoes are soft.
Approximately 30 minutes before serving, whisk flour and milk in a medium sized mixing bowl to create a slurry. Slowly add to crock pot and stir.
Stir in arugula. Replace lid and cook on high 30 minutes or until broth thickens.
Salt and pepper to taste. For added heat, add cayenne pepper.
https://deniseisrundmt.com/2014/11/21/low-fat-copycat-olive-gardens-zuppa-toscana/