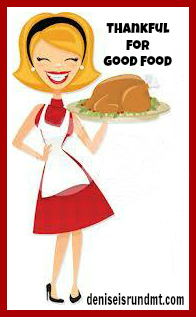 Who can believe it?! Thanksgiving is finally here! A holiday that focuses on food is my kind of holiday and EXACTLY the reason why I run.
Did you know that it's important to eat breakfast on Thanksgiving? As a common bad habit, many people avoid eating to "leave room for the meal". This only causes people to overeat.  Therefore, it's important to eat a normal breakfast to avoid bad snacking or become too ravenous. If you are trying to watch your portions and your waistline, make sure to east a modest, light breakfast and lunch (if Thanksgiving dinner is late in the day) to avoid overindulging during Thanksgiving dinner.
This Thanksgiving, my mom, dad, sister and her husband will join us around the table. A modest family gathering filled with copious amounts of food prepared mostly by Iron Chef Allan.    The menu this year includes the usual classics, such as Mashed Potatoes and Sage and Onion Stuffing, but we also added some new selections such as Publix Apron's Crunchy Cranberry Waldorf Salad.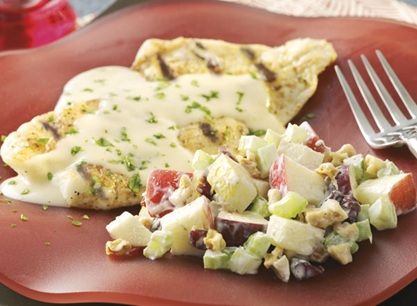 Unlike a traditional Waldorf salad, this Publix Apron's creation contains no walnuts, but you could add sunflower for the added crunch. The dressing consists of Greek yogurt, lemon and honey which makes this a light, tasty and healthy dish to a typically heavy Thanksgiving meal.
For her contribution to the meal, my sister will be bringing Bacon Wrapped Dates as an appetizer and Sweet Kale and Brussels Sprouts Salad. This all-in-one simple salad kit has become a Mestanza-family gathering staple. Simone first served this gorgeous green superfood salad at a cookout this summer and we all raved about it. Like many meals since then, it is a standard potluck request and I requested once again for Thanksgiving. The light, superfood salad pairs perfectly with the traditional Thanksgiving flavors.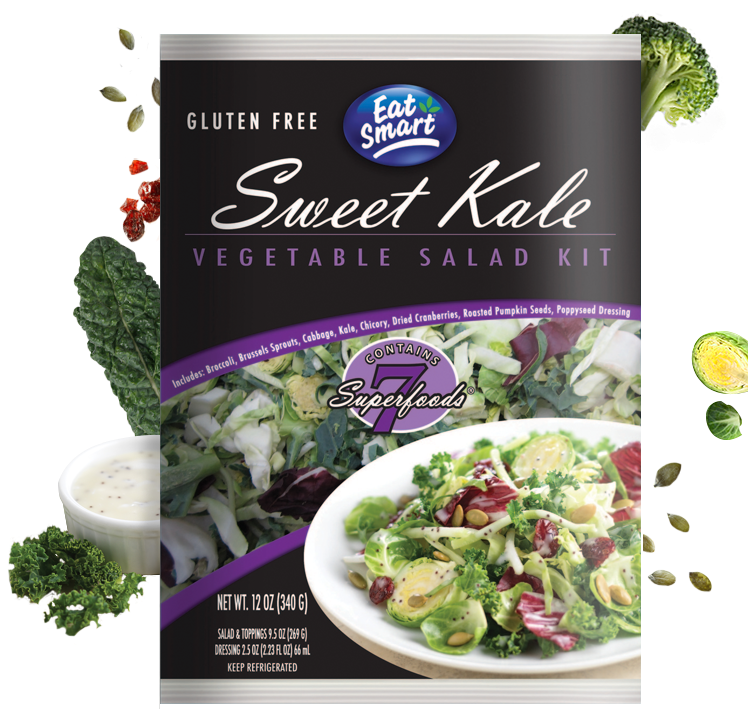 Give it a try the Eat Smart Sweet Kale Salad this Thanksgiving. There's a $1 off coupon here. (No printing limit.)
As for the rest of the Thanksgiving Menu, here's how it piles up. I've even included a light Thanksgiving breakfast. Our regular dinner menu is listed after the Thanksgiving Menu.
Thanksgiving Menu
Breakfast
Pumpkin Muffins
Pumpkin Smoothie
Starters
Cheese and Olive Sampler
Bacon Wrapped Dates
Salads
Crunchy Cranberry Waldorf Salad.
Sweet Kale Salad
Mains
Sage and Onion Stuffing
Low Fat Buttermilk Smashed Potatoes
Lighted-up Creamed Spinach
Roasted Parsnips and Carrots
Bourbon Sweet Potato Casserole with Toasted Meringue Topping
Orange Ginger Cranberry Sauce
Golden Oven Roasted Fresh Turkey
Dessert
Apple Pie
Pumpkin Pie Bites
For the days leading up to Thanksgiving, Iron Chef Allan and I wanted a lighter dinner menu, especially since we will be eating Thanksgiving leftovers for days. Of course, Day-After Thanksgiving Turkey Soup and Leftover Cranberry Sauce Muffins will make the breakfast and dinner menu this week post-Thanksgiving, but this week includes more meatless dishes than usual. If you are looking for clever ways to use the Thanksgiving leftovers, check out this week's Sunday Supper list My always inspirational runner blogger friend, Jill, has a wonderful healthy list of Thanksgiving leftover recipes, too.
Sadly, our short lived cold snap snapped back to the typically hot, humid November Florida weather. With warmer weather upon us, we've put Soup Sunday on the backburner until the cooler weather returns. Hopefully, it will return for the Space Coast Marathon this next Sunday.
Here's our pre-Thanksgiving and post-Thanksgiving Dinner Menu:
Sunday – Grilled Chicken Greek Salad
Meatless Monday – Haluski (Cabbage and Noodles)
Tuesday – Black Beans and Rice with Mixed Greens Salad
Wednesday – Roasted Veggie Sandwiches and a Mixed Greens Salad
Thursday – Thanksgiving
Friday –  Pizza at Simone's
Saturday – Open Faced Thanksgiving Sandwiches
Soup Sunday – Day-After Thanksgiving Turkey Soup
How does your Thanksgiving menu stack up? What's on your Pre-Thanksgiving and post-Thanksgiving dinner menu this week? What yummy recipes are you pinning and planning?