I swore I would never run the Space Coast Marathon ever again. When I attempted to run this spaced-themed marathon in 2011 with an injury, I hobbled to finish line in 6 hours and 28 minutes. (Ironically, I finished my non-injury NYC Marathon fun run around the same time.)
It all goes to show you how your state of mind can effect your overall performance and the old saying that running is 20% physical and 80% mental is so true. It's all mind over matter. Obviously, I had to be mental to run a Space Coast marathon redo as well as running three marathons in seven weeks.
Yes, I'm a real runner nutter.
My two runner mother friends, Mica, Chrissy and I made a dumb runner peer pressure pact and committed to a three year exploration of this race simply to earn the Big Bang Series medal. Basically, we will run for bling.
Of course, Chrissy will tell you that we only agreed to run the half marathon together. No one intended to do the full. However, I figured, since I'm already signed up for this stupid series, then I might as well go for the full to see how I could do after training for it and remaining injury-free. *knock on wood* Although three year later I still have issues with my plantar fasciitis, I now know how to treat it and avoid swelling besides not running, of course.
Despite our pact, Mica decided she needed a break from running after the NYC Marthon, which we completely understood. Chrissy and I launched for Space Coast early Saturday morning to make the expo at a decent time. Although the Space Coast expo is always a modest affair, this year it was held at the Radisson Hotel and it seemed even smaller and more congested than ever.
We grabbed our race packets and bibs, snapped a few selfies with our runner friends…
…and few astronaut photos…
…and then blasted off to check into our hotel. We had a couple hours to unwind before the Suncoast Striders' annual carb loading fest at Brano's Italian Grill. For dinner, I limited myself to only one one glass of red wine which paired nicely with my very plain grilled chicken and no sauce spaghetti tossed in olive oil and parmesan cheese.
The next morning, I grabbed a roll of toilet paper from the hotel in case the port-o-lets had none – an old marathon veteran trick and we arrived at Riverfront Park around 5:00 a.m. for the obligatory Striders group photo.
It was a cool morning, just the right temperature for a race. The half marathon started at 6:00 a.m. so we had plenty of time to eat our pre-race snacks and use the bathroom. I preferred the public park restroom over the port-o-lets because they were so dark! After Chrissy headed to the half marathon start, I waited in line for the bathroom for a second and third time to truly empty my bladder. I didn't want to stop along the course at all!
Like previous years, the start of the race begins with a space shuttle launch projected on a huge screen in the center of Cocoa Village. There are no corrals but runners can find several pace group held high above the crowd to gauge their appropriate starting point and I placed myself near the five hours pace group.
Once underway, I maintained a 10:00 minute mile pace for the first half of the course. The crowded narrow path packed with large herds of pace groups took over the road forced me to slow down and maintain my pace, which is a good thing.  Then around mile two, large standing puddles on the shoulder of the road narrowed the path even more allowing only single file running to leave room for the faster runners on the return side of the course.
At some point, I actually managed to pull ahead of the Galloway 4:30 pace group which followed a 2:1 (run two minutes, walk one minute). I didn't think I would stay of ahead of then for long, but it felt good to know I was ahead for a little while.
Despite the ever so slight incline, I held that pace and I didn't taking a walk break until mile seven when I stopped for water after the turnaround. A quick drink and I kept on running. I maintained my 10:00 mm pace until around mile ten when I ate my first Stingers vanilla gel.
Even snapping a quick a selfie with my friend, Dave, didn't slow me down.
Although I ran with my phone, I decided to take a lot less photos than I usually do to actually to focus on running. Less snapping, more running, but that doesn't mean I stayed off my phone completely.
Photo by Almost There.
As I approached the town center, my Strider friends cheered me on and I also found Genna's smiling face. For a brief moment I thought about exiting the race at the half, but my ego encouraged me to keep moving forward. Not completing my ninth marathon would screw up my tenth marathon on the tenth anniversary of A1A and that would simply not do!
Then, around mile 16, I could feel myself overheating; the heat started really getting to me and I wondered if not sneaking out at the half to finish this race was a good idea. Damn my ego and my marathon maniac antics!
Mile 16 seems to be wall lately. It happened at the Chicago Marathon in October and years ago at this same spot on the Space Coast course signified where it all fell to pieces. I'm not sure if it's because the most miles I ever hit during my training this summer was 16 and if it's all mental, but I wouldn't allow myself to go to that dark runner place. I stopped for some water, took a walking break and tried my best to fight the ugly feelings that began to surface.
For the second half, I walked more and my pace began to slow down.  I was so grateful for the random spectator hosing down runners around mile 18. These same spectators also offered shots and mimosas. Already feeling like I would hurl, I declined partaking in the alcoholic aid station.
Around mile 19, I realized I must have looked pretty flushed from the heat when a random runner tossed me a cold wet rag to cool down.  I didn't want to think about what bodily fluids may have been on that rag; it just felt so good and offered some relief and an energy boost.
Eventually, the 4:30 group passed me just before the turnaround. By mile 20, my Garmin read 3:46 and I maintained a comfortable 11:07 between the 4:45 and 5:00 pace group. Although my quads and hamstrings were starting to hurt, I still felt really good.
At mile 23, my Garmin read 4:24 and with only a little over a 5K to go, for a fleeting moment I thought I might actually finish under five hours. However, that dream was short lived when the 5:00 Galloway pace group caught up to me. I tried my best to stay with pace group but their 2 minute run was a touch too fast for me. I just focused on finishing and maintaining my own pace that worked  for me.
As I approached the final dreaded stretch on the cobblestone that circles the Riverfront Park, I spotted a blonde Live, Sweat, Sleep Repeat Caitlyn sitting on the curb. Several spectators cheered, "Go Denise" as I ran along the path to the finish line. I'm sure I smiled but when I saw the clock, I started to cry in a good way because I earned my Space Coast Redemption.
My Garmin read 5:04/Ave Pace 11:18 and my splits weren't too shabby ….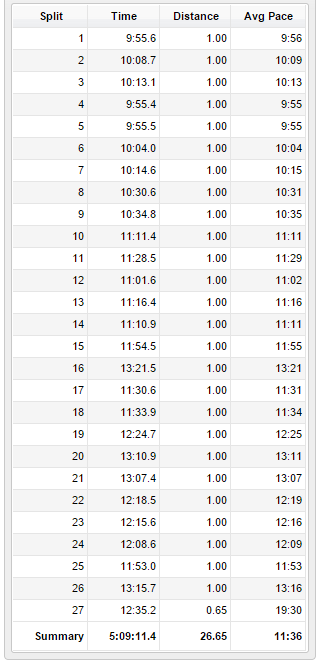 …but I like my actual finish time much better.
Age Group Place 146/313
Sex Div 589
Overall Place 1278/2723
Ave Pace 11:35
10K Split 1:03:28
Half Marathon Split 2:19:46
20 mile Split 3:45:04
Clock Time 5:07:38
Chip Time 5:03:19
Even though I didn't finish under five hours, I am still pleased with my performance and I'm so glad to turn the page on marathon number nine. I am also grateful to have a better memory about this race, but it will never top the list as a favorite marathon for me, even if I have tons of friends by my side at this race.
Whereas I may never fall in love with this race, there's no disputing how gorgeous the medals are! The photo of this medal does it no justice. I love the detail, especially the seven stars circling the planet representing the seven lives lost on the Challenger space shuttle.
For more Space Coast race reviews, read Chrissy's Half Marathon recap and first-time marathoners, Jessica of Tampa Mom Runs and Nanci of This Crazy Life of Mine.